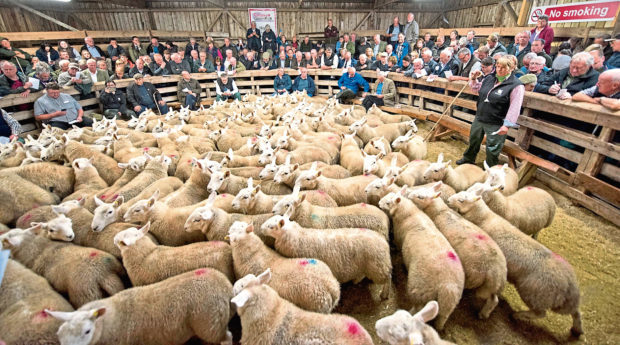 Sutherland farmers and shepherds went home delighted after the year's landmark sale of North Country Cheviots at Lairg exceeded all expectations.
Despite the serious drought and fodder shortages in the south, the uncertainty over Brexit and more second and third-draw lambs, prices matched last year's flying trade with 8,944 wethers averaging £51.11 (+5p) and 3,750 ewe lambs averaging £76.54 (+2p), with 1510 fewer sold.
Ewe lambs sold to £166 from South Balkeith and wethers made a top of £72 from Heatherlea.
The buyers, who travelled from Perthshire, Aberdeenshire, the Borders, Cumbria and as far as Sussex, made it clear that the rain had come just soon enough to see the grass grow and give them the confidence to reinvest this spring's good returns from the lamb trade back into these hardy hill sheep.
However Crieff farmer George Reid, who feeds 4,500 lambs, said he was buying "a lot less" than the 1,000 wethers he usually purchases at Lairg, largely because of the fodder shortage, and Welsh buyer John Roberts, who regularly purchases around 2,000 lambs, said he had come just to look at trade as he had "absolutely no grass" and couldn't contemplate buying until the drought broke.
He added: "But I'll be back at Dingwall or Oban later in the season as these sheep made a lot of money last year, although not the year before."
Jim Reid from Bengalhill, Lockerbie paid £61.50 for the top-draw of 385 wethers from Achentoul Farms, £1.50 a head more than he did last year but said concerns over fodder meant he was cutting back on the 800-1,100 he usually transports south, and focusing on the sheep he knows will do well.
Richard Denman from Sussex summed up the impact of the weather and the uncertainty over Brexit, and said he only decided to travel north when the weather turned last week.
"I nearly didn't come because of the drought, but we've had a lot of rain in the last two weeks. However I'm being careful, because by the time I sell them as gimmers next summer, we'll be out of Europe," he said.
Meanwhile Michael Proctor from Huntly was bidding for his usual 500-600 lambs and Alan Durno from Fochabers planned to take home 1,000.
Mr Proctor said: "I expected the lambs to be cheaper because grass is so scarce and we fully expect the silage to be used up by Christmas, and really we'd be better not buying any at all this year because feed is so expensive. But we need to support these producers because if we all stopped coming there would be no more sheep up here."
Auctioneer Donald Young, who sold two thirds of the lambs, said the top draws had sold well to the regular buyers but there had been less interest in the smaller lambs.
One of the top consignors, Joyce Campbell from Armadale Farm, saw her prices rise by £3.95 on the year for 70 less sold, and admitted that the buoyant trade had come as a surprise, while Hugh Mackenzie from Badanloch Estate said his wethers were back £3 and the ewe lambs back £7 on the year.