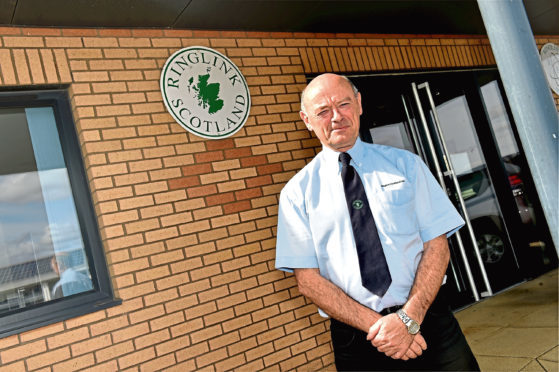 The driving force behind Scotland's largest machinery ring has won the Royal Northern Agricultural Society public award.
The award, sponsored by The Press and Journal, recognises a public figure or personality for their services to agriculture.
Graham Bruce, the managing director of Ringlink Scotland, is this year's winner.
He has been running Ringlink since its inception 30 years ago and has overseen its growth to an organisation with almost 3,000 members.
He has also been instrumental in driving forward its pre-apprenticeship scheme, formerly known as its internship scheme, which sets out to attract youngsters into the farming and rural industries.
Born at East Seaton Farm, near Arbroath, Mr Bruce left school at 15 and worked on farms in Angus before joining the newly formed Mearns and Angus Machinery Ring in July 1988.
"It's grown to a scale that we never imagined," he said.
"We have just under 3,000 members and our main area is from Perth in the south right up through Aberdeenshire and Moray to Inverness, and then back down the A9."
He credits the success of the ring to the passion and drive in the early days of its founder chairman, the late Douglas Cargill.
"We had many meetings in the first couple of years and we were a support to one another," Mr Bruce added.
He said the machinery ring, which changed its name to Ringlink in 1998 following the merger with the North-East Machinery Ring, was created as a platform to offer farmers ways to cut their machinery and labour costs.
"From an early stage labour was always in demand," said Mr Bruce.
"Labour was getting short in those days because folk were cutting costs."
Mr Bruce said a separate business to deal with labour and training provision – Ringlink Services – was launched in 1998 and it was first known as Mearns and Angus Services.
"Last year we averaged just under 400 workers out on a daily basis and we peaked at just over 550 during harvest 2017," said Mr Bruce.
He said Ringlink was now focused on four key areas: machinery, labour, commodities and training.
"The core business has stabilised but it's not growing at any great rate these days, but the labour is growing," said Mr Bruce.
He said Ringlink had changed over the years to keep pace with changes in the industry.
"The units are so much bigger and the machinery and the capacity of the machinery is also much bigger," added Mr Bruce.
A key element of Ringlink's work in recent years has been the development of a scheme to entice youngsters into the industry, something Mr Bruce is passionate about.
The scheme, which is awaiting government funding for a roll-out across Scotland, gives youngsters the chance of three weeks' training before spending a six-month work placement with a mentor farmer.
Mr Bruce said: "Going back to our first annual general meeting in 1989, labour was very much the highlight of my report and the shortages there were going to be."
He said Ringlink got involved with Modern Apprenticeships in the 1990s but they didn't really take off.
However, six years ago the ring's internship scheme was launched and it has proved a success.
"It's one of my biggest achievements and one of the most satisfying things I've been involved with," said Mr Bruce.
"I believe we are giving these youngsters the opportunity to develop their skills and the world is their oyster."
He said another highlight of his time at Ringlink was a recent staff day out at Maryculter House Hotel.
"It was the first time all the staff were together," said Mr Bruce. "It was a highlight to see what the business has developed into with a team of 38."
In all the citations for the award, Mr Bruce is praised for his work developing Ringlink into a thriving machinery ring and his efforts to bring young people into the industry.
One citation reads: "Ringlink has very much been the platform from which to encourage a fundamental change in the thought process of those engaged within the industry, and always willing to challenge the status quo."
It said his motives for change are not for personal gain and benefit, but his drive and commitment come from "a desire to provide a service designed to allow 'his' industry to benefit and prosper".
Another says: "In the current agricultural climate when margins can be described as tight at best, co-operation has to be seen as one way to improve slim margins. No one person can have encouraged co-operation more than Graham Bruce.
"From the simple aims of spreading members' costs by utilising spare machinery and labour capacity, Ringlink now provides too many services to mention."
Another citation pays tribute to Mr Bruce's involvement in the ring's pre-apprenticeship scheme.
It reads: "Over the years Graham has played a major role in developing the agricultural sector in Scotland, a major achievement being the development of the highly successful and pioneering apprenticeship scheme.
"Graham continues to put his considerable energy and drive into making this unique opportunity for young men and women who are interested in a rural career into a national programme with government and industry backing."
Mr Bruce will receive his award at a special celebration lunch on Friday November 2 at the Jury's Inn at Aberdeen Airport. For more information contact RNAS secretary Alison Argo on 07714 899628.