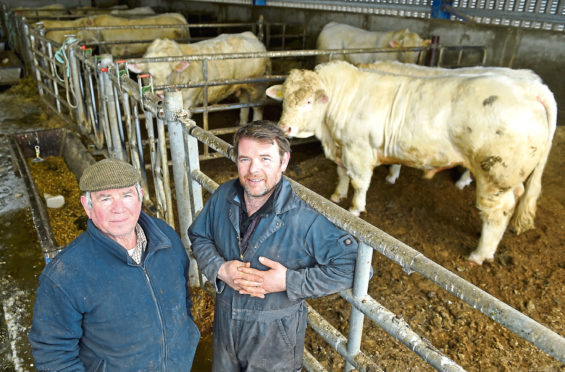 Charolais cattle from the Irvine family's Inverlochy herd regularly hit the headlines in the show and sale rings having secured several five-figure prices with bulls over the years.
Father and son team, Johnny and Raymond Irvine, farm the two neighbouring units – Inverlochy and Mains of Inverourie – near Tomintoul and run a 50-strong pedigree Charolais herd. They also keep a similarly sized commercial herd of Simmental and Salers cross cows, put to the Charolais.
The well-known pedigree herd was one of the first Charolais herds to be established in the north after Johnny returned home from working down south in the Kenilworth and Abbey herds near Coventry.
"After working in the herd, I bought their eight-year-old stock bull named Crosslands Crusader and took him home to work in our commercial herd," said Johnny, who has been selling bulls at Perth and Stirling for 35 years.
"He was the first Charolais animal born in the UK and was one of the first Charolais to be brought into this area. I also bought the female Kenilworth Margo and went on to buy other foundation females."
One of the first stock bulls that made his stamp in the Inverlochy herd and went on to breed offspring with more shape was Tullygarley Gladstone – a bull bought for 10,000gn at Perth. His first three sons sold for 9,000gn, 7,000gn and 4,000gn.
Raymond said: "In the earlier days of breeding Charolais, there were no figures to bulls and you just picked what you saw. That fashion has totally changed, and I reckon the modern man is looking at figures perhaps a little too much.
"People need to remember that figures are only a guideline and they're not always accurate. When we buy a bull, our eyes are our guide – 80% is on the bull itself and 20% on the figures."
Another bull to make its mark was Inverlochy Resolve – a son of Inverlochy Ohboy, bred from one of the herd's foundation females, Nettlemore Felicity.
Raymond said: "Resolve was destined for the bull sales, but because dad was judging that year, we kept him at home.
"It's probably one of the best decisions we have ever made because his first seven bulls to be sold at auction averaged 12,000gn. They also produced a senior championship, reserve championship and an intermediate championship win, with two sales at 18,000gn, followed by one at 17,000gn."
At Stirling in February 2012, the Irvines enjoyed one of their best sales to date when two sons of the 30,000gn Balmyle Bollinger – a bull bought in a four-way split at Perth in 2007 – sold for 25,000gn and 20,000gn. Not only did they achieve their best sale to date that year, but the Irvines also set a breed herd record at the time of £14,595 for five bulls.
The 4,000gn Lochend Apache – a former Highland Show interbreed junior champion and reserve overall Beefbreeder winner in 2010 – has also bred successfully in the herd.
His sons sold to 13,000gn for Inverlochy Edition at the Royal Northern Spring Show, which the Irvines believe is one of the best bulls they have ever bred. Raymond said: "Lochend Apache has been one of our most consistent breeders in the herd, with 25 of his sons averaging 8,000n. Although he wasn't an expensive bull, we still liked him for his looks and his breeding."
Both herds are BVD accredited, tested for Lepto and IBR and maintain a Johnes Level Risk 1.
The pedigree herd is commercially run, and all cows are housed inside for seven months of the year due to weather and poor grass growth. They are fed draff, sourced from a local distiller, and silage.
Although the Irvines have enjoyed numerous good sales with bulls, Johnny and Raymond were quick to point just how expensive it has become to run a herd, particularly on a pedigree level.
Raymond said: "We keep all our own females for breeding, but if anything isn't up to our standard for breeding, it's sold. It's too expensive to keep passengers now.
"We're planning to reduce the size of the pedigree herd because it's getting harder to breed quality bulls, especially when you consider the increased feeding and bedding costs."
Johnny added: "There was a time when you could sell every bull you bred, but not now. We keep nothing but the best – you need to get 4,000gn to make a profit on a pedigree bull."
In the meantime, the Inverlochy boys are gearing up for this month's Stirling Bull Sales, where they will have eight bulls up for grabs, all of which will be semen tested prior to sale.
Two are by the 11,000gn Blelack Giggsey and the remainder are sons of Kilbline Instigator – a bull bought from Ireland for 7,000 euros. Both stock bulls have been successfully shown and Instigator stood champion at the Highland in 2017.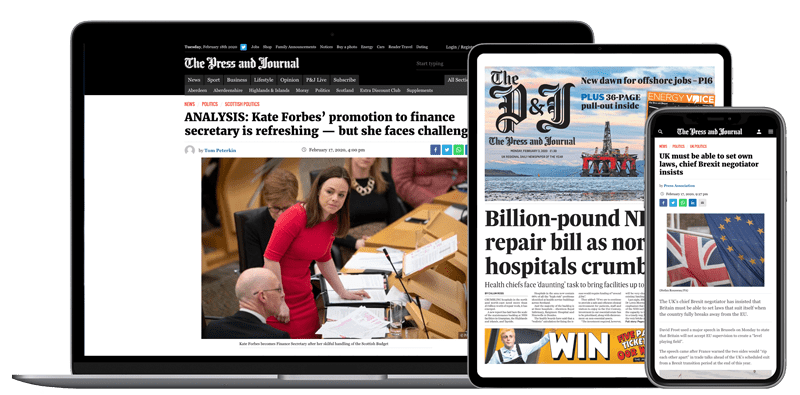 Help support quality local journalism … become a digital subscriber to The Press and Journal
For as little as £5.99 a month you can access all of our content, including Premium articles.
Subscribe