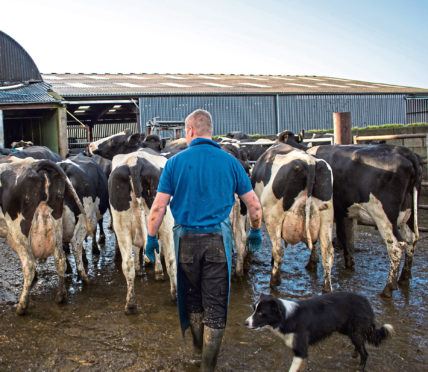 The number of dairy herds in Scotland continues to decline.
The latest figures from the Scottish Dairy Cattle Association (SDCA) reveal there were 888 dairy herds in Scotland at the start of this month – three less than at the start of the year.
However, the average herd size is up by two to 203, making it the highest level since records began in 1903.
The total number of milking cows has also increased by 755 since January to 180,923.
SDCA secretary Janette Mathie said six dairy farms stopped production in the first half of this year. This included two in Aberdeenshire and one in the Outer Hebrides.
"Ayrshire, Dumfriesshire and Wigtownshire all saw new dairies start milk production over the last six months with more due to start later this year," added Ms Mathie.
She said cow numbers in milk recorded herds, which represent 73% of all dairy herds in Scotland, had increased by 1,505 since January to 132,425 cows in 607 herds with an average herd size of 218.
"The long-term investment of some dairy farmers continues with increased cow numbers and new dairies starting milk production," added Ms Mathie. "There are, however, heightened uncertainties, especially in Kintyre and the sad loss of Arran creamery last week.
"On a positive note NFU Scotland organised meetings and continues to steer a path to get fairer milk contracts for all dairy producers."
She said dairy farmers, especially those with larger herds, were utilising milk recording data and finding the information invaluable.
"Mobile apps and herd management programmes make it easy to input data and share with farm consultants, vets and other industry partners to increase health, welfare and profitability of their herds," added Ms Mathie.
Herd numbers in different regions included: Aberdeenshire, 25; Argyllshire, 10; Caithness, two; Inverness-shire, one; Moray, five; Orkney, 17 and Ross and Cromarty, one.