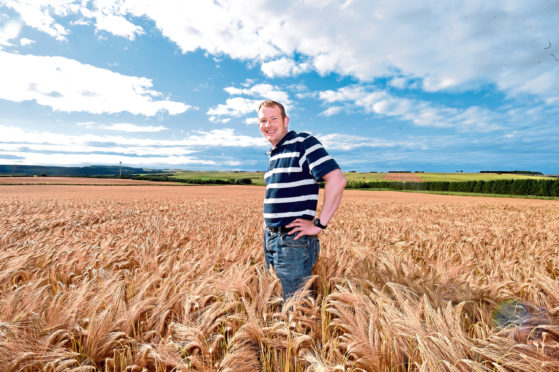 A trio of Aberdeenshire farmers has joined a UK-wide crops trials project with global agri-chemical firm BASF.
The farmers – Sandy Norrie from AJ Duncan Farms near Turriff, Andrew Booth from Savock Farm near Foveran and Scott Campbell from Kirkton of Kinellar Farm, near Inverurie – are among a group of 50 UK growers taking part in BASF's real results trials.
The initiative, run with agricultural consultancy Adas, involves farmers trialling BASF's SDHI fungicides on a range of crops and comparing them to other products.The trials are held with farmers using their own machinery and data is collected and analysed using Adas' agronomics field trials tool. Farmers can then compare their data with others involved in the project.
Sandy Norrie, who works as arable manager at AJ Duncan Farms' 6,000-acre arable enterprise, will carry out trials using a new fungicide on spring and winter barley.
"We have the scope to do trials here, because we have the staff and the kit," said Mr Norrie.
"I think the real results network will be very valuable and, to be brutally honest, the results compared to others will be very valuable.
"Our team is big on stats, what our costs are and the detail of our returns on investment and, for me, I like to see how varieties are performing, where yield potential is and how to get it."
BASF's cereal fungicide campaign manager for the UK, Murielle Moille, said Adas' involvement in the project brought independent science to the trials.
She added: "At the heart of the trials is a quest by farmers to find out what agronomic decisions work best on their farms and why.
"And, while the BASF real results circle allows growers to learn about their farm, it also gives them the opportunity to be part of something bigger that the network of other farmers provides."