Covid-19 has had an impact on almost every facet of life – so it should come as no surprise that the pandemic is also influencing the future of blueberry breeding.
Research at the James Hutton Institute (JHI) is being subtly adapted to encompass changes in consumer trends, such as the frequency of visits to supermarkets and growing demands for fruit that is firm and will keep for longer at home.
According to JHI blueberry breeder Dr Susan McCallum, the latest feedback from retailers is that they are prepared to compromise on fruit size and will accept smaller berries – but long shelf life is now non-negotiable.
She is using a research tool from Microsoft that allows her team to reassess data gathered since JHI's blueberry breeding programme began in 2017, to weigh up particular traits such as fruit firmness to consider selections that are performing consistently well.
She said: "Last year we had some amazing big and nice tasting fruit, but the firmness wasn't there – and this year we know we need to be adaptive."
The JHI breeding programme is also focusing on sensory perception in a bid to predict how well consumers will like new fruit selections and, so far, 1,600 samples have been taken from their own and supermarket selections to analyse the Brix – acid ratio and flavour.
The sensory work is also evaluating a minimum maturity model for blueberries – which involves testing fruit at the green stage, then 20% red, 20% blue, right through to fully ripe and beyond – to identify precisely the best harvest time.
Dr McCallum said: "Depending on where the grower is, some take the harvest at 60% blue and others at 80% blue. We're trying to develop a model to be able to say consistently if you wait until fruit is at least 70%-80% or even 90% blue, you will get the best quality and flavour which will enable you to get the best price at the supermarkets."
UK blueberry production was valued at £400 million last year and since then the sector has grown by more than 10%. While domestic demand is high, Dr McCallum believes there is also huge scope for British blueberry exports.
He said: "Growers are starting to see export potential, so when we're looking for future cultivars, we're bearing in mind it might not be a UK market we're growing for, and again firmness and shelf life are going to be important.
"But so is flavour. If you forget flavour you're going to struggle in that market."
Dr McCallum added that while there have been developments in mechanical harvesting of blueberries, JHI was not looking at breeding berries specifically suited to this process.
She said: "In Scotland blueberries are grown in tunnels so it's never going to be adapted for machine harvesting and we don't have the climate to get rid of tunnels and grow outside. However, we're interested in the traits important for machine harvesting, such as berries presenting themselves well on the bush, fruit that doesn't fall off easily and isn't too damaged by just walking past."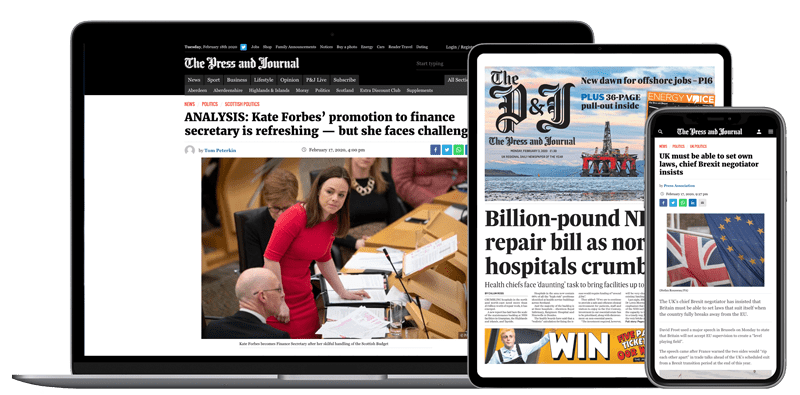 Help support quality local journalism … become a digital subscriber to The Press and Journal
For as little as £5.99 a month you can access all of our content, including Premium articles.
Subscribe