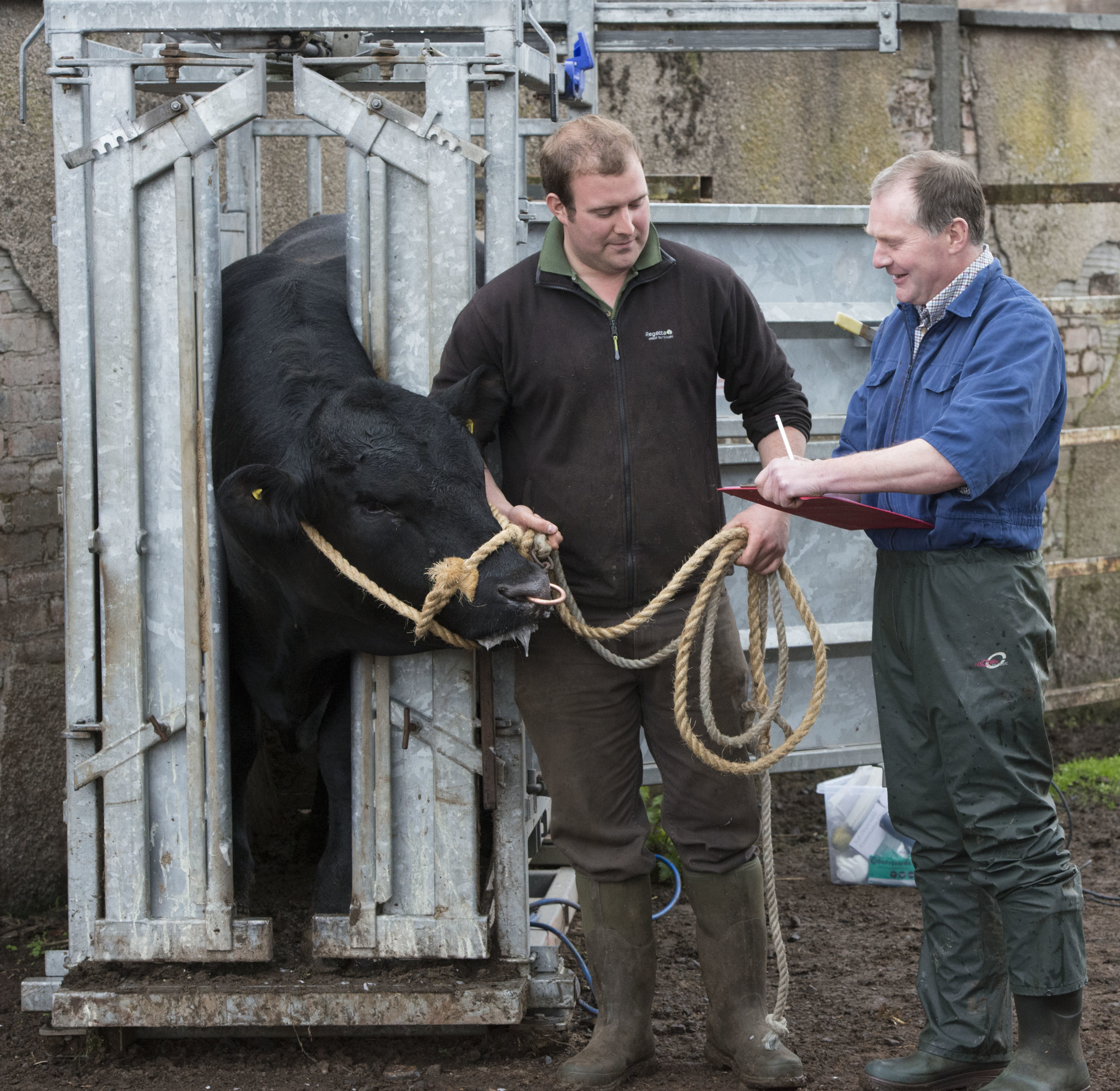 More than one quarter of all bulls could be firing blanks meaning bull MOT checks are essential ahead of the next breeding season, says Quality Meat Scotland (QMS).
The red meat levy body is urging all beef producers to get their bulls checked out before putting them in with cows and heifers for mating over the next few weeks.
QMS estimates that more than a quarter of all working bulls are either sub-fertile or infertile.
It is urging farmers to get their vet to carry out an annual pre-breeding soundness check (PBS) so that any fertility problems can be identified in good time to prevent farm businesses suffering as a result of cows not getting into calf.
Kirriemuir-based vet Graeme Richardson, from the Thrums Veterinary Group, has been carrying out PBS checks for more than 10 years.
According to Mr Richardson, PMS checks are an important management tool to ensure a compact calving period and to improve herd efficiency.
He said beef farmers typically fall into three categories – those who have a problem with a bull, those who carry out checks routinely and those who get new bulls checked out.
However, many farmers only alert their vet when they have a problem – something Mr Richardson believes can be prevented by carrying out annual PBS checks.
He said bulls should ideally be checked four to eight weeks before being put with the cows, to allow enough time to re-test if necessary and source a replacement if the bull is found to be sub-fertile.
Mr Richardson estimates that one in every five bulls tested by his practice is sub-fertile due to the fact farmers generally only contact them if there is a problem.
He said for farms testing all bulls annually, the sub-fertile rate drops to one in ten.
During a PBS examination, the vet checks the bull's general health, condition and locomotion, and internal and external genitalia.
A sample of semen is also collected and analysed for volume, density, motility and abnormalities.
"Testicle size and quality of semen are obvious indicators of fertility.  However, sometimes a bull with good fertility is not getting cows in calve because of a lameness issue," said Mr Richardson.
"The end results are the same – a reduction in conception rate, leading to more empty cows and a protracted calving period."
He said it was also vital that bulls are not allowed to become overweight, and farmers should exercise them before turning out with cows if possible.
Mr Richardson said the only thing a PBS examination cannot check is a bull's libido – however, he said most stockmen should be able to observe whether or not bulls are showing libido and mating correctly in the first week of bulling.
The general rule of thumb is that a bull will run with a maximum of 30 to 40 cows.
However, Mr Richardson said one of the benefits of testing for fertility is that sometimes vets can recommend that a bull can run with 50 cows and still achieve the 95% conception target in nine weeks.
Forfar farmer James Osborne from Mains of Balmadies carries out PBS checks on an annual basis on the 10 Limousin bulls he uses across his 250 spring-calving Limousin cross cows.
He receives a report on each bull and a recommendation of how many cows each bull should be capable of serving within a 10-week period.
"The PBS examination is worthwhile and cost effective and most importantly gives us peace of mind when bulls are turned out far away from the farm and we cannot watch them all the time," said Mr Osborne.
He said achieving a tight calving period was vital for his farming enterprise because he needs even batches of calves due to the fact he only sells at three store sales each year.
The farm's stockman Gordon Smith said:  "Tight calving and larger batches mean less time spent on routine jobs."