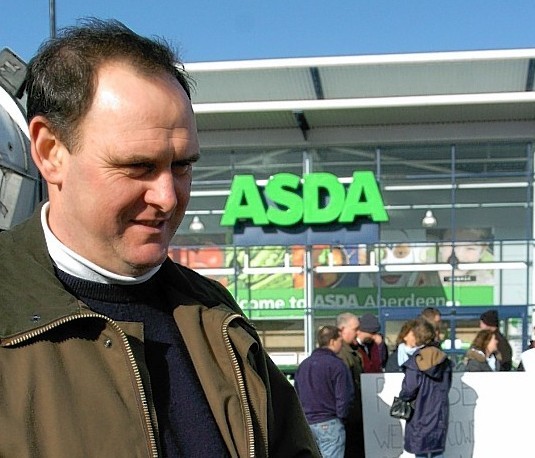 A north-east dairy farmer has called on government and industry to give funds to farmers to cut production in the short-term.
Roddy Catto, who milks 115 cows at Hillhead of Muirton, Whitecairns, near Aberdeen, says drastic measures must be taken to save the Scottish dairy sector.
He believes cutting production is the key to solving the sector's woes.
"The Scottish Government and industry need to put some money to the farmer to cut production and by doing that they will keep the farmer producing milk. Less is sometimes more," said Mr Catto, who is NFU Scotland's regional chairman for the north-east.
If industry did not stop overproducing in a climate of falling prices, the sector would continue to shrink, he warned.
"Every farmer in the UK needs to cull every cow that's got high cell counts, isn't performing and is not in-calf. Then they need to cut back on feeding and cut production," added Mr Catto.
"If we do this, we will still be there for when a dairy company decides to invest in this country. If we don't do anything the milk field is going to go and there will be less attraction for a foreign investor to come into this country."
He criticised a government dairy plan launched in 2013 which called for Scots farmers to produce 50% more milk by 2025, bringing total annual output to 1.6billion litres.
"It's ok to double production but we need to double the volume of milk consumed and processed in this country. If you put the cart before the horse you get carnage," said Mr Catto.
His comments come the same week Scotland's largest independent dairy company – Graham's The Family Dairy – cut a proportion of its milk price to 7p a litre to deter farmers from producing too much milk.
The Bridge of Allan-based firm runs an AB pricing mechanism where farmers are paid one price for 90% of the volume of milk they produced last year and another for any milk produced on top of that.
From August 1 the A price will fall by 1.5p to 23.75p a litre while the B price will fall by around 7p to 7p a litre.
The company had previously paid an AMPE-based price for the B price, however chairman Robert Graham said this was forcing the company to sell on the milk at a loss of between 5 and 7p a litre.
He said the company was having to process an extra 1.3million litres of milk a month at the moment, resulting in losses of between £65,000 and £91,000 a month.
The move was attacked by NFU Scotland, with the union warning the low B price could result in some of the company's 100 producers questioning their future in the sector.
Chairman of the union's milk committee, Graeme Kilpatrick, said: "These are unprecedented times for Scottish dairy farmers. There are tough decisions having to be made on a great number of farms and it is worth taking the time to consult with bank managers, accountants and farm advisers about any recent milk price drops which may lead to cash flow difficulties and impair short to mid-term business stability."