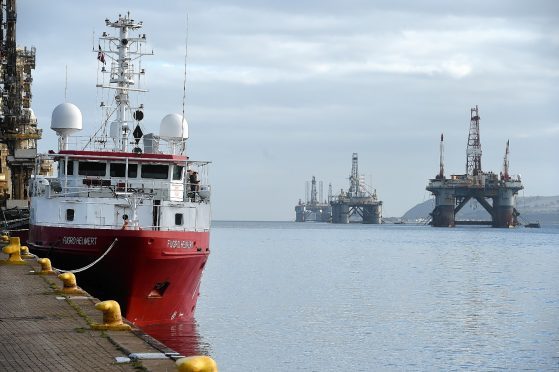 The downturn in North Sea oil and gas activity has seen pre-tax profits fall by £1.4million to £2.1million at the Highlands' largest port.
Financial results for the year to December 31, 2015, released yesterday by the Port of Cromarty Firth, also show turnover at the Invergordon-based organisation down £792,000 on the previous year at £7.7million.
The figures were presented by chief executive Bob Buskie at the trust port's annual public meeting, held in an Easter Ross hotel last night.
In his forward to the port's annual review, handed out to attendees, Mr Buskie said the figures were, "paticularly pleasing considering the dramatic downturn in the North Sea oil and gas markets – a core market of the port of Cromarty Firth."
The number of drilling rigs anchored in the Cromarty Firth rose from four at the start of 2015 to 11 by the end of the year.
Mr Buskie continued:  "Drilling rigs 'warm' and 'cold' stacked within the port's waters stand testament to the total lack of investment in exploration, appraisal and workover drilling in the North Sea as continued low oil price throughout 2015 led to an investment drought affecting activity in drilling rig inspection, repair and maintenance work.
"However, a backlog in subsea projects helped the port's shipping volumes throughout the year.
"The cruise sector continues to grow and this year we welcomed 57 cruise ships carying 91,000 passengers which helped generate over £10million for the Highland economy."
During the year, the port, which directly employs 30 people, completed the third phase of its expansion programme.  The largest infrastructure project in its history saw it add 11 acres of land and 505 feet of deepwater quayside to its facilities.
The annual results show the port's share of pre-tax profits from joint ventures fell from £569,495 in 2014 to £158,873 last year.
The report also notes that the licencing by the port of nearby Nigg Energy Park, owned by the Global Energy Group, resulted in "some displacement of shipping from the Invergordon Service Base."
It adds: "Without the expected increase in vessels visiting the port following the reactivation of Nigg, the port has experienced a significant decline in revenue."
Looking ahead, Mr Buskie said the port was committed to further developing existing markets, including oil and gas, cruise, general cargo and oil transfers and is "investing heavily" in new opportunities in offshore renewables and decommissioning.
He added:  "We continue our journey to change the historic traditional 'Authority' culture to that of a modern, open, collaborative trust port whist maintaining the balance between our statutory, commercial and environmental responsibilites."