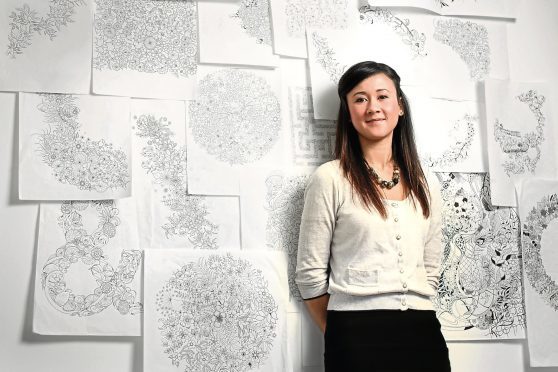 For some people making it big in business means living up to life's stereotypes – pinstripe suits, leather briefcases and a life in the city.
But for entrepreneur Johanna Basford, wife of Brewdog's James Watt, life is anything but conventional.
She found London a "culture shock" and it was only once settled in the idyllic Aberdeenshire countryside she found her creative inspiration returning.
And it was a childhood fascination that has led her to success – colouring books for adults, literally penned against the backdrop of the scenic north-east of Scotland.
But it's not all been plain sailing in her DIY success story.
From going back to work just nine days after giving birth to one of her daughters, to the joy of being a one woman enterprise, answering phone calls at bedtime and scheduling time to send off a few e-mails when she should be sitting down with her husband.
However, if there's one thing I found when interviewing the illustrator, it's that she is a determined individual.
"It's not about escaping to the studio for a couple of hours, sitting down and sipping tea and reading poetry while I sketch," she said.
"One book usually takes six to nine months to create so it's hard, like brutally hard. I think unless you love what you're doing you are not going to succeed in running your own business.
"The highs are great but the lows are really lonely and very low. You have to be completely committed to it and passionate about what you do but also really determined because there's no team there to pick you up when things go wrong, you have to be in charge of everything.
"It's really hardcore, long hours, much more so than if I had a regular nine to five job. I never switch off. Even when the kids are in bed I am on the computer answering e-mails and thinking up new ideas.
"You never ever switch off. It's not work it's life. People talk about work life balance but when you run your own business everything sort of muddles in together. That's not necessarily a bad thing as long as you keep everything in check but there is no finish time and weekends are a bit blurry."
After leaving art school in 2005 Ms Basford armed herself with her portfolio stuffed with drawings and took out a £5,000 loan from the Prince's Trust.
Over the next six years she created hand printed wallpaper in a shed on her parent's fish farm while working numerous part time jobs to pay the bills, taking the overnight Megabus from Aberdeen to London on days off to pester art directors into commissioning her.
But the hard work has definitely paid off as the mum-of-two who was awarded an OBE for her services to entrepreneurship and the arts last year and has sold more than 20million copies of her six colouring books around the globe. Three of them have also appeared on the New York Times Best Seller list.
But the 34-year-old former Ellon Academy pupil said she initially struggled to convince her publishers that there was a market for adult colouring books.
She said: "I had been freelancing for a lot of big brands like Nike, Absolute Vodka and Starbucks but always black and white drawings and for years my clients would say to me 'Oh it looks like you should colour it in, it looked like a colouring in picture'.
"It was quite a flippant comment but it sort of planted the seed of an idea. Then I was approached by a publisher to do a children's colouring in book and I said I would love to do a colouring in book, but I would like to do one for adults.
"But initially the publishers didn't want to do an adult colouring book in 2011, it just seemed like a really silly idea, but I drew up the first five pages, in terms of what I thought it would look like and they liked what they saw."
Some 13,000 copies of The Secret Garden were printed initially during the first print run in 2013 in an attempt to test the market. And now, four years on, more than 10million copies have flown off the shelves around the world.
Last month Ms Basford's sixth book was published, however this time she used her creative talents to come up with a story to accompany her intricate illustrations.
Ivy and the Inky Butterfly began as a bedtime tale she told her daughter each night. The book follows the story of a little girl named Ivy with a vivid imagination who follows a magical Butterfly to the world of Enchantia, through its many realms, meeting whimsical characters and discovering magical things along they way.
She added: "We have seen the adult colouring book business excel and for me I wanted to do something really exciting rather than keep churning out the same work.
"That idea didn't appeal to me so I contacted my editors and said I wanted to give those interested in colouring a new way to express themselves and develop their skills.
"I do my best work when I am a bit scared and out of my comfort zone. This is 120 pages my biggest book ever and there is a story to go with it. The format has changed and it was a really exciting project to work on."
But Ms Basford says she owes the serene environment which surrounds her daily for allowing her creative juices to flow. And after spending some time interning in the Big Smoke she said she soon realised she couldn't be productive in such an urban environment.
Having been raised on a fish farm in Auchnagatt she grew up roaming in the fields and climbing trees with her sister and it was this love of the outdoors that has inspired all of her books to date.
She said: "All my work is rooted in nature if I have an idea, or if I don't have an idea more to the point, I feel that getting away from my desk is the best way to break through that creative block.
"I love to be outside go for a walk whether that be in the fields, up Bennachie or down by the sea I think that's a great way to gain new ideas and blow out the cobwebs.
"I have never had a good idea sitting and staring at a blank sheet of paper. I always get new ideas when we are outdoors and living in the country side helps inspire that."
She added: "I went down and did a few internships in London and I hated it. I didn't like it at all.
"I found it quite difficult to be creative in the city. At the time I was getting a lot of calls for freelance work and I realised that I could pretty much do that job anywhere so I moved back to Scotland and set up my little studio and worked at a desk from the corner of my one bedroom flat for a while and finally had a studio built at the house."
One thing that does help you grow a global business from a rural home in Aberdeenshire is the internet and Ms Basford has used all the tools available to her to reach out to her audience and connect with her fans across the world.
Whether it be answering e-mails or questions online or showing her customers how she would go about colouring in a fluffy little bumblebee she says she has to be "plugged in" most of the day and night which can sometimes be detrimental to her creativity.
"The internet is both good and bad," she said. "It means that I can do almost anything I want from my little studio in Aberdeenshire and it means I can look out and see the same fields I see, day in and day out, and take my kids to school which is lovely but it also means people are constantly able to contact you. I think social media is a wonderful way of sharing information but for me it also means you have to be constantly plugged in.
"For me that's quite difficult. I think in order to be creative you do need to unplug and forget about checking your e-mails and not be constantly monitoring all these things that you need to to run a business so I try to use technology as a tool without it allowing me to dictate what can and cannot be done in a working day."
Above all though, Ms Basford feels her work is inspired and her books are created with the sole intention of producing a beautiful product she can be proud of. A business model she suggests anyone starting out on their own adopts.
She said: "I know I only do my best work when I totally love a project and I am completely inspired and passionate about it and invested in it. That means that I turn down a lot of opportunities and pass up on things that are just not quite right. I never really chase a commercial idea. If that is your motivation, for me anyway, it wouldn't work.
"I look for projects that are going to intrigue me and inspire me to do the best work. When you are doing great work and if you love what you are doing people can pick up on that. I sound like a hippy but I think it really comes across in your work when you do things out of love and enjoyment for what you do and people appreciate that and will invest in that. For me that's how to run a business."