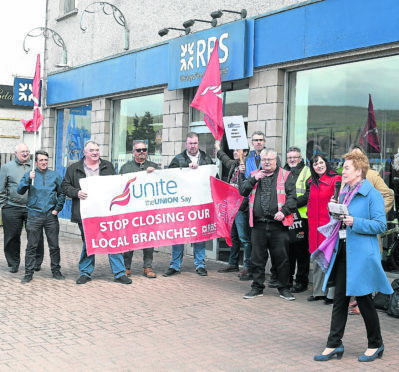 The Treasury is expected to sell off £3billion of RBS shares as early as this week.
Campaigners, including MPs on Westminster's Scottish affairs committee, had hoped the UK Government's 71% majority stake in RBS could be used as political leverage against plans to close more than 60 Scottish branches.
But reports have emerged the Chancellor will give the green light to the £3billion sell-off, with plans to dispose of £15billion in total by March next year, taking the UK Government's stake closer to 27% – a minority stake.
The reports were slammed by campaigners as a "dereliction of duty".
An SNP spokeswoman said: "The Tory Government should use any influence they have as an important RBS shareholder to represent the communities in Scotland that face losing their lifeline local banking services and oppose the closures.
"Their stubborn refusal to step in and make RBS answer for the closure of local banking services is a complete dereliction of their duties."
A Treasury spokesman said he could not comment on speculation and an RBS spokesman also refused to comment.
However, the UK Government has preciously stated its plans to sell its stake in RBS, saying the bank has made "significant progress" on resolving its legacy issues and refocusing on serving British businesses and consumers.
At the time of the November 2017 budget, he had said: "It remains the government's objective to return the bank fully to the private sector when it represents value for money to do so and market conditions allow."
At that time, the Office for Budget Responsibility estimated the government was sitting on a £26.2billion loss on its RBS stake, with an overall £21.8billion loss on all of its bank rescues since the financial crisis.