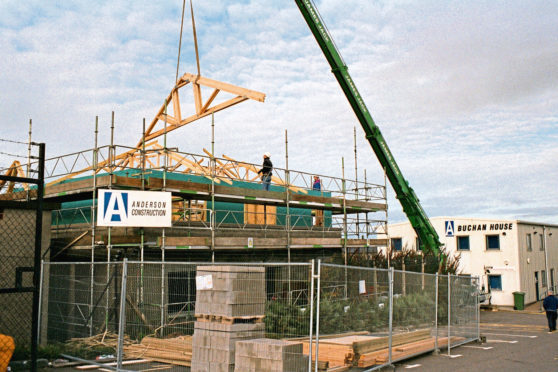 North-east building firm Anderson Construction (Aberdeen) has collapsed, with 19 jobs affected.
Bosses are speaking to employees to discuss their contracts today, while the appointment of administrators is "imminent".
A statement from the Northfield-based business last night said ongoing trading was "unsustainable".
It added: "The company experienced a substantial drop in turnover for the first half of 2018.
"This, along with ongoing uncertainty in the business community, recruitment issues for key management posts and challenging procurement practices lead the company, who have been trading for almost 25 years, to conclude that closing the business is the most appropriate course of action.
"Despite winning a substantial tranche of work in early 2018, contracts did not get the go-ahead until June 2018 – leading to a protracted period of short-time working for the company's staff. The directors endeavoured to secure early start dates for the work."
Kenny Anderson, the firm's founder, majority shareholder and managing director, was diagnosed with prostate cancer a few months ago.
His extended absence for surgery and treatment is one of several "key considerations" behind the decision to cease trading.
The company employs 19 full and part-time workers.
However this has been reduced in recent years from a peak of more than 35 staff.
It is understood the business has no bank borrowing.
Mr Anderson began his career as an apprentice quantity surveyor with Aberdeen firm McLeod and Aitken in 1977, moving on to Peter Graham and Partners in the Granite City and then two north-east building firms – Clinton Skene Building Contractors and Span Construction – before taking the plunge and starting up his own business in 1993.
Anderson Construction (Aberdeen) is the second north-east construction business to go under in the space of a few days.
On Friday, it emerged that Huntly-based housebuilder Deveron Homes and sister company Deveron Construction had folded.
KPMG said that both firms encountered project challenges and delays in the run-up to administration.
Five jobs were shed, while nine workers stayed on to help KPMG sell the assets.