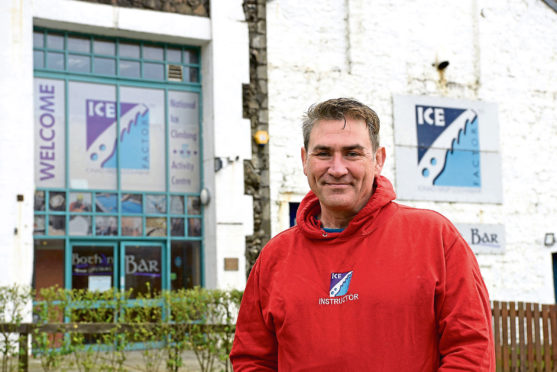 The owner of the Ice Factor visitor attraction in Kinlochleven has warned that climate change may have hampered the start of the outdoor ski season in Scotland.
Lochcarron-born Jamie Smith, the businessman behind the Ice Factor Group (IFG), which also runs the Snow Factor indoor snow sports and ice climbing centre at Braehead, Glasgow, was speaking as the start of the 2018-19 ski season.
His real snow slopes have been operating normally, while many traditional ski centres have been forced to use fake snow to help keep them viable this winter.
Mr Smith said: "We are only at the very start of the traditional snow season and, hopefully, Scottish skiers and snowboarders will again enjoy a bumper season in the mountains.
"Scotland isn't immune to the impact of climate change that seems to be bringing warmer, wetter and windier weather to our shores.
"It is this general reduction in natural snow cover – both at home and abroad – that over the past 20 years or so has seen the increased development of popular indoor snow centres like Snow Factor."
The "genuine mountain resort experience" is hard to beat during winter but indoor centres are ideal for beginners and improvers, he said.
He added: "Like everyone in Scotland's ski industry, I am hoping we will soon see significant snowfall return to our mountains.
"However, I also welcome the decision by the likes of the Lecht and Glencoe Mountain to invest in snow-making technology.
"It's a step that can only help to ensure Scotland's many skiers and snowboarders – and the many Highlands-based service businesses that also benefit from our winter tourism – can look forward with certainty to snow cover in our mountains each winter.
"Admittedly, there is perhaps an irony that the technology developed for the 'great indoors' may yet prove to be an instrumental part of ensuring the future success of Scotland's outdoor ski industry."
Indoor snow sports are a fast-growing business around the UK.
In addition to Snow Factor, indoor centres with real snow include: Chill Factore in Manchester, SnoZone in Castleford, SnoZone in Milton Keynes, the Snow Dome in Tamworth and the Snow Centre in Hemel Hempstead.
Earlier this month, plans were unveiled for a new £270 million indoor ski and winter sports centre in Swindon, Wiltshire, while IFG will operate a further planned indoor "snowdome" which is being created as part of a massive urban regeneration programme in Middlesbrough.