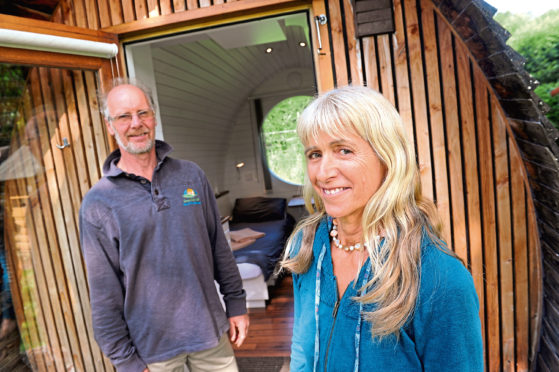 Each week, we ask small businesses key questions. Here we speak to Graham Anderson, who runs Loch Ness Glamping, together with his wife, Sonia.
How and why did you start in business?
I started life as a heating engineer, working for a large company in north-west England. It went into liquidation so I set up on my own but, while I knew my trade inside out, I knew very little about how to run a business.
After a few years my company, Reliable Heating and Plumbing, started to grow. Unable to refuse all the work that was coming my way, I became overwhelmed and started to take on staff. Late or no payment is a big problem in the construction industry, and several unpaid bills forced me to quit.
I joined a large plumbers' merchant as a salesman and was then offered a job in the Highlands, which I took.
It was a massive change, but working for the UK's largest LPG (liquefied petroleum gas) supplier and travelling through the breath-taking Scottish scenery did not seem like work at all.
Twelve years passed and my first marriage had broken down before I met Sonia.
I soon found myself married to a wonderful woman who had always been self-employed in the catering industry.
Although I had no experience, I left my job and joined hard-working hands with Sonia running Drumnadrochit's Polmaily House Hotel. I loved it.
How did you get to where you are today?
After four years we sold up and moved to our new venture – the four-star Great Glen B&B, which is set in 10 acres with our horses, Shetland sheep and Highland cattle.
Loch Ness Glamping was born out of a need to create more B&B rooms in our house.
My wife's youngest was kicked out of his bedroom to make room for more guests, and rehoused in an Armadilla pod. It was such a hit with our guests that five more were added and our son got his own bedroom back. Everyone was a winner.
Who helped you?
First and foremost, Sonia, along with some great tips from a few local accommodation providers.
We appeared on Channel 4's Four in a Bed, which boosted business a lot.
Support from the Federation of Small Businesses is very useful and just knowing it is there when needed is a great comfort.
What has been your biggest mistake?
In business, to expand my heating and plumbing business too quickly – making it vulnerable to bad debt. In life, marrying too young first time.
What is your greatest achievement?
Winning a second for my Highland cow at the Black Isle Show. Joining the parade at the end with all the other winners and second placers was fantastic, as was winning Calor Gas's salesman of the year award for 1998-99.
If you were in power in government, what would you change?
I'd reduce VAT on hospitality from 20 to 6%.
What do you still hope to achieve?
To continue to grow Loch Ness Glamping slowly but surely, providing top accommodation experiences for all our guests.
What do you do to relax?
We work seven days a week for seven months of the year so spare time is very limited. Once closed, we like to visit family in New Zealand and Australia where we enjoy mountain biking and fishing. At home, I try to find time for an occasional spin on my motorbike.
What are you currently reading, listening to or glued to on the TV?
I hardly watch TV but I do host a weekly life group meeting in the house, watching and listening to messages from an American church called Life.church.
What do you waste your money on?
We are fanatical about what we eat, and always buy good and healthy food, which comes at a frighteningly high price. You don't want to see our weekly food bill.
How would your friends describe you?
A grafter and quite an amenable guy.
What would your enemies say about you?
I don't think I have any. Some might be jealous of what I have achieved and all the material stuff, but I consider myself very blessed.
What do you drive and dream of driving?
I drive an old Peugeot estate but dream of owning a Land Rover County – a vehicle packed full of character and now an investment.