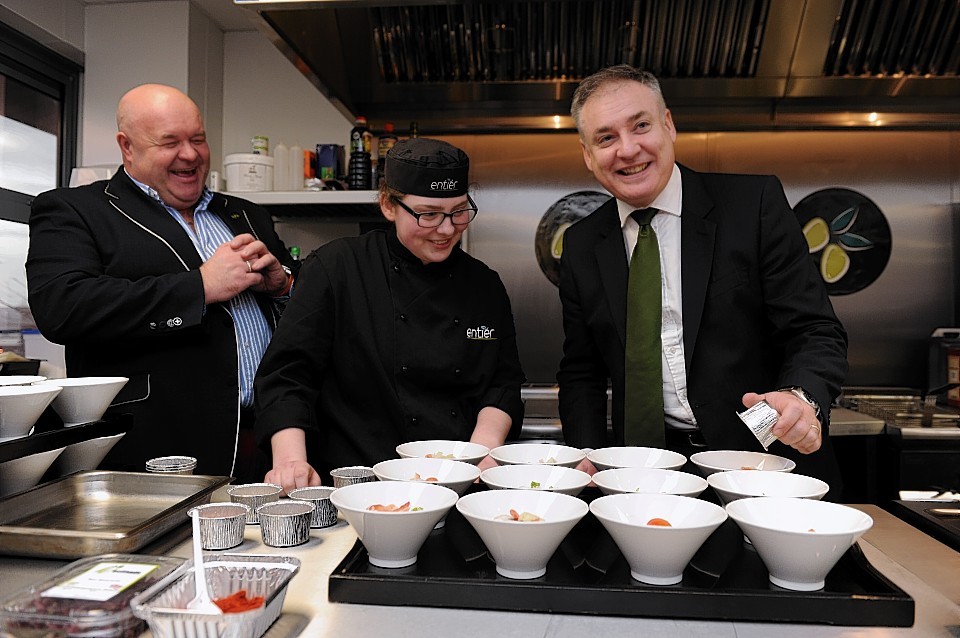 Independent contract catering and support services firm Entiér, the largest independent company in Scotland, has invested £600,000 to develop a purpose built production kitchen and training academy.
Entier, which doubled the size and capacity of its Aberdeen office after relocating to the Olive House in Westhill in 2014, welcomed Cabinet Secretary Richard Lochhead to officiall open the new facility which extends to 5,000 square feet.
The firm operates internationally with offices in Houston and Halifax NS as well as their Aberdeen headquarters.
The company employs over 750 staff, operating 22 onshore contracts to local businesses and education establishments.
Additionally it operates 30 offshore units in eight different countries supplying catering and hotel services to the offshore oil and gas industry, and achieved £40million sales in the year to the end of September 2014.
Entiér's Executive Chef, Bruce Lawrence, said: "The bespoke cooking suite has the highest quality equipment that will allow us to do some very special things for our clients."
Peter Bruce, Chief Executive, said: "The completion of this unique facility signifies another major milestone in the successful evolution of our company and one that further reinforces our rapidly-evolving status as a leading catering and support services company in the marketplace.
"The Olive House provides the additional capability necessary to support an increase in staff numbers and services, as our operations expand both in the UK and internationally. With a very healthy and expanding client base and as we look to launch a number of exciting new ventures, 2015 looks set to be another significant year for Entiér."
Mr Lochhead said: "I am delighted to visit Entiér today and see for myself the growth of the company over the past six years. Entiér began as a small company based in the north east of Scotland and are now the largest independent contract, catering and support services company in Scotland, supporting jobs and businesses throughout the country and internationally.
"I was impressed to hear that Entiér source nearly 70% of all produce from Scotland and I applaud this commitment to using local, seasonal produce throughout their operations."