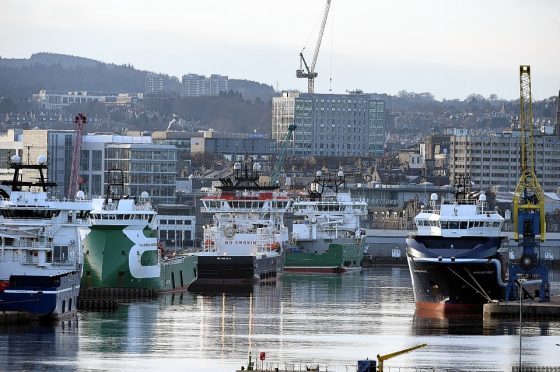 Aberdeen harbour raised its vessel and cargo rates by almost 16% at the start of the year as part of a wider plan to cover the soaring cost of the planned expansion into Nigg Bay.
The projected sticker price has jumped from £320million to £415million and Aberdeen Harbour Board, which runs the port, thinks it will need to borrow up to £200million to fund the project.
In a statement, the harbour board said yesterday it had decided to increase rates above inflation every year for five years to help foot the bill.
It is also seeking third party funding and hopes to benefit from the Aberdeen City Region Deal.
But the success or failure of the project does not hinge on the award of the city deal, a spokeswoman for the board said.
The harbour's status as a trust port can also help it finance the expansion. As it is a trust and not a private business with an obligation to pay out dividends, it can divert all of its profits into modernising its facilities.
The harbour made pre-tax profits of £12.4million in 2014, up from £9.6million a year earlier.
The five-year programme of rates increases started last January, when rates went up 17.3%, and it continued this month with a 15.8% rise.
But the board said its customers had been consulted on the decision and that any increases in its main charges have historically been well below inflation despite significant investments being made on port's facilities.
It said: "We are in year two of the five-year plan and, despite the strong pressure on many of our customers to reduce costs, there is still a widespread recognition of what the expanded facilities in Nigg Bay could deliver.
"In addition to, and in an effort to reduce the rate increases we are also in discussion with a number of bodies regarding potential public funding.
"We believe that after all five years of above inflation increases have been implemented Aberdeen Harbour will remain a competitive location for our customers to do business."
The board sees the transformation of Nigg Bay – located to the south of the existing port – as essential if Aberdeen is capitalise on the growing cruise ship sector, as well as the renewables and decommissioning industries amid competition from Norway.
The development would provide an additional 4,500ft of quay, a minimum water depth of 30ft, a wide entrance and turning circle, and a laydown area of more than 1.3million sq ft.
The expansion is a priority for the Scottish Government, which has identified it as one of 14 projects of national importance.
The board is expected to make a decision on whether to go ahead with the project in August.