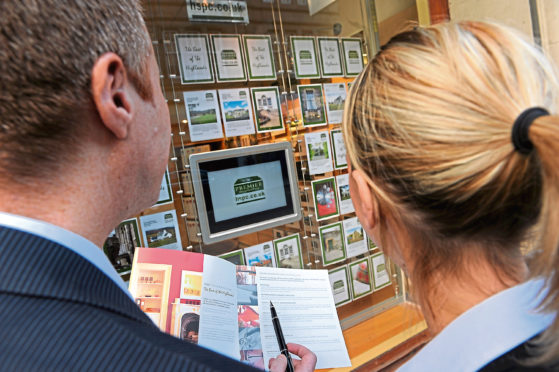 The Highlands and Islands have lost their crown as the top region in Scotland for property rental price growth, industry figures show.
An area covering Glasgow and the Clyde has toppled the north to boast the fastest growing rent rises in the country.
But while average monthly rents in Glasgow/Clyde and the Highlands and islands surged by 14.1% and 13.1%, respectively, during the year to the end of November 2018, those in southern and eastern part of Scotland fell 4% and 1.7% respectively, the figures reveal.
East of Scotland includes Aberdeen, Aberdeenshire, Moray, Angus, Tayside, Perthshire and Fife.
Across Scotland, the average monthly rent grew by 0.4%, with the seasonally adjusted total in November coming in at £574.
Without the seasonal adjustment, renters across Scotland were typically paying £584 that month.
Despite no longer being top of the growth chart, the Highlands and Islands still boasted the highest monthly average rent in November, at £699.
Average prices in Edinburgh and the Lothians rose by 3.1% over the year, to £687, while Glasgow and the Clyde region had the third highest monthly figure in November at £616.
Average rents in the east of Scotland – the cheapest part of the country for renters, according to the study – slipped to £530.
The figures are from estate agent Your Move, which said annual returns for Scottish landlords fell slightly but still compared favourably to the returns achieved in England and Wales.
Aberdeen Solicitors Property Centre chairman John MacRae said the east of Scotland figures did not necessarily reflect what was happening in the Granite City, where the property market seemed to have stabilised after two years of decline amid the oil and gas downturn.
"People are still renting and there is a large student population in the city," he said, adding: "One silver lining of the economic downturn is that it might have made it easier for young people and first-timers to get on the property ladder."
Mr MacRae said rent of about £525 a month for a one-bedroom flat in the Ferryhill area – rising to £800 to £1,000 for two-bedroom and executive flats, respectively – were "indicative" of the wider market in Aberdeen at the moment.
He added: "The Aberdeen property market went through two years of pretty hard times because the local economy was suffering.
"The effect of the oil downturn was worse than during the banking crisis but things seem to have stabilised, or so we are hoping anyway."
There was another fall in the number of tenancies in arrears across Scotland during November, Your Move found.
It recorded 9.9% of all tenancies as being behind with payments, down from 10.4% in October and 11% in September.
The total number of households in serious arrears – defined as two months or more of missed payments – was 9,386 in November.