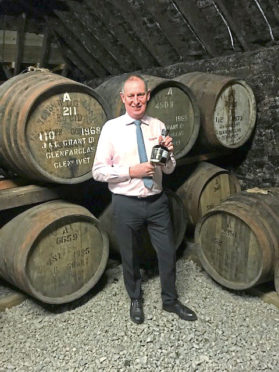 The first spirit other than whisky to come out of Glenfarclas, one of Scotland's oldest distilleries, has gone on sale at Harrods for £1,300 a bottle.
Glenfarclas Distillery, at Ballindalloch on Speyside, imported the rum from South America under an innovative partnership with Colombian company Dictador.
It was then stored in whisky casks to give it the Glenfarclas twist that Callum Fraser, the distillery's prduction manager, was looking for.
The first batch of a 347-bottle production run of Dictador Glenfarclas 1972 rum sold out quickly, despite the hefty price tag.
"It's pretty special stuff," said Mr Fraser, who joined Glenfarclas owner J&G Grant in December 2012 having already clocked up more than 20 years in the whisky industry.
J&G Grant had no plans to diversify from whisky until it was approached by Dictador, which makes rum in Cartagena on Columbia's Caribbean coast, and also produces coffee and cigars.
Dictador was looking for suitable partners for its pioneering 2 Masters project, which is marrying the rum to premier brands of whisky, cognac, Champagne, Armagnac and French wine to create unique expressions.
Glenfarclas worked with spirit from between 1972 and 1984 to produce its limited-edition rum, with the first batch the most expensive in the range.
It is the first time a spirit other than whisky has left the old Scottish distillery, which was founded in 1836.
Since 1865, the operation has been owned and run by just one family – the Grants – who acquired it for about £512.
The distillery is now in the hands of the fifth and sixth generations of the family.
John Grant, who joined Glenfarclas in 1973, is the current chairman. His son, George, is director of sales.
The distillery is producing about 480,000 gallons of single malt whisky a year on average, though it has made more.
Most of the whisky is exported, with Germany, Taiwan and the US among its biggest markets amid steadily growing global demand.
Glenfarclas is one of only a few distilleries in Scotland to remain family owned and managed.
Mr Fraser said it was also the only whisky maker relying 100% on direct fired stills.
The time-honoured production skills at Glenfarclas are a big draw for the 18,000-20,000 people who flock to its visitor centre every year.