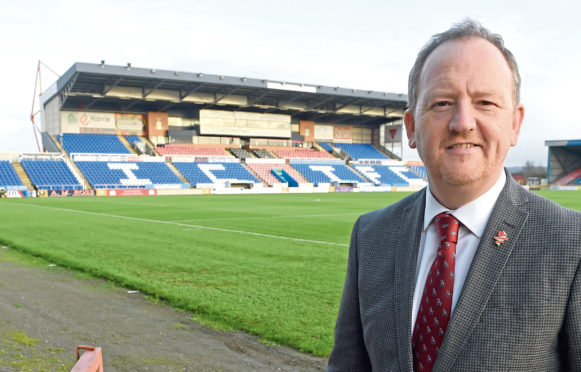 Each week, we ask small businesses key questions. Here we speak to Scot Gardiner, chief executive of Inverness Caledonian Thistle Football Club.
How and why did you start in business?
I started work at 17 in DC Thomson's magazines section, and remained in publishing until my 30th birthday, when I was approached by Rangers Football Club to take up a position in their commercial department.
I went on to Tottenham Hotspur FC to work for Lord Sugar, then spent the next 10 years or so in London, working in and around football, festivals and Formula 1, before returning to Scotland to run Dundee, Hearts and – since April of this year – Inverness Caledonian Thistle (ICT).
I set up my own business in London, having seen the opportunities that abounded, and still have my own production and consultancy company with my business partner in Dundee.
How did you get to where you are today?
I've never had a life plan as some folks do, preferring to just get on with it. I give whatever I'm doing my all, believing the more I commit, the more likely I am to succeed.
Who helped you?
My parents, and especially my dad, who has been a huge influence. My wife, Corrinne, is a rock, giving me the leeway to do whatever I think best, and I learned a lot from businessmen and friends past and present, like Stewart Ford, Chris Smith, Bob Reilly, Douglas Ferrans, Lord Sugar, Daniel Levy, David Murray and Anne Budge.
My business partner John Brown, and brother, Neil, have also stepped up to the plate for me lately.
Organisation-wise, I continue to open up my mind and connections, working with individuals and executives involved with the Federation of Small Businesses and Inverness Chamber of Commerce.
What has been your biggest mistake?
Not going to see a doctor a few years ago when I clearly had a serious problem. I ignored it for months, if not years, until one day it hit me hard.
It's something that clearly comes inherently to Scottish men, particularly those from the north-east.
What is your greatest achievement?
I take great pride in my roles in turning Dundee and Hearts around.
Both clubs had been in very dark places, having suffered great financial and moral harm from various "characters", and I know both were in much better places when I left. I genuinely believe my greatest achievement is still to come.
If you were in power in government, what would you change?
I would make both the Westminster and Scottish governments less insular. I enjoyed all of the benefits of living in London and Edinburgh, but could see that both governments suffer dreadfully from over-centralising tendencies.
I would also invest much more in areas like the Highlands and islands, as they don't benefit from many of the initiatives enjoyed by more populated metropolises.
What do you still hope to achieve?
In the short term, I want to make Inverness Caley Thistle FC financially sound and a pillar of Inverness and the surrounding area – and to get the team back into the Scottish Premiership for good.
What do you do to relax?
I walk the Highland forests and beaches with my Westie, Cooper.
What are you currently reading, listening to or glued to on the TV?
Mainly American civil war podcasts. I've just finished watching Maradona in Mexico, which is a fantastic Netflix fly-on-the-wall TV series.
What do you waste your money on?
Silk ties and brown shoes (brogues).
How would your friends describe you?
Sometimes too forthright but essentially extremely loyal. Unless you let me down badly.
What would your enemies say about you?
I always liked a quote that I thought was from Sir Winston Churchill but it turns out it was from the great writer Victor Hugo: "You have enemies? Why, it is the story of every man who has done a great deed or created a new idea. Do not bother yourself about it; disdain." So in short, I couldn't care less. Disdain is good.
What do you drive and dream of driving?
I fell out of love with driving in London. I have mainly been driving one of the ICT pool cars, which are Kias from our kind car sponsor, Dixons. Their new electric model, the e-Niro, looks different, so perhaps that or any BMW.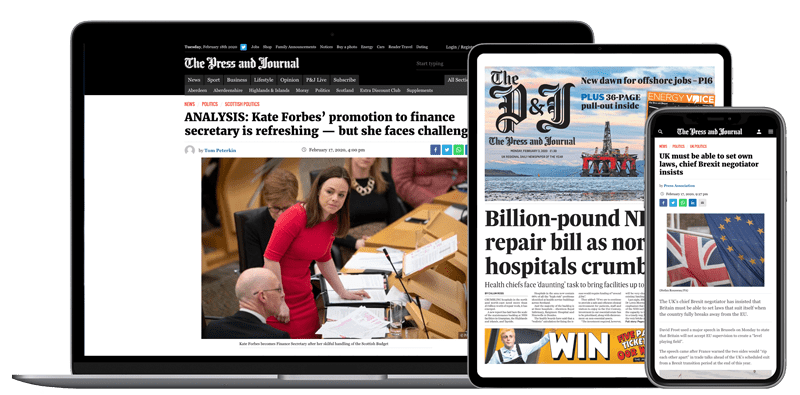 Help support quality local journalism … become a digital subscriber to The Press and Journal
For as little as £5.99 a month you can access all of our content, including Premium articles.
Subscribe