Companies with more than 250 employees will have to publish the difference between the pay of male and female employees under new rules to be announced by the UK government today.
Prime Minster David Cameron said the requirements were part of a plan to "end the gender pay gap in a generation", as figures showed women make 80p for every pound a man makes in Great Britain.
Business groups warned that publishing pay gap data could be "misleading" but called for a target to be set to reduce the gap in pay between men and women.
Mr Cameron will launch a consultation today to look at the detail of how the new gender pay gap regulations will be designed, including what, where and when information will be published.
Last night it was unclear if the new rules would apply to companies headquartered in Scotland, although firms that are registered in England and Wales with employees in Scotland are likely to be included.
The boss of Lloyds Banking Group – which is largely based in England but whose office is in registered in Edinburgh – welcomed the move.
António Horta Osório, chief executive of Lloyds, said: "Last year, Lloyds pledged to increase the proportion of senior management roles held by women to 40%t by 2020.
"Lloyds looks forward to working with the government on the consultation on gender pay gap reporting, to ensure the views of British business are taken into consideration when implementing this policy."
Michelle Mone, a Scot whose lingerie firm Ultimo Brands International is based in England, also hailed the move.
Ms Mone said:"This new requirement for larger companies to publicise their gender pay gap is absolutely fantastic. Women should rightly have the same expectation of good pay and progression as men, wherever they choose to work. Today's announcement will highlight those companies where the pay gap is persisting. I hope this will empower women to challenge this state of affairs and ask why."
But the CBI's Deputy Director-General Katja Hall, was less enthusiastic about the new requirements.
She said: "Addressing the gender pay gap is the right priority – and we should set a target for reducing it. While we believe publishing pay gap data could be misleading, we will work with the Government to ensure that rules on what is published are flexible enough to be relevant to each company.
"To see real progress, however, we need to challenge occupational stereotypes by encouraging more women into male dominated industries and investing in careers advice."
The announcement came as the UK's FTSE 100 companies reached the  target of 25% of board positions being filled by women – an ambition set by Lord Davies in 2011.
Writing in an English newspaper published today, Mr Cameron said: "Today I'm announcing a really big move: we will make every single company with 250 employees or more publish the gap between average female earnings and average male earnings. That will cast sunlight on the discrepancies and create the pressure we need for change, driving women's wages up.
"This will primarily help women, who tend to be in lower paid jobs. It will help close the gender pay gap. But we need to go further, and that's why introducing gender pay audits is so important."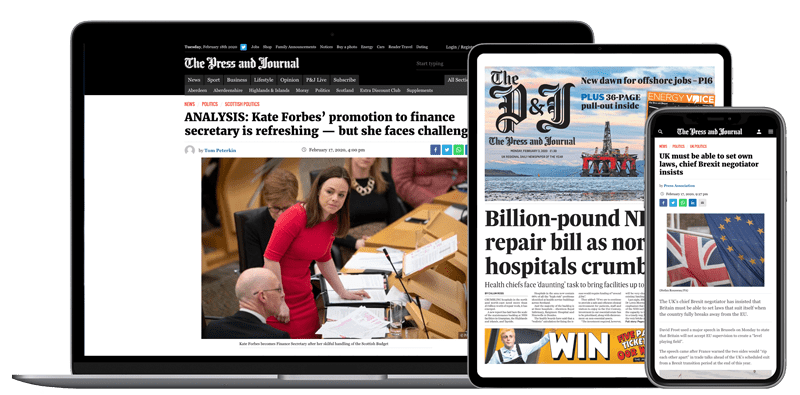 Help support quality local journalism … become a digital subscriber to The Press and Journal
For as little as £5.99 a month you can access all of our content, including Premium articles.
Subscribe