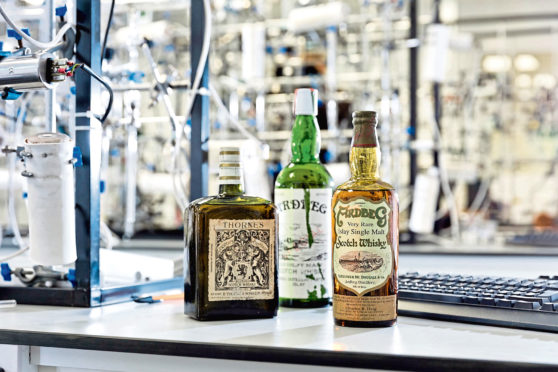 Rare whisky experts have estimated that more than £40m-worth of fake product is on the secondary market for antique bottles of Scotland's national drink.
Whisky valuation, brokerage and consultancy services firm Rare Whisky 101 (RW101) said yesterday the problem affected "every major route" to a fast-growing investment market.
It teamed up with scientists at the Scottish Universities Environmental Research Centre in Glasgow to try to find out how much fake rare whisky there is.
Laboratory tests on 21 different bottles potentially worth around £635,000 confirmed them all as modern fakes.
Based on these results, Dunfermline-based RW101 has estimated that around £41m worth of rare whisky currently circulating in the secondary market and present in existing collections is fake.
That is more than the entire UK auction market, which RW101 has predicted will exceed £36m by the end of 2018.
The firm urged buyers to request absolute proof of authenticity before considering antique bottles.
Co-founder David Robertson said: "We are clearly disappointed to discover that, without exception, every single 'antique' pre-1900 distilled whisky RW101 has had analysed over the past two years has proven to be fake.
"Every purported pre-1900 – and in many cases much later – bottle should be assumed fake until proven genuine, certainly if the bottle claims to be a single malt Scotch whisky.
"This problem will only grow as prices for rare bottles continue to increase".
Business partner Andy Simpson, who hails from Lairg in Sutherland, added: "The exploding demand for rare whisky is inevitably attracting rogue elements to the sector.
"While we know that the vast majority of rare whisky vendors aren't knowingly selling fake whisky to unsuspecting buyers, we would implore auction houses, retailers, brand owners and buyers to refrain from selling or purchasing any pre-1900 distilled Scotch whisky unless it has a professional certificate of distillation year/vintage by a carbon-dating laboratory."