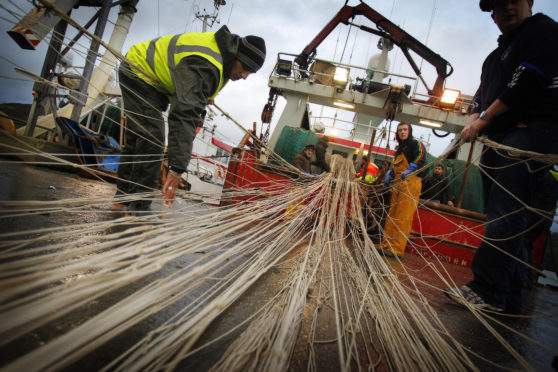 A blueprint to ensure the "brightest possible future" for the fishing industry after Brexit is being set out by the Scottish Government.
The "national discussion paper" – effectively Scotland's riposte to the Fisheries Bill still making its way through the UK parliament – highlights the ambitions of the Holyrood administration for the catch sector north of the border.
Fisheries Secretary Fergus Ewing is launching the consultation document in Kirkwall, where he is attending the latest Convention of Highlands and Islands event.
Individuals, businesses and communities involved in fishing are to have their say in what a new strategy for fisheries management should look like.
The paper reveals the Scottish Government is already working on a Future Catching Policy (FCP).
Partly based on Norway's fisheries management system, the FCP is intended to be far more "flexible, reactive and responsive" than the EU's Common Fisheries Policy.
It is also meant to give Scottish fishers a much greater say in decision-making and resolve problems created by the EU-wide ban on fish discards at sea.
The discussion paper also spells out Mr Ewing's aim – announced in August 2017 – to make sure at least 55% of landings from boats bigger than 33ft are into Scottish ports – boosting this country's processing sector and, in turn, the economy.
Fishers failing to hit the new target risk losing some of their valuable quota in lieu of any "economic loss to Scotland".
The document outlines the Scottish Government's desire to raise its own seafood levy and have "full autonomy" for Scotland in deciding how the cash raised should be used.
Currently, industry body Seafish collects a levy – used to pay for policy development and initiatives such as safety training – from all first-hand seafood sales in the UK.
In addition, the discussion paper makes clear Holyrood's intention to press for Scotland to take the lead – whenever it has the "critical voice" on stocks and access arrangements in its waters – on behalf of the UK in future fishing negotiations as an independent coastal state.
"There could be a memorandum of understanding between the UK and Scottish Government to underpin this," the document says.
The paper also seeks to make sure that access to Scottish waters and fishing opportunities is "not traded away by the UK Government".
Mr Ewing said: "Scotland has a rich fishing culture and heritage and it is vital that we build on that sustainably for the future.
"Brexit will inevitably bring changes in the way in which we manage our fisheries, and also the relationships which we will have with our friends and colleagues from other seafaring nations.
"Whatever the future holds, Scotland's role as a world-leading fisheries nation, and as a responsible and sustainable manager of this important natural resource, will continue.
"This discussion paper will help us develop our approach to local management and partnership working that we already have in place."
He added: "It's vital that we come together to shape our future approach, and that everyone involved in fishing has their say in that process.
"Only by doing so can we best manage our natural resources sustainably, and ensure the brightest possible future for fishing in this country. The discussion paper isn't intended to provide all the answers, but rather act as a catalyst for us to move forward together, and develop ideas which can help deliver an inclusive, productive approach."