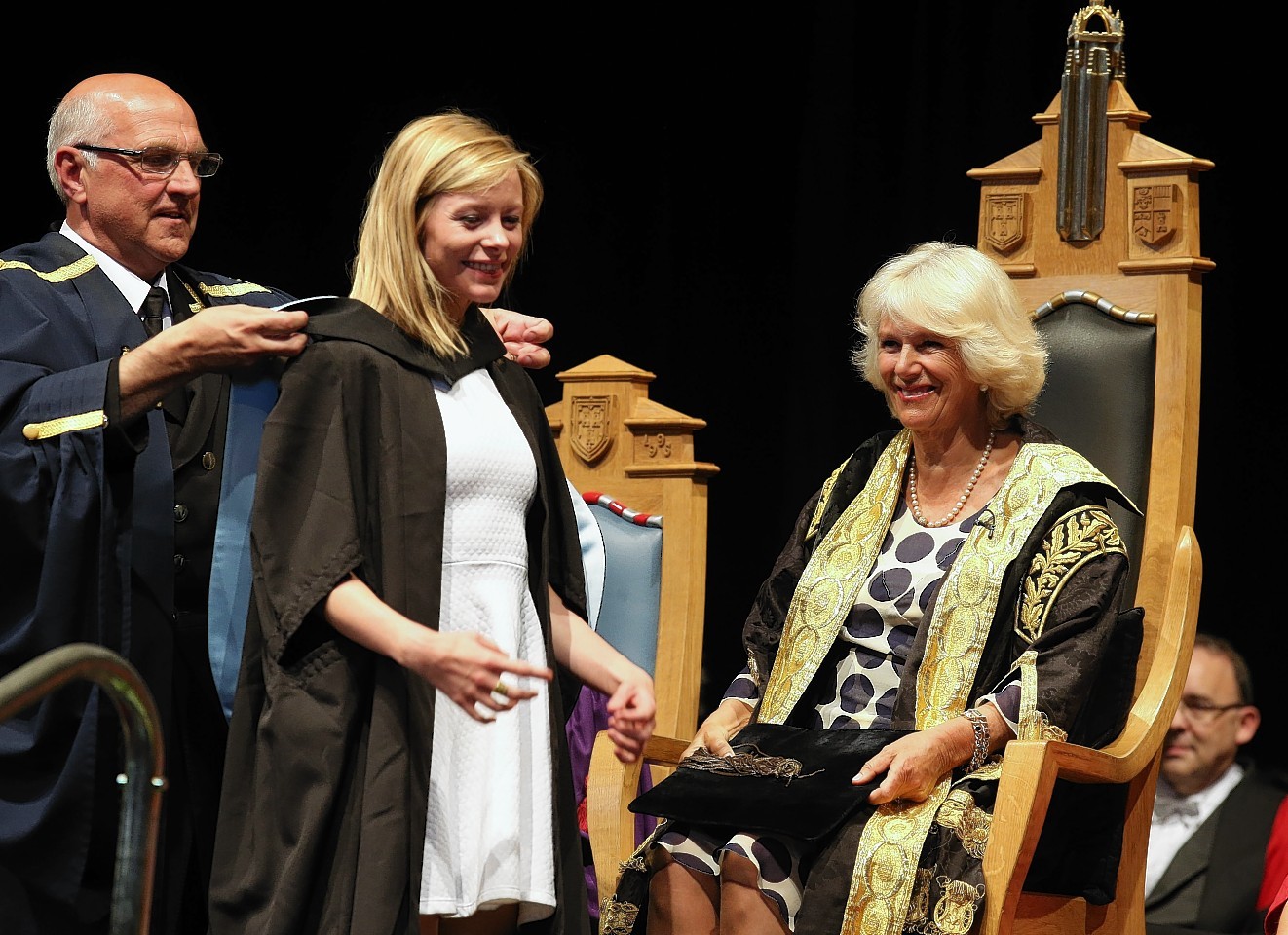 Aberdeen University's first female chancellor, The Duchess of Rothesay, conferred her first degrees on a cohort of thrilled graduates yesterday.
Students were not told in advance that the Duchess, who made history when she took up the position last year, would be presiding over a special afternoon ceremony and the excitement was palpable as she arrived to perform her official duties at Elphinstone Hall.
Hundreds of graduates in accountancy, business, law and economics were capped yesterday in front of their proud families during three ceremonies.
The Duchess was greeted by glorious sunshine as she joined a procession of dignitaries, including Principal and Vice-Chancellor professor Sir Ian Diamond, through the university's historic grounds.
Draped in gold and black on stage, she looked on proudly at the students she capped – and sent each one off with a beaming smile.
Her Royal Highness said she was "touched" and "honoured" by the appointment, and was incredibly proud of her role considering she left school at 16.
At the morning ceremony, students were addressed by chair in economics, Keith Bender, who told them their time at Aberdeen University would shape their lives for years to come – and in ways they might not even realise.
He said it was all very well having a team of excellent staff on campus and a plethora of historic and beautiful buildings, but it was the students taking their experiences out into the world who were the true lasting legacy of the university.
"As long as you all live, you will be the University of Aberdeen," he said.
"Through you, the university lives on as it has for over 500 years – a product of the collective experiences of the people who have learned and studied here.
"The experiences of your time here will carry you through the rest of your life, influencing you in ways you may not even know."
And amid the gravity of the occasion, he even shared a quote from Dr Suess as he bid farewell to his students, saying the celebrated children's author summed up perfectly what the day signified.
He said: "Congratulations, today is your day. You're off to great places, you're off and away.
"You have brains in your head, you have feet in your shoes, you can steer yourself in any direction you choose.
"You're on you're own, and you know what you know. And you are the one who'll decide where to go."
Professor Margaret Ross, vice principle and head of college, addressed the afternoon graduates, reminding them it had been 500 years since the death of Bishop Elphinstone, the founding father of the university.
"I hope you will embrace the challenge to take your place in international history so that someone like me can continue to celebrate the impact of our graduates in the decades and centuries ahead," she said.