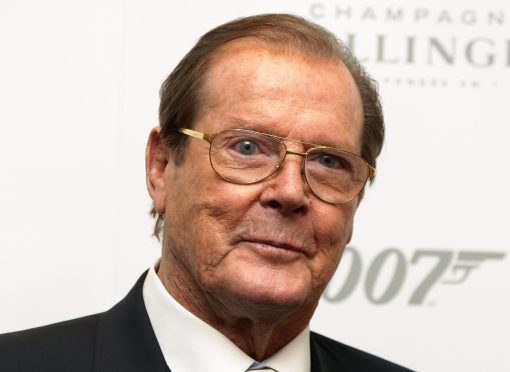 Even at the age of 10, I knew Roger Moore was going places: I was such a fan of 60s television spy thriller The Saint, I used to re-enact his fight scenes in our living room afterwards.
All of my hero's adversaries would up being flattened by this debonair, sophisticated man of steel.
I wanted to be just like his character Simon Templar. That's where our lives started to diverge somewhat, as Roger was destined for film greatness as agent 007, James Bond.
It was quite brave of Sir Roger to bring his one-man show to Aberdeen. After all, predecessor Sean Connery would be first-choice Bond with many Scots.
With seven Bond movies notched on the holster of his Walther pistol, surely no one could raise an eyebrow about Sir Roger sharing his career highlights.
At a time of night when most octogenarians would be thinking of turning in, Sir Roger, 89, was starting his two-and-a-half hour show in sub-zero Aberdeen – a good deal colder than Monaco, where he now lives.
Sir Roger still cuts dash – a genuine star who captivated his audience, with half of the night devoted to his early life and career, and the rest to his James Bond days.
With a stage interview the centre-piece, intercut with film excerpts, there was plenty to talk about with the audience.
Sir ROGER enjoyed warm applause as he came out stage, but took the audience by surprise by waving a giant poppy and announcing, "That's for FIFA!" – an irreverent swipe at football's governing body following the recent armband row before the Scotland-England game. He then waved to someone in one of the boxes and revealed it was his driver. "We have to take care of him," he quipped.
The star entertained us with a humorous tour around his early career – spotted as an extra playing a centurion, followed by a pleasurable time at drama school ("16 girls to four boys").
Aborted attempts to make hit films in the US, being warned by an actress for kissing too hard followed by big breaks back home on television, leading to the big hit with The Saint. While producing and directing the show, he launched the careers of unknowns Donald Sutherland and Oliver Reed.
The biggest cheer of the night came when the subject turned to 007, and Sir Roger gave us one of the most famous film one-liners of all time: "The name is Bond, James Bond." He only got half way through as the roar from the audience drowned it out way through, so had to do it again.
Now it was the audience q and a.
What was his favourite gadget? The Rolex magnetic watch that took down the zip of his leading lady's dress.
Do you have an eyebrow agent? "It's my own fault. I once said I had three expressions: left eyebrow up, right eyebrow up, both eyebrows up."
Who should the next Bond be? Aidan Turner.
Sir Roger rounded off with an impassioned plea on behalf of his beloved charity UNICEF before bidding farewell.
As we departed after a fascinating night in his company, we were not so much shaken or stirred, but rather charmed and enthralled. I think we had bonded.