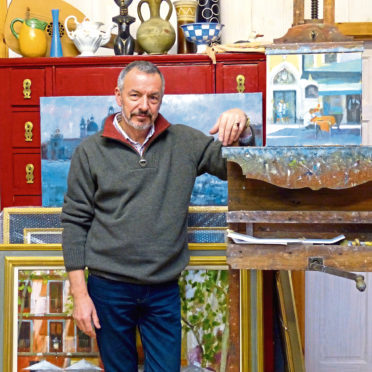 At an age when most people would be thinking of retirement and days spent on the golf course, 64-year-old Jack Morrocco is still as busy as ever.
His latest exhibition at Rendezvous Gallery in Aberdeen continues a long-standing relationship between the artist and the gallery which started with a family exhibition in 1992.
The exhibition is named An Artist's Journey – are you still on your journey?
Everybody my age, all of my contemporaries, are retiring and looking forward to playing golf. Why I'm not planning on retiring is because I love art and you can't retire from a job you love – and I'm not very good at golf.
You come from a very artistic background?
My family are all involved in art on both my mother and my father's sides. It seems all programmed into people now to be worried at 13 and planning their careers. In the 60s I went to art college with no second thought of a career. The vocation and the study of art was enough. I've been involved in arts all my life. My brother is a retired sculptor. It just never occurred to anyone in the family to do anything else, and I don't regret it.
When did you first start playing with painting and art?
My mother always encouraged me to dabble and I was about eight or nine when I first started painting.
You have used mainly oils in this exhibition, is that usual for you?
I prefer the texture and the versatility and the connection with history that oils have. They have been in use for 600 years by artists like Rembrandt. In a way I regret seeing some on the conceptual artworks now – call me old fashioned but I like the connection, and digital can never replace that.
When you are creating a painting do you consider the artists of history?
The old masters and Impressionists are always in my thoughts. I look to their books when I'm stuck on how to handle some problem.
Do you go out to try to find locations to paint?
I collect ideas particularly. The digital camera is a huge advantage in that I can take away an image and it could be maybe years later that I use it as inspiration. Monet used to carry 25 different canvases and he would use one if it was cloudy and another if it was sunny. I have the huge advantage that I can record that and it is a brilliant way of using for a reference.
Did you start out painting landscapes or still life?
I have only been painting landscapes for the last 15 years. I was in the south of France for a stay and immediately I could see the quality of light which attracted contrast and I started exploring. I then travelled across Italy and to Paris and the north of France, exploring.
You've been exhibiting in Rendezvous Gallery for a long time?
One of the first shows I worked on in 1992 when I came back to painting was a Morrocco family show, there with about five of us. Every two or three years since I have made a point of putting the gallery in my diary. The room is fascinating and not like a classic gallery with white walls. It is more eclectic and I feel that people react to that. Everyone that collects paintings knows of the gallery – it has a very good reputation. Long may it continue.
What do you want people to feel when they look at your work? As an artist you are working in isolation from the people who will see it, but I hope people see vibrant and colourful images. I hope you leave feeling excited and cheerful but paintings are better seen than talked about.
An Artist's Journey is on at Rendezvous Gallery until June 9. See www.rendezvous-gallery.co.uk