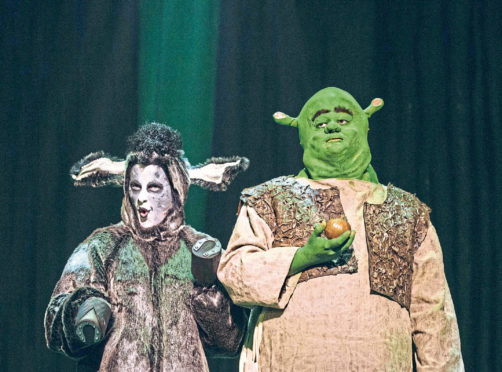 He's the animated ogre that captured the hearts of a generation, and now Shrek, Donkey and Fiona are heading to the big stage.
Shrek fans across the north-east have been snapping up tickets to Shrek the Musical, which opened this week at His Majesty's Theatre in Aberdeen.
The production, which has been put together by local theatre group AOC Productions, is based on the much-loved Dreamworks motion picture first released in 2001.
It was first performed as a stage show some 10 years ago with productions on Broadway and the West End, scoring eight Tony Award nominations in the process.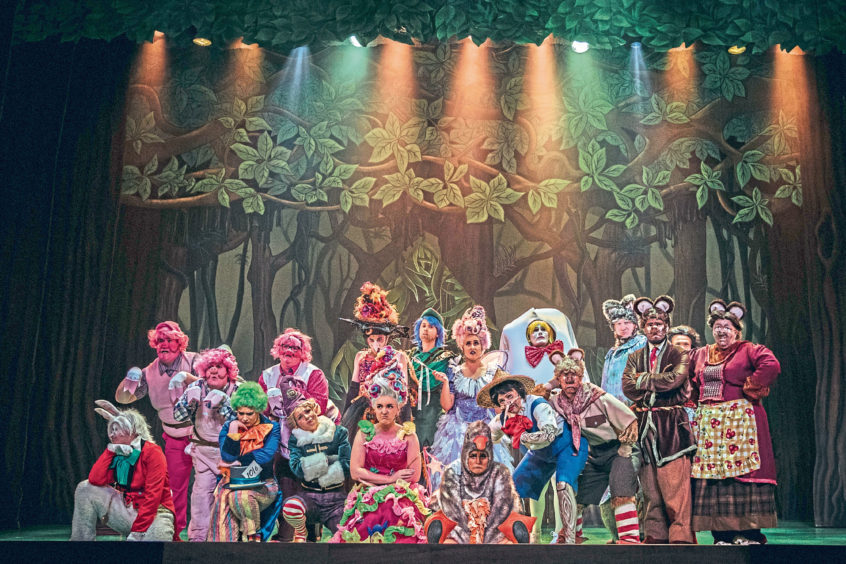 With a score written especially for the production, the story follows Shrek the ogre as he finds his swamp invaded by all sorts of fairytale creatures.
Although hesitant, Shrek decides to travel to the Kingdom of Duloc to see Lord Farquaad and try to regain his land, though somehow finds himself embarking on a hero's quest to save the beautiful Princess Fiona.
"Iconic is a big word but I'd go as far to say that the original film is just that," said Morag Nicol, who plays Princess Fiona in the Aberdeen production.
"It's such a big film which is loved by people of all ages.
"The rights and scripts for amateur productions have only recently been released, and we are so excited to be bringing the show to His Majesty's. There are a few lines which are identical to the movie and I'm sure audience members will be mouthing along to them.
"But we have also put our own spin on it. For example in our show, Donkey is female, which is a new take.
"We've kept all the humour that the film was famous for though, and I think the music enhances that.
"It's not the same soundtrack as the film but audiences will recognise a couple of tracks I'm sure, and our live band are fantastic."
The original cast for Shrek the movie featured big names including Eddie Murphy, Mike Myers and Cameron Diaz, with fantastical characters including dragons, talking gingerbread men and of course ogres.
As a result it's not an easy one to translate to the stage, with top-quality costumes, set and special effects required to make an impact.
"I actually didn't watch the film again after I knew I got the part of Fiona," said Morag.
"I didn't want to copy Cameron Diaz too much and wanted to do my own version of the sassy princess.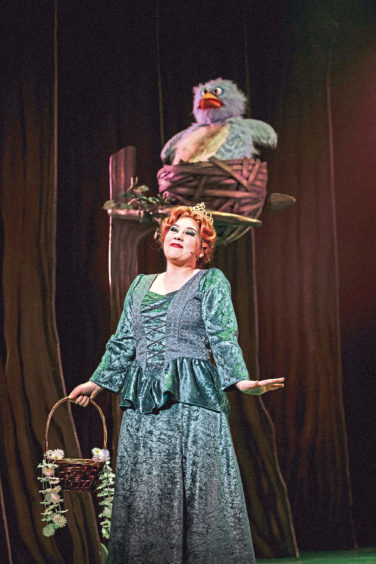 "It is difficult when you're playing a character which is loved by audiences and that is one of the challenges of Shrek as a whole. We spent a lot of time with the director going through characterisation and movement to really get to know the characters well.
"And we are very lucky to have Amanda McCarthy, from Glamcandy, leading our make-up and prosthetics team.
"She's fantastic at what she does and essential for the show.
"I don't have much time to transform into an ogre as it's in the middle of the show, so her skills are being really tested what with that, Pinocchio and the three pigs!"
Made to measure costumes complete the look, with last-minute details still being added to them just days before the performance.
"I think Lord Farquaad's look is my favourite," laughed Morag, "it's so fabulously flamboyant."
As well as having to contend with an over-the-top costume, Callum Bell, who plays the Duloc Lord, has had another challenge to deal with.
"Because Lord Farquaad is supposed to be teenie tiny in comparison to the other characters, Callum is playing the role on his knees, which has been hilarious," said Morag.
"He's over 6ft tall in real life so it's been a learning curve for him I think.
"Similar with Deborah Archibald-Tough, who plays Donkey.
"She's having to make her movements and stance as donkey-like as possible, which isn't easy."
Playing the lead role of Shrek is Scott Jamieson, and together the four lead characters have been rehearsing since the start of the year for the production.
"We've got good chemistry on stage which is a real plus as none of us knew each other before this," said Morag.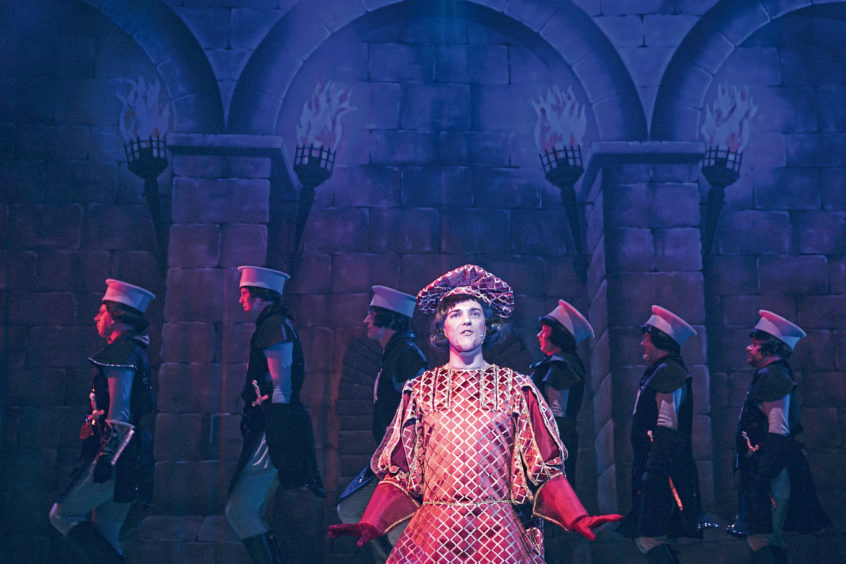 "It's my first year with AOC and the others had always been working on different projects.
"But spending so much time together in rehearsals with the rest of the cast has meant that we've become close friends.
"And I think that is a testament to how hard we've been working and how we build each other up."
Next year, AOC Productions, formerly known as Aberdeen Opera Company, will celebrate its 80th birthday, marking eight decades of high-quality amateur entertainment in the Granite City.
Though the company used to produce more traditional plays and performances, in recent years there has been an increasing demand for musical theatre productions in the north-east, leading AOC to focus on more modern stage shows.
Throughout the city, their shows are known for being of an outstanding quality, with tickets getting snapped up quickly.
"It's funny, it's big and it's a little bit rude," said Morag.
"If you're a fan of the film, it's a must see."
Shrek the Musical is running at His Majesty's Theatre until July 6. For tickets, see www.aberdeenperformingarts.com