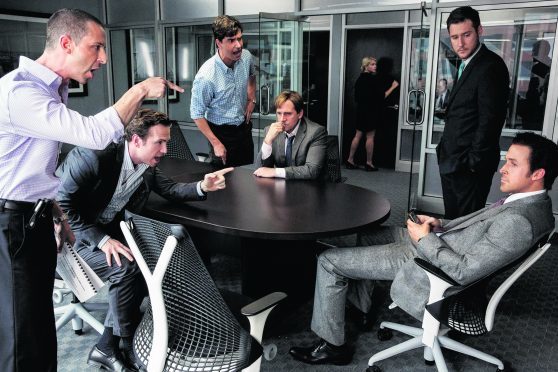 THE BIG SHORT (15)
5 stars
A fool and his hard-earned money are soon parted and, in 2008, many of us turned out to be unwitting fools when the mortgage crisis in America catalysed the collapse of financial institutions, resulting in an ice age of global austerity that has yet to thaw.
Bankers were demonised, the political establishment passed bucks as if they were handling red-hot potatoes and hardworking families paid an eye-watering price.
The Wall Street meltdown doesn't sound like ripe fruit for a cocktail of potty-mouthed hilarity and heartbreaking drama, but Adam McKay, director of the Anchorman films, begs to differ.
Stepping away from the dimwitted Will Ferrell comedies that have made his name, McKay draws inspiration from Michael Lewis's non-fiction account of the housing and credit bubble to dramatise the incredible true story of the men who made a killing by wagering against the US economy.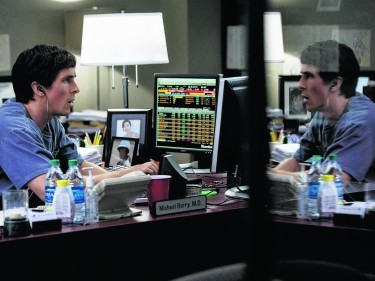 "While the whole world was having a big ol' party, a few outsiders and weirdos saw what no one else could," explains sharp-suited narrator Jared Vennett (Ryan Gosling), a bond salesman at Deutsche Bank with a keen nose for profits.
He is our wisecracking guide to this high-pressure world of bulls, bears and multimillion-dollar trades.
However, Jared is not the first person to spot impending doom.
That honour goes to quixotic hedge-fund manager Michael Burry (Christian Bale).
"It's a time bomb . . . and I want to short it," Burry informs his incredulous boss (Tracy Letts), and bets against the housing market.
Jared gets wind of the deal and follows suit, drawing in deeply cynical hedge-fund manager Mark Baum (Steve Carell) and his team: Danny Moses (Rafe Spall), Porter Collins (Hamish Linklater) and Vinnie Daniel (Jeremy Strong).
Inexperienced investors Charlie Geller (John Magaro) and Jamie Shipley (Finn Wittrock) use personal ties to retired banker Ben Rickert (Brad Pitt) to orchestrate their own high-risk bets as financial authorities ignore warning signs and Lehman Brothers prepares to fall.
The Big Short is a blisteringly funny and provocative portrait of irresponsibility, fraud and gaudy excess, brought vividly to life by a superb ensemble cast.
Carell and Bale shine brightest in the glittering firmament, imbuing their socially awkward oddballs with vulnerability, guilt and regret.
McKay's film is acutely aware that most of us don't speak the Wall Street lingo, so the writer-director cutely interrupts the wheeler dealing with glossy "edutainment" spots.
Wolf of Wall Street star Margot Robbie sexes up sub-prime mortgages while sipping champagne in a bubble bath; celebrity chef Anthony Bourdain explains a collateralised debt obligation (CDO) using leftover seafood, and actress and singer Selena Gomez makes sense of synthetic CDOs over a game of blackjack.
We might not always keep up with McKay's dazzling film and its rapid-fire, whipsmart dialogue, but, by the end credits, we're not far behind.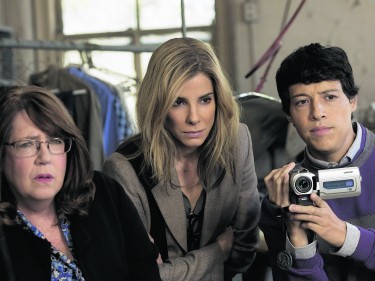 OUR BRAND IS CRISIS (15)
3 stars
Cold, unvarnished truth rarely darkens the doorstep of modern politics.
Instead, slick soundbites, unsustainable promises, smear campaigns and scare tactics are employed to herd an apathetic electorate, which gets more excited about the winner of a reality TV contest than the shifting sands of Westminster.
Our Brand is Crisis is a sharp and sporadically biting satire of political spin and intrigue, inspired by Rachel Boynton's 2005 documentary of the same name about the impact of American campaign strategists on the outcome of the 2002 Bolivian presidential election.
David Gordon Green's film retains the South American setting, but blurs the line between art and life with fictional characters on both sides of the social and political divide.
Scriptwriter Peter Straughan, who penned the 2011 version of Tinker Tailor Soldier Spy, arms his morally corrupt characters with an arsenal of polished one-liners to justify their underhand tactics.
Sandra Bullock and Billy Bob Thornton are a delicious double act at the centre of these machinations, playing rival spindoctors who will stop at nothing to undermine each other's candidates.
Even the campaign bus rides along winding mountainside roads turn into a potentially fatal game of chicken between the two camps.
"The truth is what I tell the electorate the truth is," declares "Calamity" Jane Bodine (Bullock), who has turned her back on skulduggery to recover from a nervous breakdown in a cabin in the woods.
Campaign consultants Ben (Anthony Mackie) and Nell (Ann Dowd) pay Jane an impromptu visit and offer her a rocky path back to glory.
Pedro Castillo (Joaquim de Almeida), the unpopular president of Bolivia, is seeking re-election, but he is languishing in fifth place in the polls.
He needs Jane's expertise to turn the political tide in his favour, away from frontrunner Rivera (Louis Arcella), whose campaign is masterminded by her arch-nemesis, Pat Candy (Thornton).
Jane contends with altitude sickness and her barely concealed contempt for Castillo to formulate the perfect plan of attack: convince the people of Bolivia that their country is on the precipice of disaster.
Our Brand is Crisis hinges on Bullock and she displays impeccable comic timing, whether it's physical pratfalls like falling down the steps of planes or tossing verbal grenades at everyone in her eyeline.
Thornton is a lip-smacking foil and the actors relish heated exchanges in Straughan's script.
The film loses its way in a final act that tugs heartstrings and ignores everything that Jane professes about the mucky business of electioneering.
"Getting hurt is unavoidable if you want to play this game," she informs one painfully naive member of the team coldly.
She deserves considerably more than the few bruises Gordon Green's film inflicts on her.