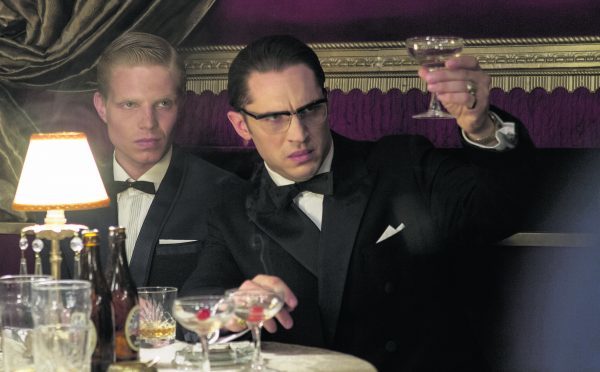 LEGEND (18)
3 stars
On the mean streets of London, Reggie Kray (Tom Hardy) and identical twin Ronnie (Hardy again) continue a brutal turf war with Charlie Richardson (Paul Bettany) and remain one step ahead of Detective Superintendent Leonard "Nipper" Read (Christopher Eccleston).
Reggie embarks on a giddy romance with 16-year-old Frances Shea (Emily Browning), sister of his driver Frankie (Colin Morgan), despite vociferous protests from her mother (Tara Fitzgerald). The relationship coincides with Ronnie's turbulent affair with Edward Smith (Taron Egerton).
Sibling rivalry intensifies and Reggie struggles to contain his brother's sadistic impulses and keep Frances on an even keel. Based on the book The Profession of Violence, by John Pearson, Legend is a brutal portrait of the notorious gangsters which captures the fashions and sounds of 50s and 60s London with aplomb. However, the abrupt shifts in pace and tone are deeply discomfiting. The running time drags in places but it's hard to tear your eyes from the screen, even when Brian Helgeland's film seems to be careening wildly out of control. The neat gimmick of casting the same actor in dual roles proves an almighty distraction. Using the visual shorthand of a pair of spectacles to distinguish between the two Krays, Hardy plays Ronnie as a blackly humorous psychopath, who seems to be one giggle shy of Jack Nicholson's Joker. Reggie, as a dutiful son, always puts family ties ahead of personal desires. "My loyalty to my brother is how I measure myself," he confides.
Helgeland's period drama is torn between these two very different faces of the same blood-spattered coin.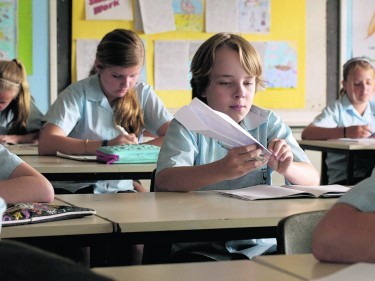 PAPER PLANES (U)
2 stars
Twelve-year-old Dylan (Ed Oxenbould) is a student at Waleup Primary School in the Western Australian outback. He lives with his father, Jack (Sam Worthington), who has given up on life – and Dylan – following the death of his wife.
During a lesson at school, Dylan shows a natural flair for making paper planes and teacher Mr Hickenlooper (Peter Rowsthorn) encourages the boy to take part in national trials for the World Paper Plane Championships. School bully Kevin (Julian Dennison) becomes an unlikely ally in this endeavour and Dylan wins a place in the Australian team alongside spoiled brat Jason (Nicholas Bakopoulos-Cooke), whose father, Patrick (David Wenham), is a retired golf pro.
At the finals in Japan, Dylan befriends hometown favourite Kimi (Ena Imai), who is a pint-sized sensei when it comes to the art of paper-folding.
"Winning and losing doesn't matter," she advises, "it's about making something beautiful and surprising."
Paper Planes is a cheesy, life-affirming drama about a grief-stricken boy, who heals his family's wounds with his gift for fashioning airborne missiles out of A4. Nothing is understated in Robert Connolly's film: every emotion is loudly verbalised, bullies learn valuable lessons about humility, and self-absorbed parents are brought to their senses by their precocious offspring.
Some of the digital effects, employed to help the paper planes achieve liftoff, are a tad clumsy, but that's in keeping with the heavy-handedness of the rest of the film. Oxenbould is an appealing hero and gels pleasantly with Worthington, who mopes around for most of the opening hour and only really comes to life in the unabashedly feel-good finale.