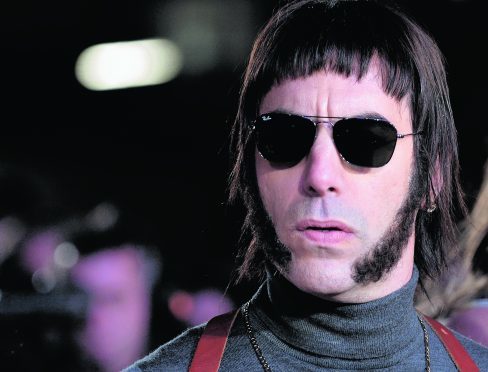 Walking the red carpet in little more than a grubby polo neck, blue Y-fronts and socks-and-slippers combo is a humiliating concept for most stars.
But for Oscar nominee and Golden Globe winner Sacha Baron Cohen it was simply a chance to debut his latest alter-ego, Nobby, a beer-bellied, terminally unemployed football fan, at the premiere of his latest film, Grimsby, in London's Leicester Square.
And if his co-star and wife of six years, Isla Fisher, doesn't seem to be offended by the grim(sby) get-up ("I love Nobby. I think he's so funny!") – who are we to complain?
In fact, the 40-year-old actress dubs her husband's latest guise as her favourite yet: "I'm really lucky with Nobby, because Sacha wore a wig. Despite the northern accent that he never shook off, at least he looked like himself.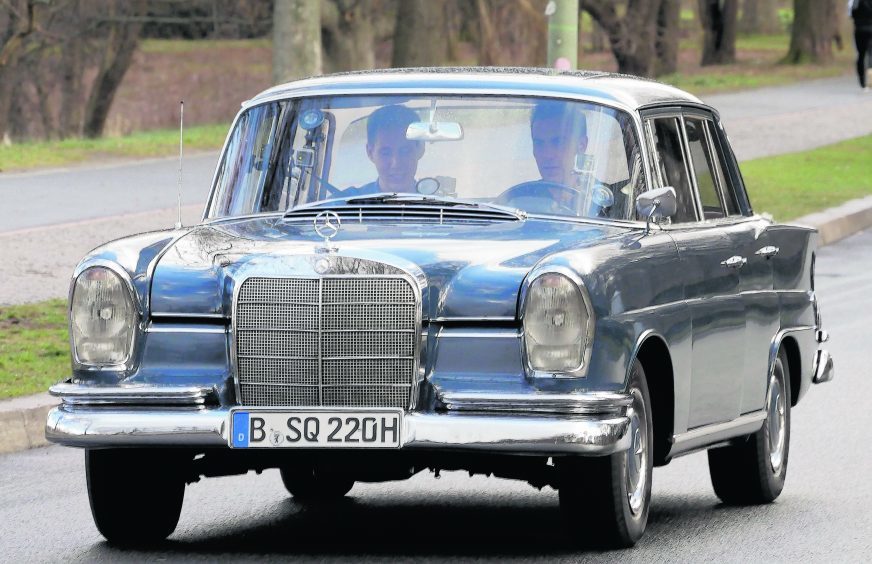 "I had to sleep with someone with a handlebar moustache when he was Borat, and I had a blonde mohawked manorexic in my bed when he was Bruno."
Known for his unorthodox, and often controversial characters, Baron Cohen, 44, has portrayed creations from a faux-streetwise hip-hop personality-turned-talk-show-host in Ali G, to a Kazakhstani journalist on his first visit to America in mankini-wearing Borat.
Now, with sideburns that could rival the Gallagher brothers circa 1995, Grimsberian Nobby has everything a man on the welfare could want – nine children and a sexed-up girlfriend he loves more than anything (Dawn, played by Rebel Wilson of Pitch Perfect fame).
There's only one thing missing in his life: his little brother, Sebastian (Mark Strong), from whom he was separated as a child.
After 28 years, Nobby has finally tracked down his brother in London, unaware that he's an MI6 assassin. After a disastrous reunion which puts them both on the run, they uncover a plot to destroy the world. In order to save humanity, and his brother, Nobby embarks on a global mission and undertakes a complete transformation from loveable idiot to sophisticated secret agent.
It would take the film industry some convincing that Baron Cohen could take on the espionage genre, however.
"I approached J.J. Abrams and said, 'Listen, I want you to cast me as an action hero', and he said, 'No'. Then I approached Spielberg and he said, 'No', and it went around until I realised I had to do my own action film," admits the London-born star.
"So I came up with this concept. The idea was: what would James Bond's idiotic brother be like? What if James Bond was really from Grimsby and was actually a little thug as a kid?
"From there, I came up with Nobby, who is an antithesis of everything these action heroes are. He's a loudmouth, full of love, he likes a drink and does a little bit of heroin occasionally … He tries to be friendly with everyone, while his brother is trying to shoot everyone.
"So that juxtaposition was like, 'All right, this could be a funny double act if we stick them in the most crazy situations possible'."
As with all his movies, the key to success is ensuring his inventions are authentic.
"When writing for Ali G, Borat and Bruno, everything had to be believable. Everything comes from that pure idea – what would the character do? Sometimes we think of really funny jokes, but they wouldn't come out of that character's mouth. We create this real world around the characters for the comedy to exist in."
For Grimsby, that meant creating a world of spies as real, believable and as serious as any action franchise. In short, it couldn't be a spy spoof.
"We wanted to create a real action movie, with the stakes, the great stunts and the jeopardy – and then throw an idiotic character in the middle of that, and see how that character changes the course of the movie," details Baron Cohen, who also wrote and produced the movie.
Part of achieving that was casting Mark Strong – "he has such gravitas and is so serous and tough" – in the role of Sebastian.
On joining a Baron Cohen comedy, the Kingsman star says: "I was a big fan of Ali G. That was when I first came across Sacha and I thought his stuff was dangerous – but funny.
"Sacha's on a mission to poke fun at everything he can and create disorder wherever possible, but within that anarchy, the process of finding the laughs is actually quite scientific.
"One particular day, Sacha fell on me and smashed a bottle over my head repeatedly. Then I was drowned in a car, spent three days in a silicone sleeping bag, had a day on the African plains, and was subjected to three days in a small house with Nobby's entire family.
"It wasn't just Sebastian enduring these tasks – it was me!" cries the 52-year-old Brit.
Other cast members getting in on Sacha's act include Penelope Cruz, Gabourey Sidibe, Annabelle Wallis, as well as the mother of his three kids, Fisher.
"I'm the cheapest actress he could afford after he paid for all the explosions," screeches Fisher, who takes the role of Jodie, an MI6 operative and Sebastian's love interest.
She's full of praise for her husband, though. "Watching Sacha do comedy is like watching Michael Jordan shoot hoops," says the former Home And Away star.
"It's an education in how to be hilarious. I've learned so much. For the rest of us, though, we had to play it straight. Nobby is so heightened that we needed the rest of the world to feel very real."
Having trained at clown school, the Wedding Crashers actress is a comedy pro in her own right and confesses that the chance to work on Grimsby was a true homecoming.
"Once I'm inside a funny character, there are so many opportunities to tap into my inner idiot. It's the most fun I can have."
So does she give advice on her husband's divisive antics?
"We've been together 15 years, so like any other wife, I can nag … But I don't get involved in creative issues.
"I follow my own instincts and he follows his," says Fisher, "and that's the only way you can stay true to doing what you want to do, and being the kind of performer you want to be."