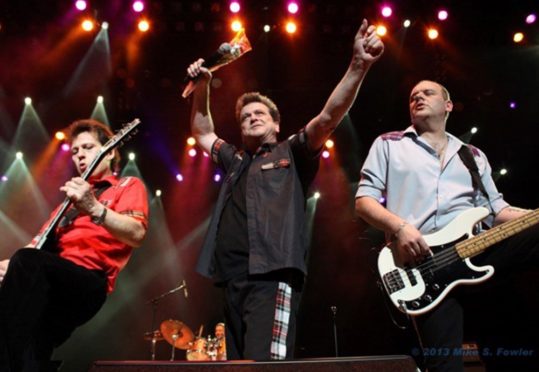 They were one of the biggest pop acts of the 1970s, a group who orchestrated hits and hysteria wherever they ventured.
And now, 40 years later, Bay City Rollers icon Les McKeown is back on tour and will perform at the Lemon Tree in Aberdeen on Thursday, September 5.
If you never lived through the first incarnation of Rollermania in the 1970s, it's probably difficult to understand the dramatic fashion in which a group of working-class Scottish youngsters grabbed the music world by the scruff of the neck and created – however temporarily – a sound which commanded global attention.
But, even at this distance, the Rollers were a cultural phenomenon. Of course, they had their critics who dismissed such chart-topping hits as "Shang A Lang", "Bye Bye Baby" and "Saturday Night" as, at best, catchy kitsch and, at worst, bubblegum banality.
Yet these songs have been passed down from generation to generation. They were post-Beatles and pre-punk and, for those who grew up amidst endless strikes, Cold War tensions and mind-numbing beige, the Rollers possessed an innocence and infectious quality which meant we wore the tartan trousers even if we wouldn't buy their records.
Mr McKeown said: "I think we were a breath of fresh air in the 70s. There was nothing complicated about our music – although it's amazing how many people who used to come to our concerts as teenagers are still coming back with their daughters after all these years and they are singing our songs together. That is pretty special.
"I think, in some ways, we are a breath of fresh air again. Whenever I go out on stage, you can sense there is magic in the air and it is just like old pals meeting up.
"We have obviously changed and you can't turn back the clock, but there is a new connection and I sometimes pinch myself."
At the height of the Rollers' success, their extrovert vocalist used to sit in hotel rooms across Europe, the United States and Japan and scribble down a plethora of words and tunes, dictating them into an old-fashioned tape recorder in the hope they would eventually end up on the band's next album.
It never happened, of course. Or not last century. But his efforts weren't in vain.
As he said: "I kept the tapes in a suitcase in my attic and I never imagined they would ever see the light of day.
"They were in limbo for so long, but I am ecstatic that they have now been turned into a great record and I'm very proud to finally have the chance to perform them for my fans.
"It wouldn't have happened without the wonderful work of [multi-million-selling songwriter and producer] John McLaughlin. He listened to the songs and it is remarkable what he has done with them."
The singer will be bringing back the thrill and excitement of Rollermania, performing all the original hits as well as introducing new recordings from the "Lost Songs".
Further information is available at: www.lesmckeown.com