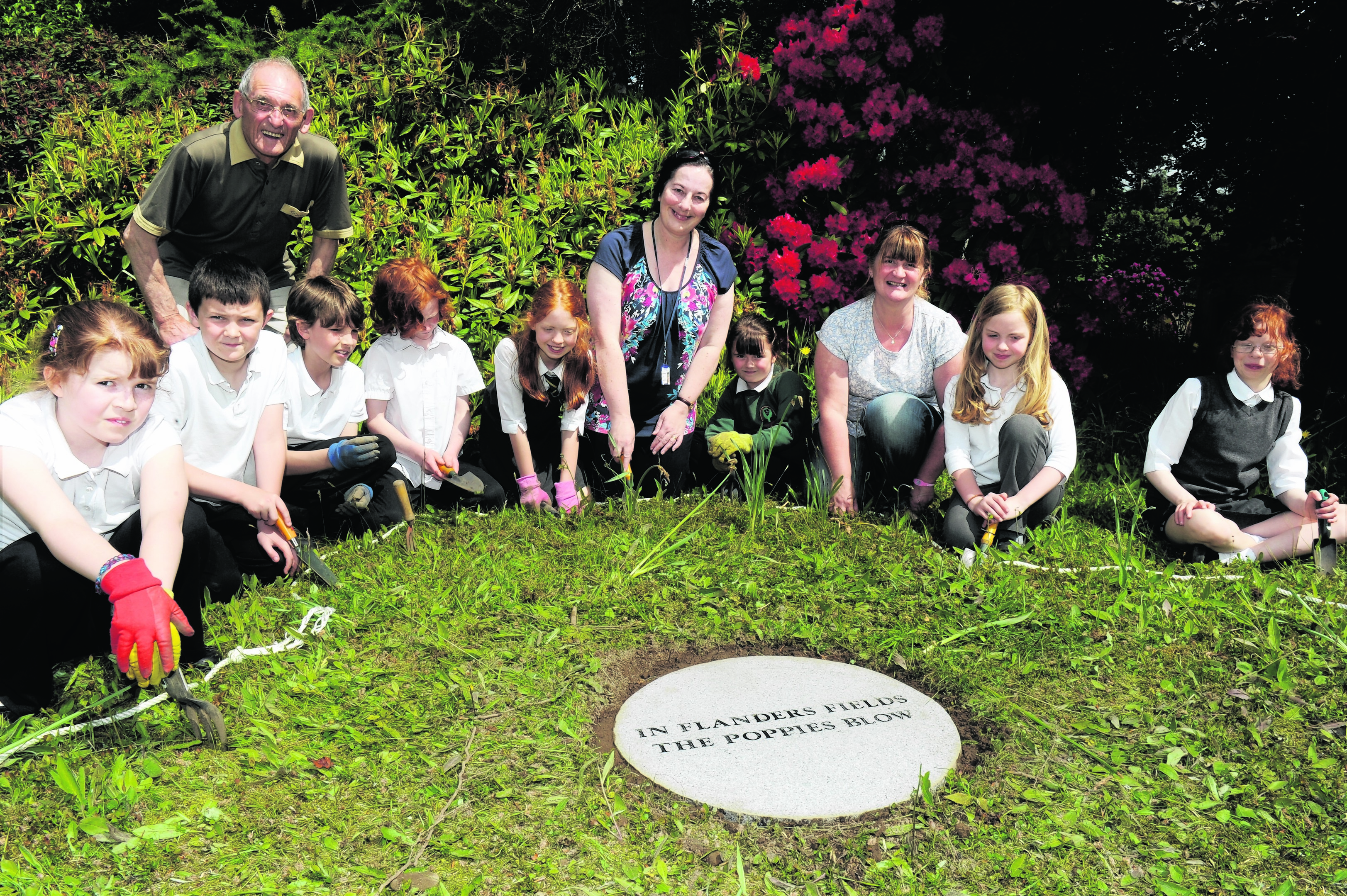 Kincardine Castle, home of the Bradford family since 1894, is working with pupils from Kincardine O'Neil Primary School to make a memorial garden to mark the centenary of the outbreak of World War I.
Owners Nicky and Andrew Bradford open their garden for charity with Scotland's Gardens every year, and each year it attracts more visitors.
They always try to do something special to mark the occasion, as Andrew explained. "We have tried to celebrate significant dates with various garden projects over the years
and so far have incorporated a millennium garden, a golden jubilee avenue and a diamond jubilee planting.
"A 1914-2014 garden that honours the memory of all those who gave their lives in the Great War, and in particular from this parish, seems a fitting tribute."
The castle was a hospital during both world wars.
The garden will be close to the castle, in a wildflower meadow, and will feature a stone inscribed with In Flanders Fields the Poppies Blow, by Canadian World War I poet John McCrae, and will be surrounded by Flanders poppies.
Nicky has been working closely with the local schoolchildren to plant the poppies, ready for a garden for Sunday, June 15, when the garden will be open to the public as part of the Scotland's Gardens scheme.
"There will be a short ceremony during the afternoon, during which General Sir Peter Graham will say a few words about the significance of poppies; Rev Lisa Eunson will dedicate the garden, and the children will recite the poem," said Nicky.
"Members of the British Legion will be present, and will be distributing envelopes of poppy seeds for people to plant in the garden or to take home and plant in their own.
"There will also be an opportunity for people to plant one of 63 poppy crosses that the children have made, named for each of the members of our parish who lost their lives in the Great War and whose names are on the war memorial."
Those attending will find themselves in remarkable gardens.
Features of note include a laburnum walk which should be in full flower. The sight and smell of it is wonderful and some have likened it to the one at Bodnant, but only better.
Visitors can stroll through the walled garden, which has a mixture of lawns, flowerbeds, fruit trees, vegetables and hedges; you can get lost in there.
Nicky said: "The wildflower meadows continue to surprise us and bring an undeserved reward for simply not mowing the grass."
The woodland garden is a garden for all seasons and has a network of neat grass paths wending their way among mature trees and azaleas and rhododendrons, and spring and summer flowers.
There are extensive lawns and a thought-provoking planetary garden designed to give visitors time to ponder the beauty of Royal Deeside and their place in the universe.
Look out, too, for the wonderful sculpture by Lyman Whitaker, of Utah.
During the open day, there will also be teas, plant sales and a free scavenger hunt for children.