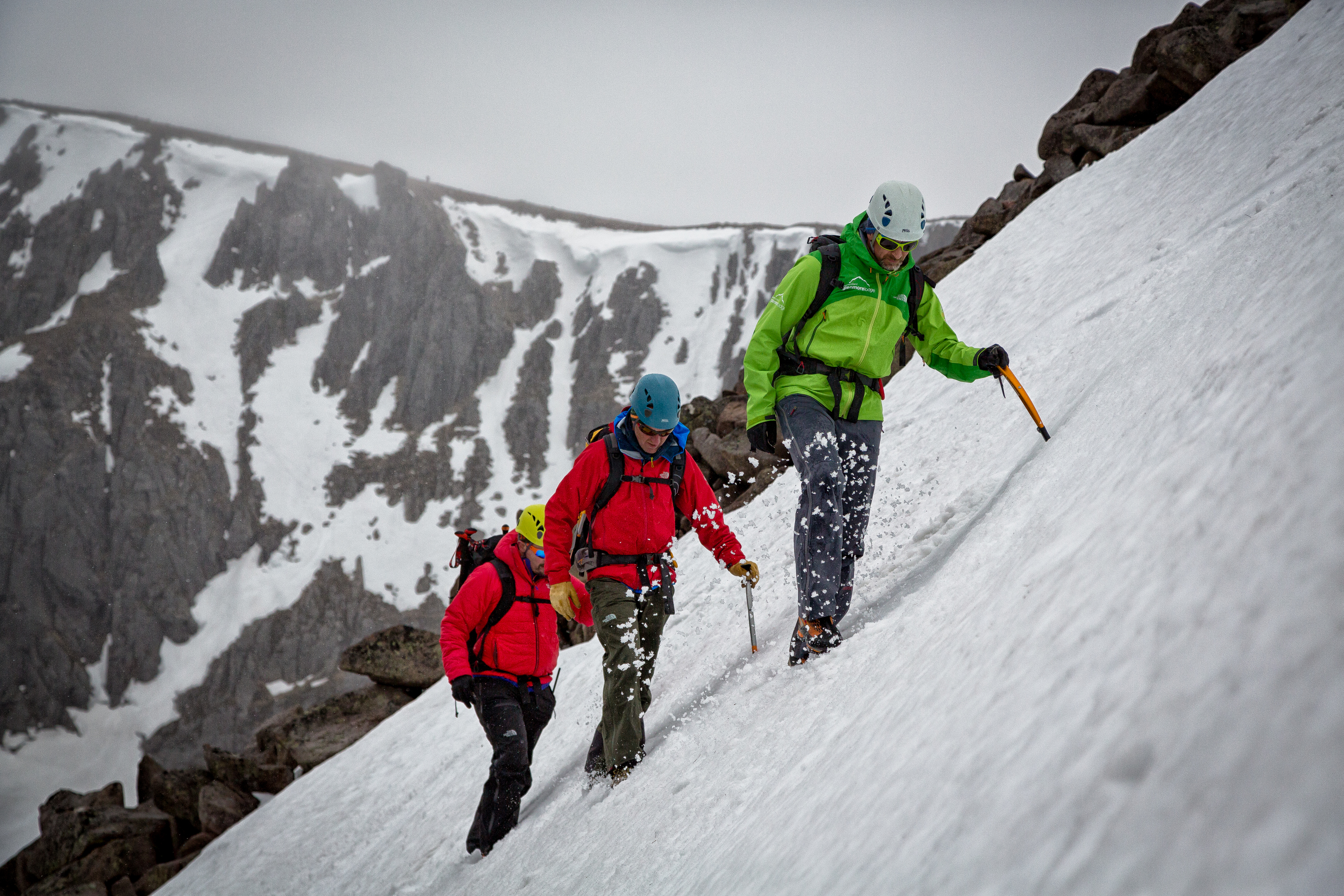 Last weekend, five people had a lucky escape after being swept nearly 1,000ft down Ben Nevis by a human-triggered avalanche. Stories like this are still common during the Scottish winter, giving rise to the question: What more can be done to make winter accidents and fatalities in the mountains a thing of the past?
An icy wind bit into the left side of my face as I descended the ridge of Coire na Ciste. My fellow winter climbers and I were chasing the last golden vestiges of daylight as we made our way down the slope in single file back to our mini-van, our feet disappearing into the deep blue-tinged snow with each step.
The spindrift, sliding in westerly waves across the northern Cairngorm range, scraped against any exposed flesh it came into contact with, leaving it feeling raw and hot.
Bundled up as I was in multiple layers of outdoor apparel, only my left cheekbone bore the brunt of the abrasive crystalline gusts. I stopped a beat to readjust my hood and took in the frozen landscape. Breathtaking vistas lay all around, from the snow-scoured ridges and peaks above, to their corries filled with blankets of pure white, to the grey woodlands far below.
The weather was unforgiving but my sense of accomplishment far outweighed any discomfort. Ice axe in my uphill hand, ski pole in the other, I felt energised by my trek into the winter wild. It was the end of my first of a two-day introductory winter skills course run by sportscotland Glenmore Lodge – Scotland's national outdoor training centre.
At this time of year, the lodge welcomes students in their droves to its top facilities and programmes. The concepts of safety and preparation underline all courses at the Scottish Government-funded facility – core messages which are particularly well-founded at this time of year when accidents and fatalities occur on the unforgiving slopes. One wrong step, and a pleasant excursion can quickly become a waking nightmare.
"There will always be people that buy the kit and just go do it themselves," my instructor Kevin Rutherford explained once we had returned to the glorious warmth of the lodge.
"In summertime, you will get away with that, and you may even in winter. But you might not. And that's where the issue of people getting caught out is highlighted. It could end up that a slip or a slide could very quickly lead into something major."
Even seasoned climbers can be caught out, he added.
"There's so much happening in this winter environment."
I HAVE NEVER, NEVER EXPERIENCED ANYTHING LIKE THAT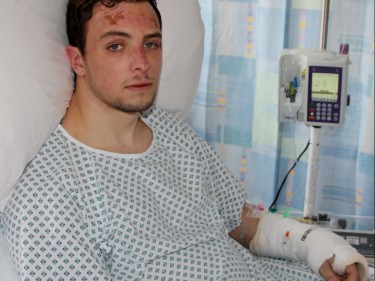 Oliver Daniel remembers with startling clarity the moment he fell from a clifftop in the Southern Cairngorms. Exactly one year ago this week, the 26-year-old recruitment consultant from Cambridge fell 800 feet after stepping over a blind cornice on Coire Sputan Dearg.
Mercifully, the ex-RAF flying officer escaped with his life, but sustained a catalogue of injuries, including nine broken ribs, liver and lung punctures, a broken wrist as well as cuts and bruises.
He and two other experienced mountaineers, including his father, had been training for a summer hike up Europe's highest mountain, Mount Elbrus in Russia.
The Cairngorm range's notoriously challenging weather meant it was the ideal place for them to train. But unfortunately, the weather was the very thing which led to Oliver's accident.
Such was the poor visibility on Sunday January 5, 2014, Oliver and his team could barely see in front of their faces, and at around 3.30pm the 26-year-old stepped into thin air.
"At first I thought I had just fallen over," Oliver told me as he recalled the exact moment he tipped over the precipice.
"We were falling over all the time that day because it was 50 to 70 mile per hour winds. So we were stumbling around quite a bit. So I just thought I had fallen over, but obviously I didn't stop, so there was only really one thing that could have meant."
At first, he tried to arrest his slide with his ice axe but it proved "less than useful", and so he did his best to protect himself until he stopped naturally. Once he had come to a full stop, Oliver could tell he had broken some ribs, but wasn't aware how extensive his injuries were. Keeping calm, he lightened the load in his backpack, and then set off gingerly into the darkness, intending to make his own way back to base. But after a short while, it became clear his injuries were worse than thought, and that he would have to return to the shelter of the bowl he had landed in, and try to wait out the night.
"I was unbelievably slow with the injuries. That was the most demoralising part – being ex-military and having been in worse conditions, but then struggling to do even basic stuff like take my crampons off," he said.
Oliver calculates it was nearly five hours from the time of his accident, to being found by the combined Aberdeen and Braemar mountain rescue teams – the alarm having been raised by his fellow climbers who were safe at the top of the mountain. He was airlifted by RAF helicopter and flown to Aberdeen Royal Infirmary where he began his long and painful road to recovery.
"I had broken a few bones before, but I had never, never experienced anything like that. You just can't move, it's that simple. "You don't realise how much you use your core and ribs until you can't anymore. So it was pretty horrible. And it took longer than I was expecting to clear up as well – the ribs took at least a good eight weeks before they weren't constantly painful."
One year on from his potentially-fatal accident, Oliver has been pain-free for about four months. With his Russian expedition postponed until this summer, he has had plenty of time to reflect on what went wrong on the Cairngorms. He maintains that the problem wasn't a lack of experience, or arrogance on the hill. "With the benefit of hindsight, we see now that we weren't doing our nav checks often enough. None of us appreciated that you can just walk straight off a cliff in those conditions. None of us thought that was possible," he said. "You can have all the training and all the kit and skills, but that doesn't mean you're prepared to deal with something like that. We just really weren't prepared for the fact that poor visibility could make you that oblivious to what was three feet in front of you."
SOMETIMES WE MAKE MISTAKES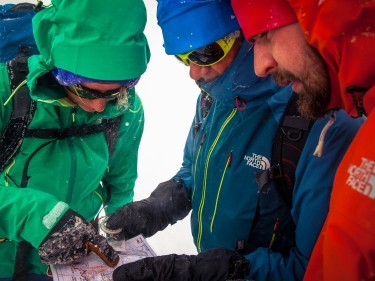 No matter what fail-safes are put in place, accidents will inevitably happen in winter environments. According to the most current statistics, 25 people died of mountaineering-related incidents across Scotland in 2012. The reasons for incidents are many, but as is outlined in the report by the Mountain Rescue Committee of Scotland (MRC of S), the most common factors are navigation errors (one in five of all incidents) and slips and falls (amounting to over one quarter of all incidents).
Statistics like these form the backbone of efforts to reduce incident levels, such as in the courses at sportscotland Glenmore Lodge. During my programme, I learned a wide foundation of skills for entering – and exiting – winter environments as safely as possible. Each day on the slopes, I was furnished with an array of equipment including crampons, a collapsible shovel, map and compass, ice probe and transistor beacon. Each was put to use during hands-on lessons on the hill, from using the ice axe to self-arrest during a sliding session on Coire an t-Sneachda, to the safest ways to search for a fallen climber buried beneath an avalanche.
Add to that a plethora of clothing – from snow boots, to gaitors, a helmet and a trio of jackets – it may have seemed like I had a lot to take with me up to the 900 metre peaks, but as my seasoned instructor Kevin explained, preparation for all eventualities can mean the difference between life and death.
"Sometimes we make mistakes. We do get lost, of course," the 45-year-old stated candidly. "But it's about being able to have the skills, knowledge and confidence to sort it out. Being in that winter environment, there's a finer line between getting away with a mistake, and not."
FEROCIOUS WEATHER SHOULD NEVER BE UNDERESTIMATED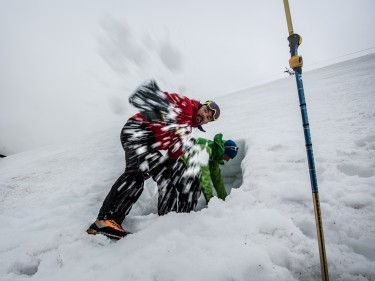 With so many variable factors potentially leading to accidents, how can we continue to lower the numbers of them happening? This was a question which stayed with me long after returning home from my days in the frozen hills. In search of answers, I spoke with mountain safety advisor, Heather Morning, who has been part of Cairngorm Mountain Rescue Team for 15 years, during which time she has responded to numerous incidents.
"Without exception, the accidents we respond to happen like a domino effect – several factors going wrong," she explained. That said, certain failings crop up year on year. Poor navigation is a consistent "flashing red light", Heather said, and moving forward she finds that targeting younger people who may be overly reliant on technology is a sensible step to take. "We've certainly seen an increase in the past decade of people having issues in the mountains because their batteries have run out, or they have a gadget but don't know how to use it. "I think it's particularly perceived by a younger generation that you don't need to learn these 'boring map and compass skills' because it's all going to be done by an app on your phone."
On the flipside, Kevin Rutherford finds that educating seasoned climbers is also important. "Maybe we should be targeting the more experienced folk – people that have maybe picked up as they have gone along," he said. "They might have looked at books a bit, but they haven't had the opportunity to go out with a guide or mountaineering instructor to learn best practice and up-to-date ways of doing things. But it's quite hard to target that market because they're quite stuck in their ways."
Oliver Daniel's accident has bred within him a similar perspective, though he finds it's first and foremost a matter or awareness raising among experienced climbers. "Our mistake was, we were capable of navigating to the degree we needed to, but just didn't think we needed to. The only w ay we could have realised that was maybe spending
some time with a guide who could have possibly reinforced the fact you do need to be navigating that precisely."
One message which was constant among everyone I spoke to, however, was that more people need to be aware of the conditions in the Cairngorms. Winter climbing is a rewarding activity, as I can attest, but the ferocious weather should never be underestimated. "People just assume that, because it's in the UK, it must be nice and rambly, Alfred Wainwright stuff," Oliver said. "But Scottish mountains can kill you, whether it's avalanches, or the weather being truly horrendous. It can change very quickly and people don't realise how hard it can be to get out of it if it happens."
For further information on all courses at sportscotland Glenmore Lodge, visit www.glenmorelodge.org.uk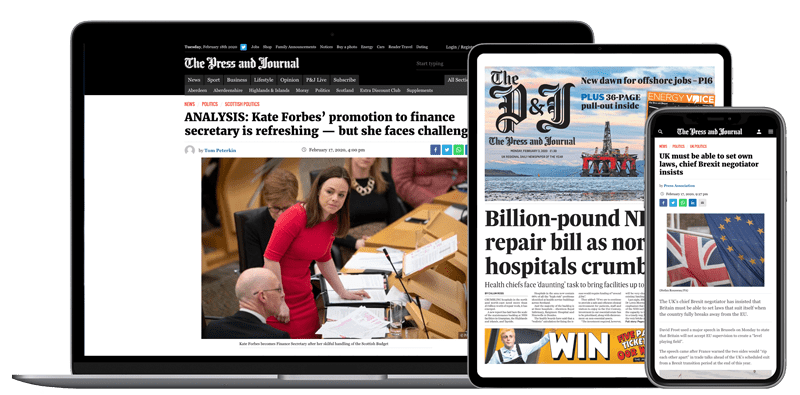 Help support quality local journalism … become a digital subscriber to The Press and Journal
For as little as £5.99 a month you can access all of our content, including Premium articles.
Subscribe