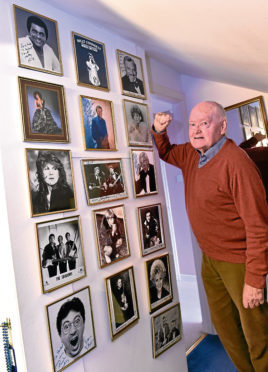 Herbert Donald comes from a long line of showmen – known in Aberdeen as the Donald Dynasty. Last week he shared tales of his early career with YL readers. This week he talks about working with some of the big stars including those who made their way to Aberdeen's iconic Capitol Theatre.
For generations of Aberdonians, the name Donald means just one thing – entertainment.
Four Donald brothers ran the business and at one point they owned an ice rink, 12 cinemas in Aberdeen including The Majestic, The Playhouse and the Queen's Cinema, as well as cinemas in Inverurie and Stonehaven.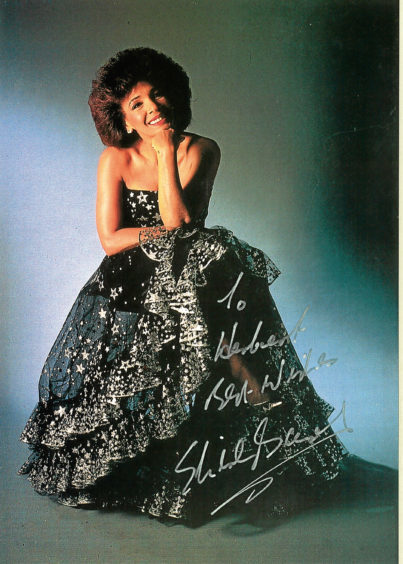 Herbert had been working as a publicity manager and a relief cinema manager but didn't feel the work was challenging enough. He wanted to move to the home of showbusiness, London. So on February 11, 1962, he bade farewell to the Granite City and the following day started working as press relations officer for Harold Fielding, a well-known west end impresario.
"I was 25 and really very inexperienced. I had no idea I was right in the centre of the biggest rat race of all – the showbiz circus – nor did I envisage the great excitements that were to ensue," said Herbert.
"As press officer it was my job to get as much publicity for the shows as possible.
"The secret of any press officer's job is to get to know the artiste and make him or her feel they have found a new friend, for believe me, many of the world's top stars feel insecure within themselves," said Herbert. "One minute they could be getting worshipped by millions of fans and the next they could be forgotten."
One big star Herbert recalls fondly was the great French singer Juliette Greco. His job, on her arrival in London, included picking her up from the airport in a Rolls-Royce and organising a press call at the Savoy Hotel for more than 200 journalists.
"The atmosphere was electric with reporters jockeying for position and TV cameramen fighting over who was to interview her first," he said.
All went well, but the following day he found himself being accused of assault after he stopped two French journalists barging into Juliette's room. "It was simply laughable, as I hadn't laid a finger on them. It just goes to show how excited Frenchmen can get!"
He also looked after stars including Van Johnson in The Music Man, Tom Ewell in A Thurber Carnival (he starred opposite Marilyn Monroe in The Seven Year Itch) and American blonde bombshell Elaine Stritch in Noel Coward's Sail Away, and Noel Coward himself.
"Coward was the master of them all, a genius, a charmer and a joy to work with. He had a villa in Switzerland and when he'd fly into London the airport would resemble a battlefield with reporters jumping over each other's backs to ask him questions.
"Working alongside Coward was a wonderful experience, but working with Elaine was horrendous. She was dynamite on stage but the most unprofessional actress off stage I've ever had the misfortune of meeting.
"She'd either turn up late for interviews I'd arranged or not turn up at all. She considered herself a star and thought it was her prerogative to keep people waiting."
The last Fielding show Herbert worked on was the musical Half A Sixpence starring Tommy Steele.
"With undoubted talent, Tommy grew from a rock 'n' roll singer to become an international star and nobody deserved it more than he, for he worked night and day to achieve perfection, and success never gave him a swollen head," said Herbert.
Towards the end of 1964, Herbert joined Howard and Wyndham as publicity manager. They owned six theatres including two in Glasgow and one in Edinburgh and famously created the much-loved Five Past Eight Shows and staged pantos all over Britain.
"My big break came in 1970 when I was appointed general manager of Howard and Wyndham and the following year appointed head of theatre productions and casting. That same year I was appointed to the main board as a director.
"For six years my main job was to produce eight pantos and three summer shows annually. Stars appearing in them included Jimmy Tarbuck, Les Dawson, Ken Dodd, Eartha Kitt, Barbara Windsor, Terry Scott, Lulu, Vince Hill, Stanley Baxter, Rikki Fulton, Jimmy Logan, Frank Ifield and Ronnie Corbett, who went on to become a good personal friend of mine.
"This was the best period of my working life and I enjoyed every minute of it."
In 1977, Herbert's dad decided that, at 73, it was time to retire from the family business, so Herb moved back to Aberdeen and joined James F Donald (Aberdeen Cinemas) Ltd and Aberdeen Picture Palaces Ltd as a director.
"Life jogged along and in early 1978 I became company secretary of both companies as well as running the Capitol Theatre."
Glam rock was at its height and the iconic building on Union Street, with its Art Deco interior, was the venue the stars of the days played.
"The Capitol had a capacity of 2,100 and if we announced a big star was to play then people started queuing at the box office straight away," said Herbert.
Those who played during his time include: Johnny Mathis, Tony Bennett, Jack Jones, Shirley Bassey, Tina Turner, Chuck Berry, The Rolling Stones, Kris Kristofferson, Billy Connolly, the Everly Brothers, Status Quo, Van Morrison, Johnny Cash, the Boomtown Rats, Duran Duran, Simple Minds, Neil Sedaka, Meat Loaf, Iron Maiden and The Monkees, to name but a few.
"I'd make a point of being at every show, which sometimes meant having to wear ear plugs," joked Herbert.
"Status Quo were great and there was a terrific atmosphere when they were on stage, but they were loud.
"Billy Connolly was always entertaining, but I think I preferred him on TV chat shows such as Parkinson, while the Everly Brothers were very strange as they didn't speak to each other. Van Morrison kept very much to himself – I think he felt a little insecure but was a great artist.
"The behaviour of some groups was disgraceful.
"I remember at Bob Geldolf's first visit with the Boomtown Rats, he incited the audience to cause trouble. He told them to stand on the seats and swore at them to pay no attention to the stewards.
"I found him a very arrogant man.
"In incidents like this, I charged the promoter for any damage. Quite often at rock concerts thousands of pounds worth of damage would be caused, seats broken as well as destruction in the dressing rooms."
One star fans couldn't get enough of was Daniel O'Donnell. "I think they wanted to mother him," said Herbert. "Daniel was initially very shy but a very down-to-earth boy."
After nearly 20 years at the helm, Herbert was there at the end when the curtain came down for the last time at the Capital on December 18, 1997.
"My heart lay in the world of musical theatre, but I was still sad to see the Capitol closing."
Now aged 81 and married to Lynn, his third wife, Herbert began writing down his memories as he realised his sons, Nicholas and Tim, were probably not fully aware of the life their dad had led.
"It's been a very exciting career and I've been very lucky. It was hard work but I really enjoyed it."
In 1983, Dick Donald bought out his three brothers who owned 75% of the business and took total control of the company. His son Ian took over on his father's death in 1993.
"Ian and I worked hand in hand, never having a cross word, and between us we opened Eagles Nightclub (the former Queen's Cinema) and Oscar's Theme Bars in Aberdeen and Inverurie.
Meanwhile, the Capitol still has a part to play in Aberdeen life. Having closed in 1997 it reopened six years later as a nightclub which ran until 2009. Now, the site is home to a new seven-storey office building, the iconic stylised doors of the old theatre take pride of place at the main entrance.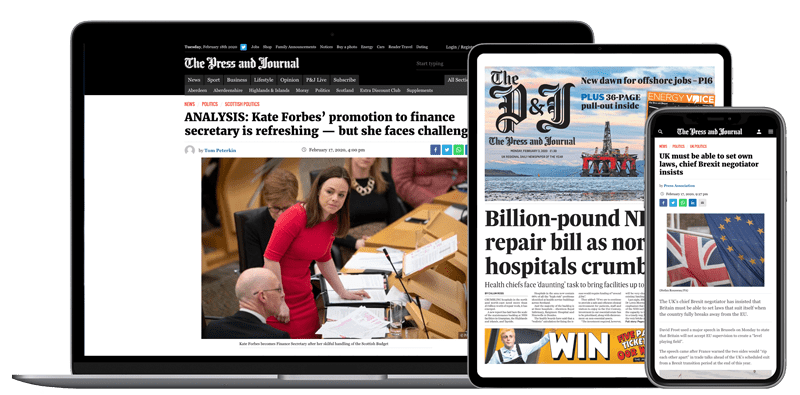 Help support quality local journalism … become a digital subscriber to The Press and Journal
For as little as £5.99 a month you can access all of our content, including Premium articles.
Subscribe