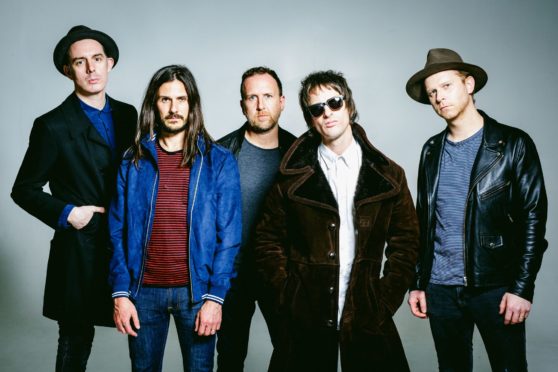 The Temperance Movement are to visit Aberdeen as part of their UK tour, while excitement increases around the release of their new album, A Deeper Cut.
When does your weekend start?
Friday at 3pm when I pick up my son from school and my daughter from nursery. Friday and Saturday are a mix of swimming pools, adventure parks, soft plays, ice cream shops and shopping centres.
Perfect night in?
Take away from Panda House in Shawlands, kids to bed, my wife busting moves to Jay Z in the living room, Peaky Blinders and a bag of Revels.
Perfect night out?
Early dinner at Mother India, Stravaigin for a livener, Fratellis at Kelvingrove Bandstand, over to merchant city for late night pinball at Super Barrio, bag 'o' chips and up the road
Ideal weekend partner?
My wife Charlie. She's a belter
Favourite weekend shopping destination?
Ikea at Braehead. I've never gotten over the meatballs
Favourite place to walk?
Toll path from Bishopbriggs to Kirkintilloch
Weekend you'd love to live again?
T In The Park 2013. The sun shone for the entire three days. I had just come off a long tour with the band, into the arms of the girlfriend who would become my wife. My son was with us. Charlie was dancing in the Cabaret stage and we got to see Rihanna.
Perfect Sunday breakfast
Singl-End on Renfrew St in Glasgow. They do these spicey baked eggs and fennel sausage. Unbelievable.
Your cure for the Sunday blues?
Black coffee, bowl of porridge with blueberries and honey, drive out to New Lanark Mill, dinner at my mum's in Motherwell
Your dream weekend (if money was no object)?
Spa and lunch at Blytheswood Hotel. Charlie hair and nails. Paris direct from Glasgow. Hotel in Monmartre. Mussels and Pomme Frites by the Sacre Coeur. Crazy Horse nightclub. Early flight Saturday to NYC for one night only Broadway performance of Chicago with Zeta-Jones, Gere and Zellwegger plus rooftop burlesque club aftershow in Brooklyn. Lazy Sunday. Pastrami sandwich at Katz in the Bronx, JFK and home by midnight Sunday.
The Temperance Movement visit Aberdeen on March 2 where they will play at The Garage and are celebrating the release of their new album. A Deeper Cut is available for pre-order now on limited edition signed digipak CD, regular digipak CD, regular vinyl, and limited edition signed coloured vinyl. See http://thetemperancemovement.com/.