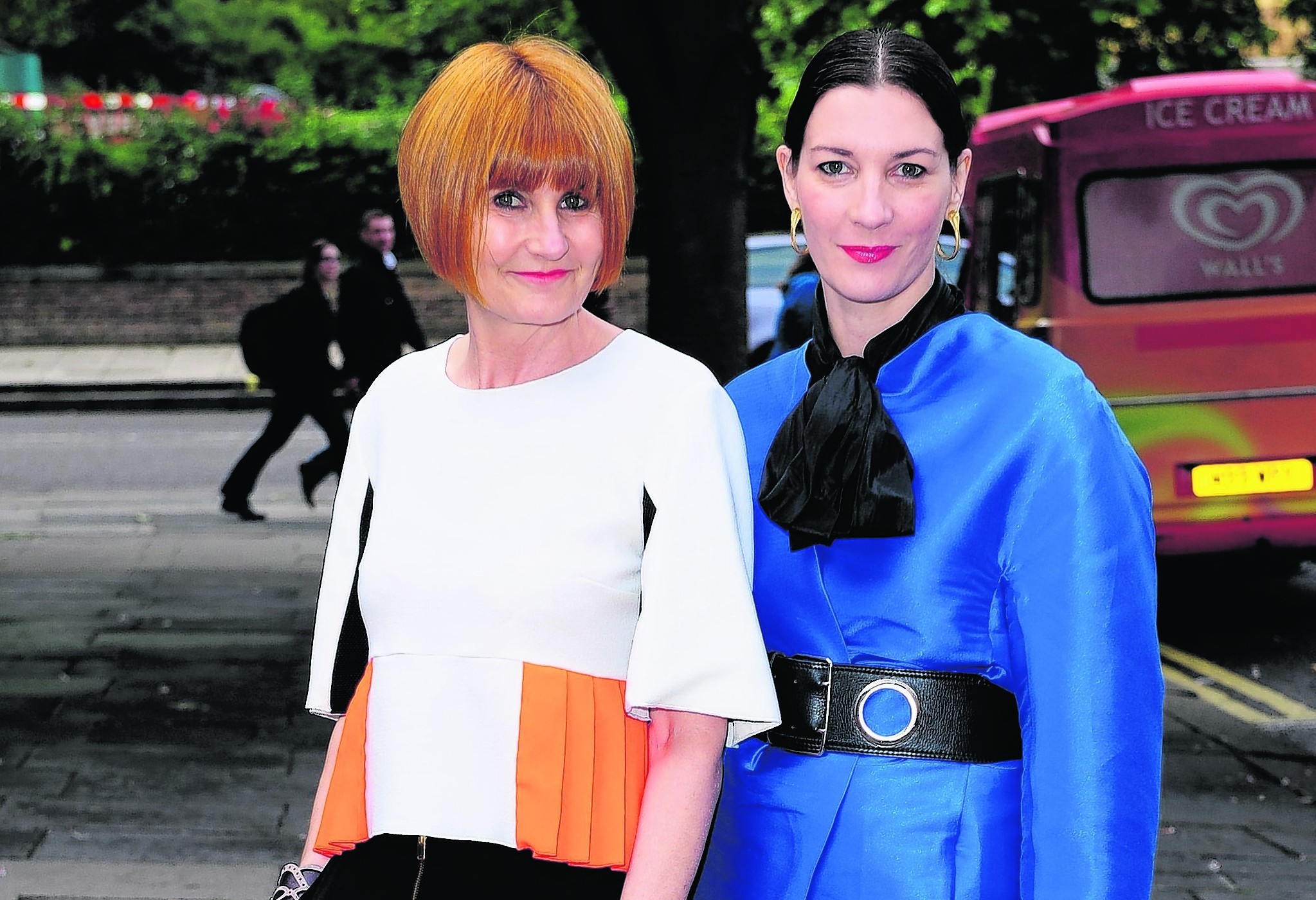 Retail guru Mary Portas reveals the catastrophic effect the death of her mother had on her family in her new memoir Shop Girl. She talks about finding happiness with her wife and their son
On TV, she's the no-nonsense red-headed Queen of Shops and Secret Shopper, sweeping into struggling retail outlets and telling shopkeepers bluntly how to turn their businesses around.
Yet there is a soft side to Mary Portas, Watford-girl-made-good, who worked her way up from window dressing in Harrods to helping to transform Harvey Nichols and advising David Cameron on the rejuvenation of the high street.
When we meet, she's as quick-witted and plain-speaking as you'd expect, but there are times when she's close to tears as she recalls painful fragments from her past.
Many of these are detailed in Shop Girl, a memoir charting her happy childhood as Mary Newton, one of five siblings growing up in a big, noisy Irish household.
The mischief she got up to against a backdrop of Seventies culture, her memories of Crackerjack, introduction to Vesta curry, Chopper bikes, and later the Sex Pistols and Pernod and black, are relayed with humour.
But her childhood came to an abrupt halt when her mother (also Mary), the linchpin of the family, died of meningitis when Mary was 16.
She had gone to bed feeling unwell and was delirious by the time a doctor visited the next day. He put it down to the menopause. She was taken to hospital as her condition worsened and less than three weeks later she was dead.
"I can still feel it so vividly," Mary says. "The family unit unravelled the minute she died. I can only describe it as if someone had slammed a door shut and you were in this other room that was empty. It was the end of my childhood, the end of freedom to be the one having fun, pushing boundaries. There was no structure left. It was a very bleak time.
"I remember walking to the school bus stop crying, and then crying on the way back, but in-between just pretending to school friends that it was all OK."
Her father, Sam Newton, a bus conductor-turned-sales manager for Brooke Bond, couldn't cope, leaving Mary and her 14-year-old brother Lawrence, as the youngest siblings, to fend for themselves.
When he left for another woman soon after, Mary was left to look after Lawrence.
"Weirdly, my father leaving was a relief, because he was so hopeless that his grief was always there. I'd come home from school to an empty house, Lawrence would come in and then Dad, and he'd be depressed or crying. There was a relief when it was just Lawrence and I. It became this little unit, however dysfunctional."
The book is in many ways an homage to her mother, and writing it has been therapeutic for Mary. She was prompted to confront the pain of her past when Kirstie Young interviewed her on Desert Island Discs.
"She asked me about my childhood and I realised that there was still this pain deep down inside. I'd picked all these pieces of music that were heightened times of my life, but when it came to expressing them, I had to tell the story.
"I started to feel this pain and anger towards my father and all the stuff that had happened."
She had therapy for six months after the programme, which helped enormously, she reflects.
"I liked little Mary Newton in the end," she says quietly, tears welling.
After her mother died, Mary gave up a place at Rada to look after Lawrence. A family friend took her in when her father sold up and remarried, while Lawrence was pushed into the police cadets, primarily to give him a roof over his head.
Her father died two years after her mother, leaving everything to his new wife. The siblings asked for a few of their mother's possessions back – photos, trinkets, a quilt with Scottie dogs on it – but never received anything.
The one thing of her mother's she possesses is her wedding ring, a simple gold band, which she wears all the time. "I took it off her finger in the hospital because she was wasting away."
Mary went to a local art college, gaining some work experience at Harvey Nichols. But on leaving college, she badgered Harrods personnel department for an interview, even though no job had been advertised, ringing every day for weeks until she was finally granted one – and got a window dresser's job.
"I worked harder because I needed the money. I had the fear that it could be lost. I was probably giving five times more than other people because I was scared."
She went on to marry chemical engineer Graham Portas in 1990 and they had two children. The couple divorced in 2003, but remain friends.
Today, she lives in a £6million house in London with her wife, fashion journalist Melanie Rickey. They married in December, becoming one of the first couples to convert their civil partnership into marriage after the law was changed.
"Mel's made a huge difference to my life, she's wonderful," Mary says.
"She was the one who proposed to me when we had a civil partnership. Then the person who did our civil partnership rang and said 'Do you want to be the first (to convert it to same-sex marriage)?"'
Melanie had IVF treatment and gave birth to their son Horatio in 2012. Mary recently announced that her brother, Lawrence, is the biological father.
"We've just had the nicest time. Horatio has Mummy (Melanie) and Mama (Mary) and he knows that Daddy is Lawrence. We wanted a child that was genetically linked to part of the family. He was a wonderful little gift.
"At the start of last year, I decided just to do stuff that makes my heart sing and if it doesn't, then I don't want to do it."
The entrepreneur has her own agency, Portas, is the global retail ambassador for Save the Children and remains a great supporter of communities and small businesses. There's a lot that makes her heart sing.
Shop Girl by Mary Portas is published by Doubleday, priced £16.99.