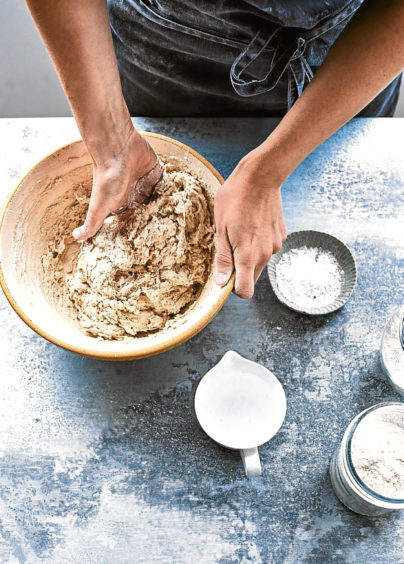 Forget thick white, seeded or wholesome brown bread – it's sourdough bread that's been the big talking point of late.
Sales of sourdough have steadily risen over the past few years, while many people have been tempted to have a go at making their own bread at home.
Melissa Sharp is the founder of bread, biscuit and cake business, Modern Baker, the Scientific Baker, while head baker is Lindsay Stark. They create organic sourdough bakes, but they're as obsessed with gut health, the healing properties of sourdough and the science behind digestion, as they are with flavour.
Their bakery is designed to feel and operate like a lab, and they work on the premise that everything they bake should be "optimised to be actively good for you". They even have their own biohacker, who has DNA sequenced their culture (sourdough starter), to make enhancing their bakes easier in future.
Spend a morning reading their cookbook, Modern Baker: A New Way To Bake, and this is what you'll discover…
There are carbohydrates that are healthy – it's not all chips and crisps.
Modern Baker are on a mission to improve the quality of dietary carbs in general, and democratise healthy baking for all. They reckon that if we truly understood carbs properly, it would go a long way towards tackling diet-related chronic illness, and in turn relieve pressure on the NHS.
Fermentation is a 30,000-year-old food technology, and that's what they harness to create their bakes – their loaves undergo a 48-hour fermentation process. "It's alchemy," says Sharp, and their cakes use sourdough too.
"Cakes shouldn't necessarily be healthy, but healthier," says Sharp, hence why they don't use refined sugar, swapping in coconut sugar, maple syrup or honey. "We need sugar, we need energy, but it's the speed of its release that's the problem," she explains. But mix it with fibre, you get a slower release – resulting in cakes and biscuits that can have a positive impact on your body, rather than being actively bad for you.
You don't need a kit to develop a wild starter, which is the starting block of your bread-making career.
You just need flour, water and a bowl to put them in.
The process starts with putting a teaspoon of flour in a bowl with a teaspoon of water, mix, cover and leave overnight at room temperature.
The next day, chuck half away (so it's got enough food and won't become too sour), then add another teaspoon each of flour and water. Repeat, then by day five you should have a bubbling, active starter ready to make bread with. "If you just leave flour and water together, it's astonishing," says Sharp.
Keep your starter in the fridge, if you're not planning on break making. Then bring it out the day before you need it, so it can warm up and begin bubbling again. Starters can live forever if you keep feeding them.
You can use most flours for getting your starter going, but bread and rye flours work best. Stark says: "Just never use buckwheat flour – I don't know what happens to it, but it is foul smelling."
Cut back on your kitchen cleaning regime if you want a bubbling, biodiverse starter.
"The more hygienic your kitchen, the less active your starter," explains Stark, "so don't use bleach. You can use your hands to mix it in fact, as there is yeast on your hands – you want all that good bacteria in your starter."
Sourdough is a natural preservative, a loaf of the stuff will last much longer than your average fresh-baked bread (roughly five to six days). Sourdough freezes really well too.
Be tough on your dough when it comes to kneading it.
"People often are really tentative with dough, but you don't have to be," Stark promises.
Proving baskets are not necessary, but they are cute and "leave lovely imprints in the bread".
Modern Baker use bamboo ones. "Just remember to flour them liberally, or your dough will get stuck and you'll "spend hours trying to unstick it" says Stark.
"Sourdough tends to be stickier than yeasted dough." And expect to end up covered in flour. "It's a bit like being a weightlifter with all the chalk."
Modern Baker: A New Way To Bake is published in hardback by Ebury Press, priced £26.