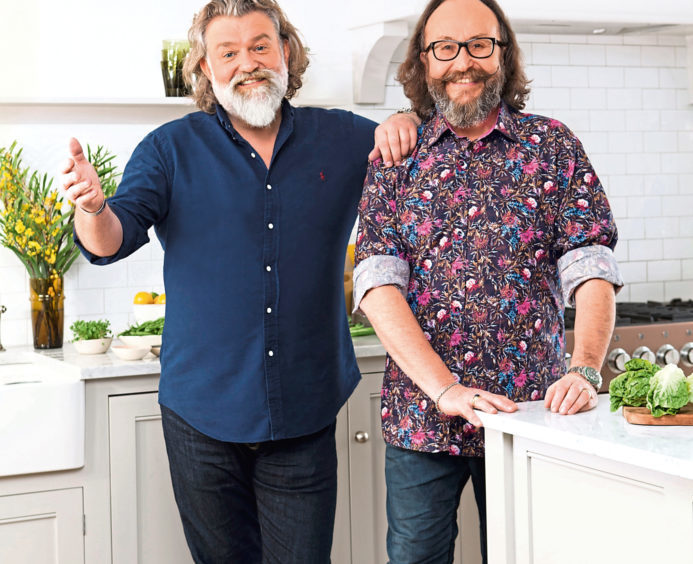 Since they first hit our TV screens back in 2006, Si King and Dave Myers, better known as The Hairy Bikers, have become two of our best-loved chefs.
With their easy-going approach to cookery and their inspirational use of ingredients from around the globe, it's not hard to see why they now have some 18 cookery books and 25 TV shows under their belts.
We caught up with the pair ahead of the launch of their latest book, The Hairy Dieters Make It Easy, to find out about their foodie inspirations and top tips for creating healthy, tasty meals…
You both had very different careers when you first met – how did you discover that you shared such a passion for food?
Si: We were both in the film industry when we met, Dave was a make-up and prosthetics artist and I was a locations director. We first met over a curry and we just started talking about food!
Dave: Motorbikes were really our first shared passion. When we first met, Si sold me a motorbike and it was the worst motorcycle you have ever seen and I wanted my money back! Si borrowed a minibus and came up to Scotland to take the bike back – he realised there was no way he could ride it back to Newcastle!
When did you first cook together?
Dave: Si came up to Scotland for new year with the family and we started to cook together. We made Thai green curry and saffron rice and we rubbed a shoulder of pork with five spice powder and roasted that – it was a great new year's feast! For pudding we did Southern Comfort flambéed bananas – it was a bit of a mishmash.
Si: And we served it with Mackie's ice cream from Aberdeenshire!
Where in Scotland did you live?
Dave: I lived in Huntly. Often Si would finish his projects and it would take about six hours to ride up the coast to me. He would spend the night at mine and we started doing what we do now around the west coast of Scotland – fishing, eating and carousing!
How did you make the leap from cooking for fun to it being your new career?
Si: A food programme wasn't really what we intended to do, we thought we would ride motorcycles and chat to people and look at the culture of a place through food. We never thought the food would become such a focus but now we're 20 or so books in!
The Dieters books and series came about because we needed to shed some weight as we had both become morbidly obese. We didn't want to give up cooking so we started to write recipes that meant we could still eat and lose weight, it was basically just really good balanced food.
Who else do you test your recipes on?
Dave: If we come up with something we normally test it on our families. We both love to feed people, it's our passion.
You have travelled so much, where in the world have you found the most inspiring?
Si: One of my favourites is Southern Indian cuisine, it's mostly vegetarian and 10,000 years of alchemy has gone into it – it's mind blowing.
Dave: For me, it's Italian food. For day to day eating, I don't think you can beat it. In our last Mediterranean series, for the first time in my life, at the age of 60, I learned to cook pasta! My pasta is really good, it makes the family very happy!
Do you have a favourite foodie location in Britain in terms of produce and ingredients?
Si: I think the seafood that we bring into our harbours is absolutely epic, it's some of the best in the world, I love it.
What do you cook when you're in a hurry?
Dave: I like pasta but I measure it and then I bulk it out by adding purple sprouting broccoli to the pan for the last couple of minutes and then drain it off and make a sauce – it doesn't get much faster than pasta! Pasta is OK to eat on a diet so long as you don't have a huge bucketful.
Do you have a tip for families who are trying to eat on a budget as well as keep things healthy?
Si: Knowing the economic landscape, we have tried very hard to make sure that the recipes are as cheap as they can be.
Dave: For example, the lamb and lentil meatballs are half meat and half lentils which is also better for you and works out at £1.30 a serving and it's a pretty sizeable meal.
How can people make their existing favourite recipes healthier?
Si: We make things like a lasagne with leeks instead of pasta. Take the calories out and keep the flavour in. One of our mantras is that there are no calories in spice or flavour, as long as it's not butter!
Dave: If you're having chilli and rice, the calories are all in the white rice but if you replace that with cauliflower rice and put some cumin in it and spice it up – you can have a bucketful of that and it's lovely.
The Hairy Dieters Make It Easy: Lose weight and keep it off the easy way by Si King and Dave Myers is published by Seven Dials in paperback at £16.99