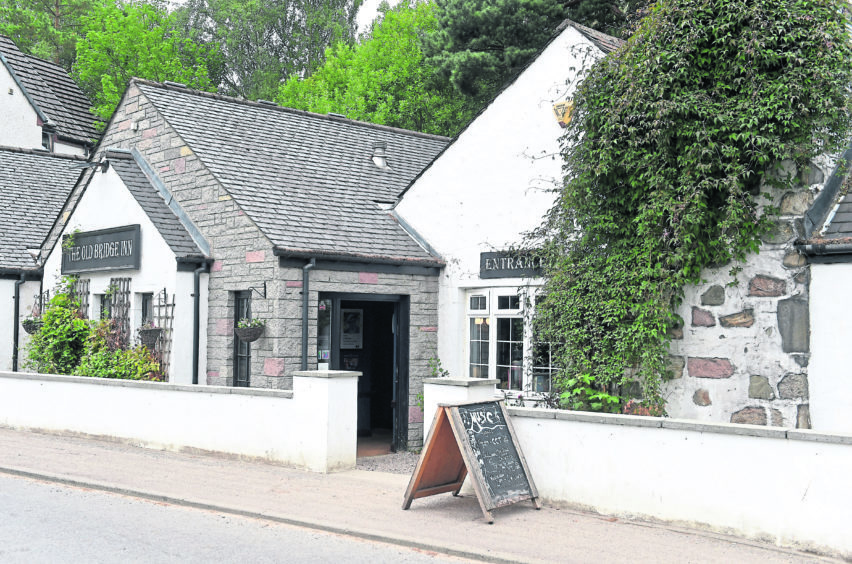 Aviemore is a holiday destination that truly has something for everyone, whether that be nightlife, exploring the great outdoors or treating yourself to a bit of pampering. But what about eating out? Sure, there are plenty of little eateries dotted throughout the main thoroughfare, but where should the discerning YL restaurant reviewer head to carry out an undercover critique?
Well, on a recent family holiday, I did what any curious visitor would do and asked the locals. The answer from everyone was the same – head to the Old Bridge Inn, tucked away behind the south entrance to the town.
We had a busy itinerary that day, and hoped to squeeze a quick lunch in between swimming at the hotel pool and kayaking on Loch Insh.
A call to the Old Bridge Inn confirmed they could accommodate us at 12.30pm no problem, so we headed there in expectation.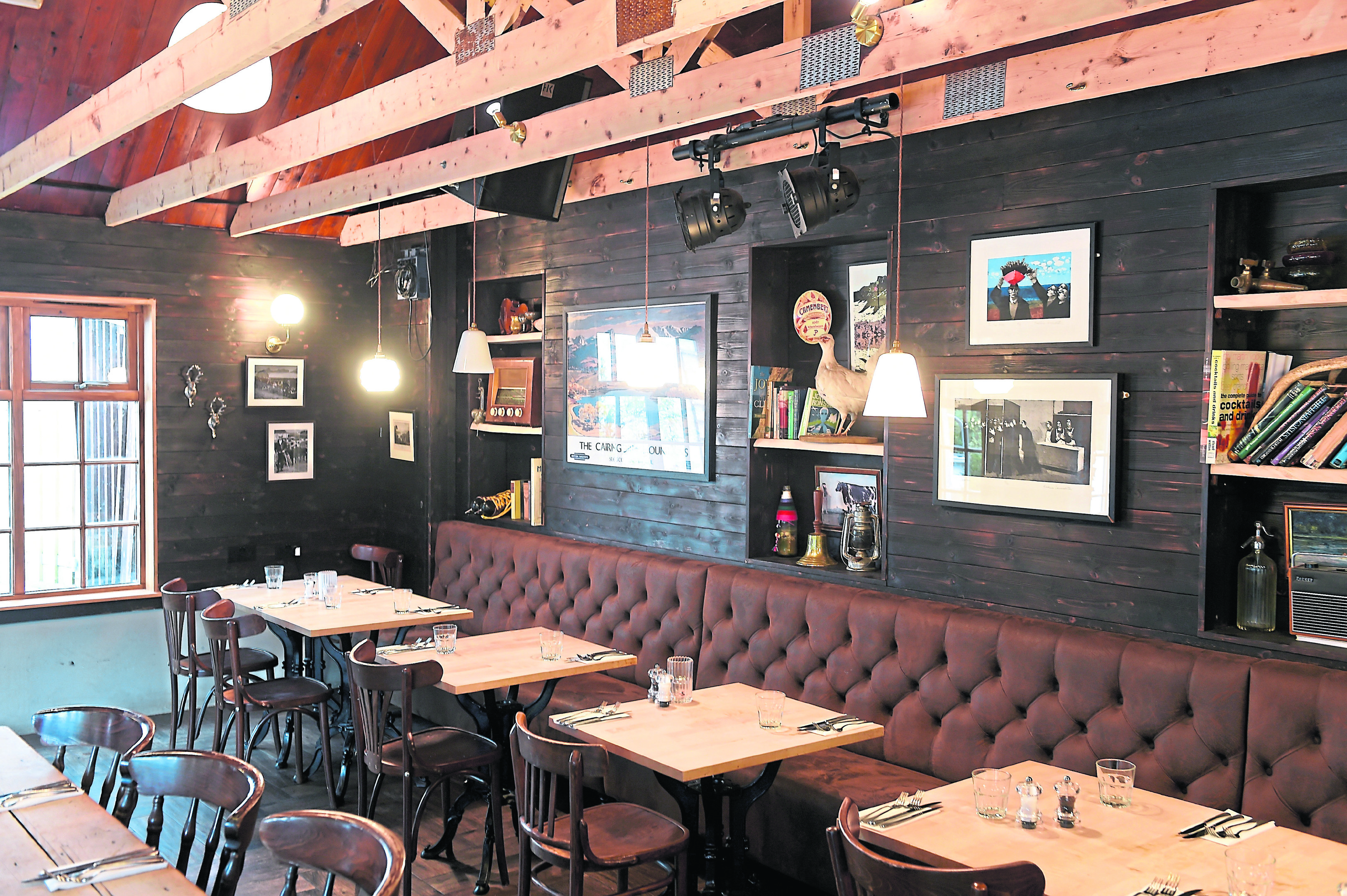 The quaint, unassuming exterior of the bar/restaurant belied the treasures that hid behind it. We parked next to picnic benches and hammocks by the tranquil waters of the River Spey and took in the bucolic surroundings before making our way in where we were greeted by a friendly Spanish waiter.
The bar was dark and cool, offering welcome respite from the hot summer weather outside. Once past the bar, we were shown to our table by the window in the traditional restaurant, complete with exposed wooden beams and lots to take in all around.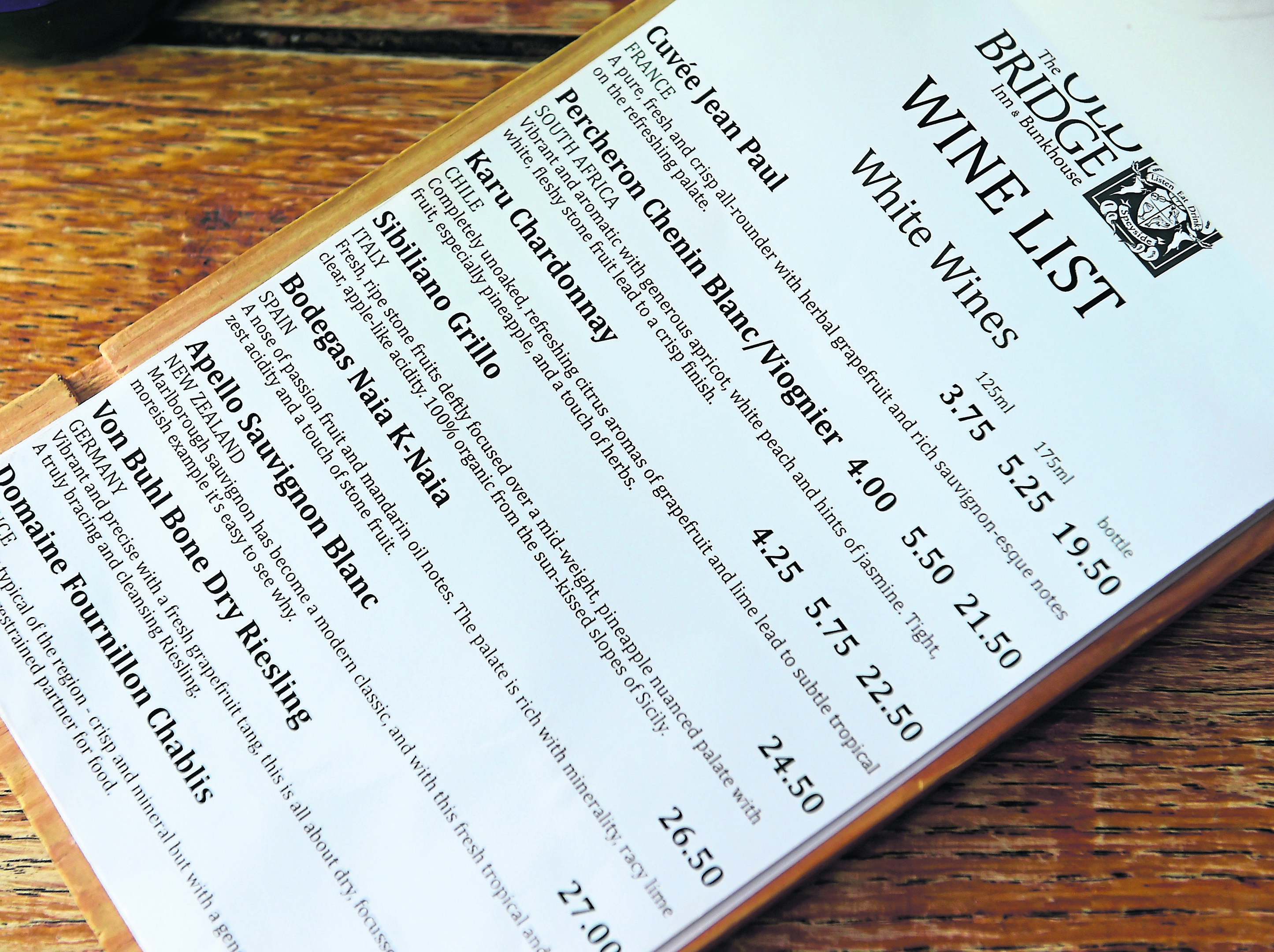 My eyes were drawn to all the fascinating little curios hidden away in nooks and crannies. From lanterns to old radios, tattered books to retro skates, this room was a real conversation starter.
The atmosphere was relaxed, with the strains of Jamiroquai floating overhead. Any worries about making our kayaking booking instantly disappeared as I sank into my chair and began to take in the menu.
Small but perfectly formed, the menu offers what, at first glance, looks like a fairly simple choice. However, delve deeper and you'll discover the beauty of the food here. We did have a bit of difficulty working out what was a starter and what was a main course as the dishes are priced quite similarly – and very competitively indeed. So we decided to eschew a starter in favour of a main and a pudding.
I was tempted to opt for the lamb koftas with spiced couscous, but having spotted someone at the next table raving about the fish, I had to go for that: nage of Highland fish served with new potatoes and seasonal veg. I had never come across the term nage before, but have since learned it is a method of poaching delicate foods. A traditional nage is a broth flavoured with white wine, vegetables and herbs, in which seafood is poached. The liquid is then reduced and thickened with cream and/or butter. Which describes my dish perfectly. The pink salmon was cooked beautifully and was smothered in a lovely creamy sauce, accompanied by broccoli and green beans, along with the new potatoes.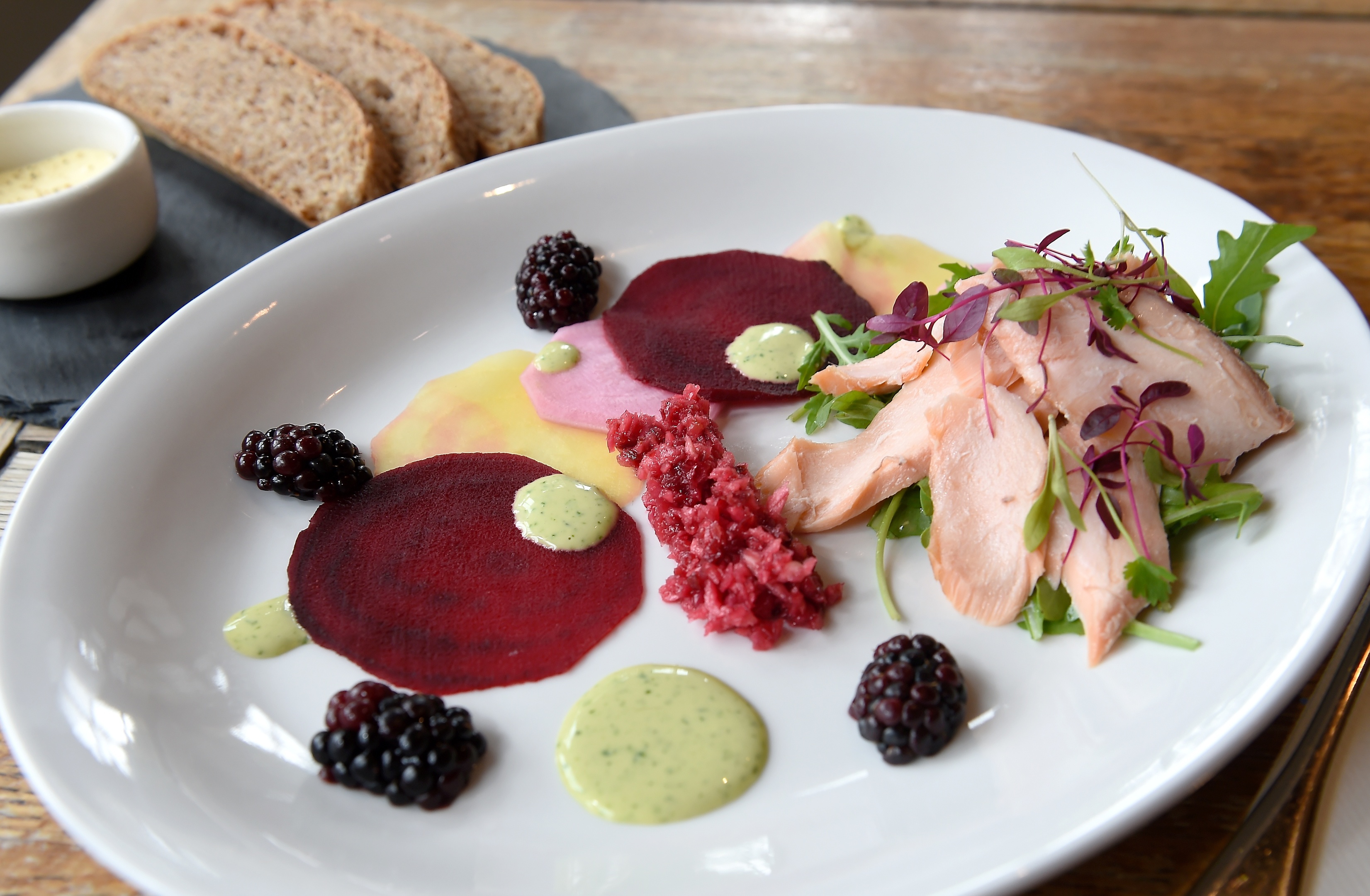 I was as pleased with mine as my fellow diner had been with his.
My wife opted for the cep and porcini risotto with seven-year-old balsamic vinegar, but asked for it as a starter portion as risotto for a main course is often too much. She loved it, and I tried some too, despite not being a mushroom lover. It was sweet and had a strong flavour which I really enjoyed. A starter portion was the perfect size and she was pleased with her choice.
Our ever-fussy children decided they didn't want anything from the kids' menu when they heard there was black pudding on ours. However, neither of them liked the sound of the rocket and apple salad and bacon vinaigrette it came with. No problem for the patient waiter or the chef, they quickly turned it into a posh black pudding and chips for the young ones. And boy was I glad they had chosen this – the black pudding, from Cockburns of Dingwall, was up there with the best I've tasted. I was only too happy to polish off what they couldn't manage of the large portion.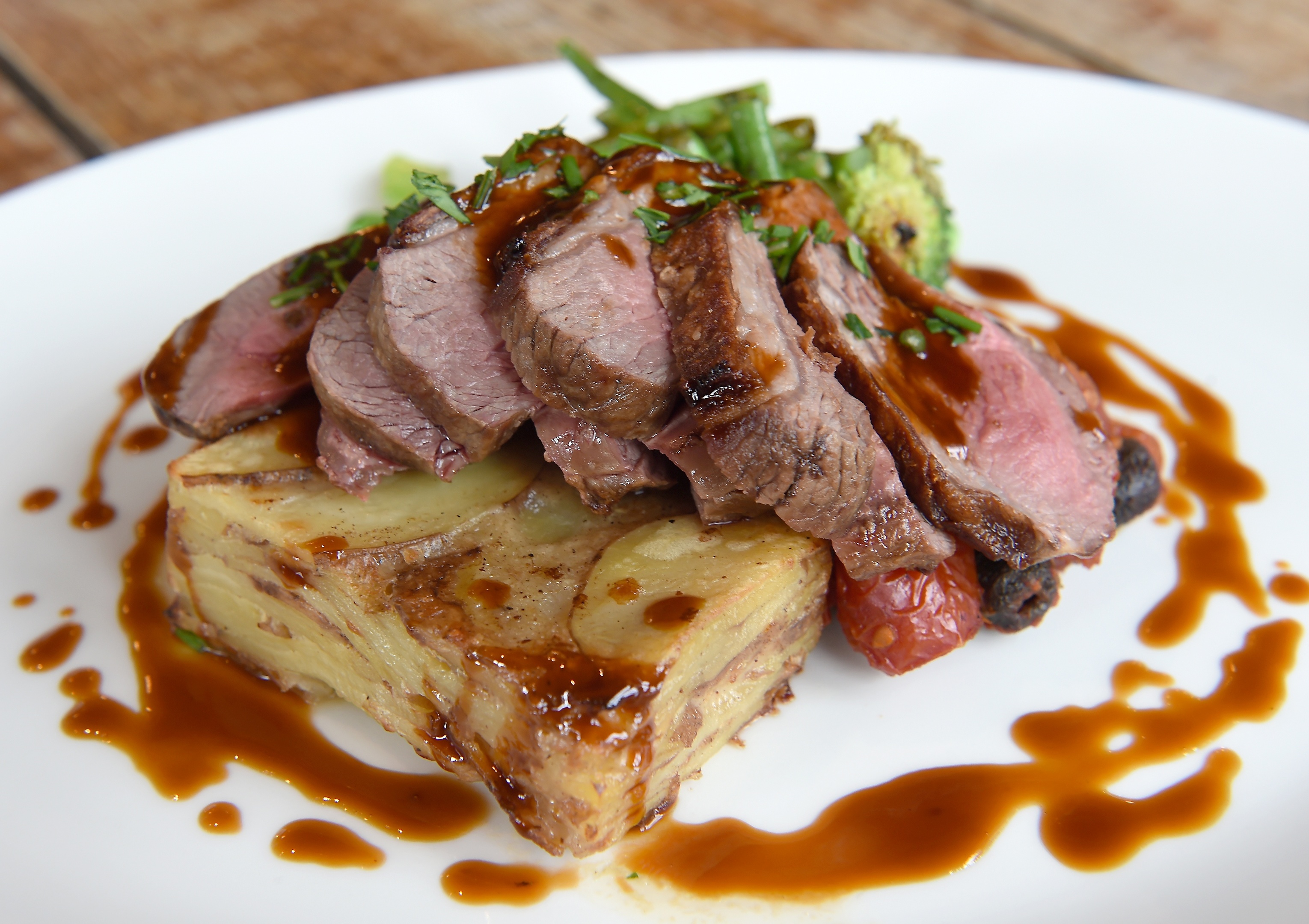 In spite of our full stomachs, we simply had to eat more at this fantastic establishment, so a lemon posset and two helpings of chocolate mousse were promptly requested. My posset arrived and surprised me as it looked like a bowl of red jelly with a brandy snap on top. But this was the pressed strawberry topping. As I plunged my spoon through the topping, it revealed a soft yellow substance that tasted as divine as it looked. As I quickly reached the halfway point in my pudding, I was genuinely tempted to order a second helping to arrive for when I finished this one.
The artistically presented chocolate mousse was despatched in double quick time and met with groans of approval all round.
After all that, it really was with heavy hearts that we realised it was time to leave. The meal had been fabulous, and other dishes were now being enjoyed by tourists from America, Spain and England. Cyclists and walkers were calling in to refuel on their journeys, but we had to head off on our next adventure on Loch Insh.
Like Aviemore itself, the Old Bridge Inn is a place for everyone. Young and old, local and overseas. And it does a good line in live music in the evenings as well.
It looks like we'll have to go back for another holiday in Aviemore as soon as we can, because I want to try the rest of the menu here. And next time we won't make any plans for afterwards, just relax and enjoy the experience for as long as we can.
THE OLD BRIDGE INN: 23 DALFABER RD, AVIEMORE PH22 1PU. 
PHONE: 01479 811137
NAGE OF HIGHLAND FISH £10
RISOTTO STARTER £5
BLACK PUDDING
STARTERS X 2 £12
LEMON POSSET £7
CHOCOLATE MOUSSE X 2 £14
KIDS ICE CREAM £2
SOFT DRINKS X 3 £5.90
Total = £55.90