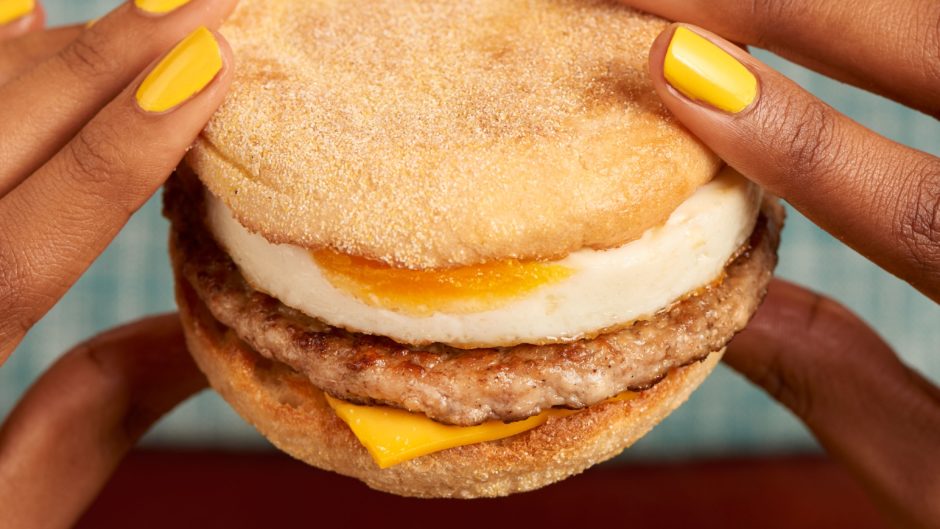 We may not be able to go out and enjoy our favourite chain restaurant dishes, but that doesn't mean we can't make them in the comfort of our own homes.
With various firms spilling their best-kept secrets online, gifting us with the recipes to some of their most popular dishes, it's no surprise many of us are picking up a pan or two to recreate them for ourselves.
Whether it's the popular classic dough balls and garlic butter from Pizza Express, or the ultimate hangover cure – McDonald's sausage and egg McMuffin, or Greggs' sausage, bean and cheese melt recipe (which would be perfect for lunch), there's plenty to feed your cravings.
A great form of escapism, home cooking and experimenting with new recipes is something a lot of us are trying during lockdown, and what better way to do so than making some of your much-loved restaurant favourites for you and others to devour.
Pret's Dark Chocolate Chunk Cookies
Ingredients:
(Serves: 8 – suitable for vegetarians)
110g unsalted butter
 170g caster sugar
  85g light brown sugar
1 whole egg
190g self-raising flour
3g salt
120g large dark chocolate buttons
Method:
Preheat the oven to 180°C. Melt the butter in a saucepan or microwave, until just melted (but not hot).
Using a stand mixer or electric beaters, beat the butter with the caster and brown sugars until well combined. Add the egg and beat on low speed until just incorporated (for around 10 to 15 seconds or so). Don't over beat as this will result in a firm dough.
Add the flour and salt. Mix until a smooth dough forms – be careful not to over mix!
Add the chocolate buttons to the dough and combine with your hands. For a good distribution of chocolate, break up some of the buttons into pieces or chop them slightly beforehand.
Scoop out eight balls of dough and place on a non-stick or lined baking tray. Make sure there is plenty space between them as the dough will spread out in the oven. Press them down lightly with your palm to flatten them out a little and bake for 10 to 12 minutes until the cookies look puffed up and golden.
Let the cookies cool on the pan for around 30 minutes as they will settle and sink into a dense buttery cookie.
Best enjoyed warm (or place in an airtight container and eat within 3 days).
Greggs Sausage, Cheese and Bean Melt
Ingredients:
Beans
Sausages (You could use a tin of beans and sausages as an alternative)
Cheese
Puff pastry
1 egg
Method:
Preheat the oven to 180°C.
Cut two squares out of puff pastry. The squares should be of even size.
Egg wash the edges of the squares.
Squash a few spoonful's of your beans and cooked sausages and put them in the centre on top of the pastry squares. Spread them out, avoiding going too close to the edge.
Sprinkle some cheese on top.
Place the second piece of pasty directly on top of the other, forking the edges of the pastry to close the pieces together, trapping the filling inside.
Egg wash the top of the pasty parcel and the edges and place in the oven for 20 minutes (or until golden brown and piping hot).
Remove and enjoy!
Wagamama's Chicken Katsu Curry
Ingredients for the chicken katsu curry:
120g rice
2 skinless chicken breasts
50g plain flour
2 eggs, lightly beaten
100g breadcrumbs
75ml vegetable oil, for deep-frying
40g mixed salad leaves
Ingredients for the sauce:
2-3 tbsp vegetable oil
1 onion, finely chopped
1 garlic clove, crushed
1 piece of ginger (thumb size – 2.5cm), peeled and grated
1 teaspoon turmeric
2 tablespoons mild curry powder
1 tablespoon plain flour
300ml chicken or vegetable stock
100ml coconut milk
1 teaspoon soy sauce
1 teaspoon sugar, to taste
Method:
To make the sauce, finely chop the onion, garlic and ginger. Fry them in vegetable oil for a few minutes. Add the turmeric and curry powder to the mix. Stir regularly and cook for a few more minutes on a low to medium heat.
Add the flour and stir, giving the mix a few more minutes to cook. Add the chicken/vegetable stock by adding a little bit and stirring everything together. Add the coconut milk and continue to stir.
Finally, add the soy sauce and sugar.
Split the chicken breasts in half so you have four thin fillets. Place the chicken slices in the flour bowl, then in the beaten eggs and finally in the bread crumbs.
Add 75ml vegetable oil to a pan and fry the chicken fillets. Fry until they are golden and cooked through.
Strain the curry sauce to get rid of any chunks. Boil the rice as per package instructions.
Place the rice in a bowl, slice the chicken fillets, add the curry sauce on top and serve with a salad on the side.
Pizza Express Classic Dough Balls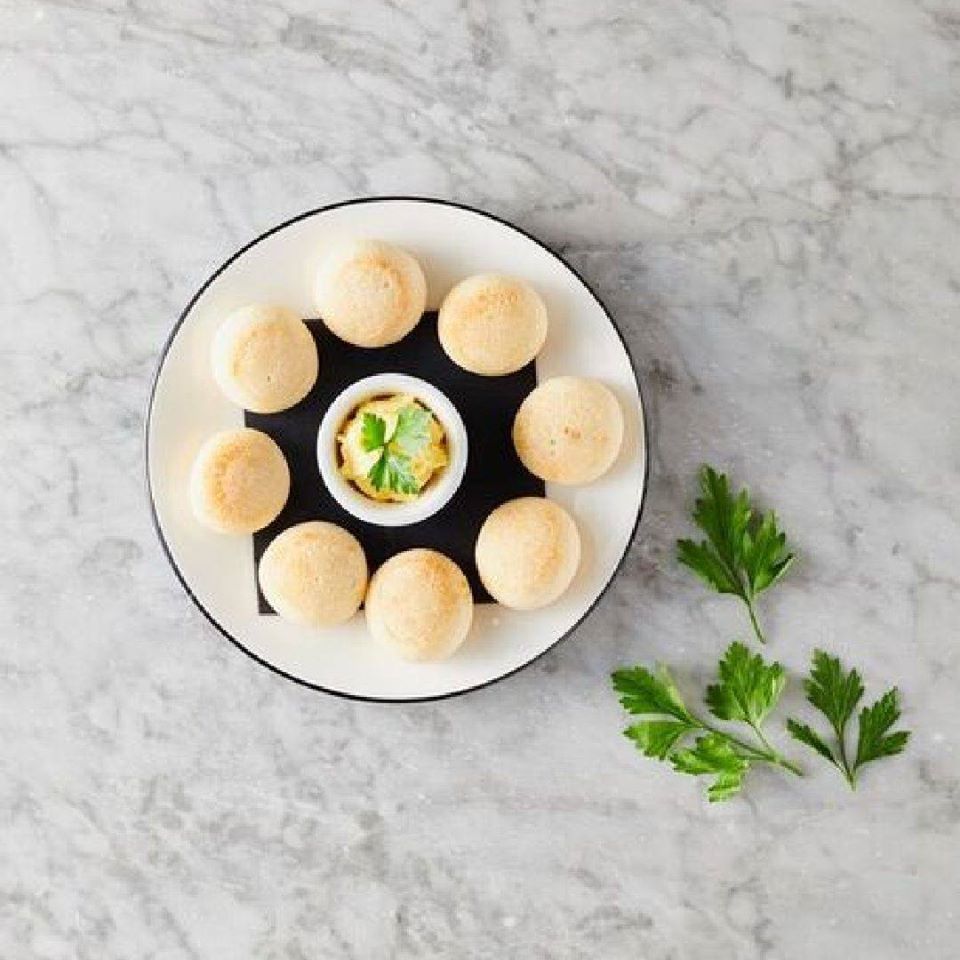 Ingredients
(makes 2 portions)
150ml warm water – roughly 27 degrees
1 teaspoon of sugar
15g fresh yeast (or 2 level teaspoons of dry yeast
225g of plain flour (plus extra for working)
1.5 teaspoons of salt
Extra virgin olive oil
2 teaspoons of butter
½ tsp garlic, chopped
Method
Preheat the oven to 230°C/210°C fan assisted.
Add the sugar and crumble the fresh yeast into the warm water. Allow the mixture to stand for 10 to 15 minutes in a warm place until froth develops on the surface.
Sift the flour and salt into a large mixing bowl. Make a well in the middle and pour the yeast mixture in.
Lightly flour your hands and slowly mix the ingredients together until they bind.
Generously dust your surface with flour, throw down the dough and begin kneading for 10 minutes until smooth, silky and soft. Leave the dough to rest until soft to the touch but not too springy.
Roll the dough into a 1.2m long tube. Cut into 16 chunks and place in an oven proof pan. Leave the dough balls to rest in the pan for 30 minutes.
When the oven is at the right temperature, bake for six minutes until golden.
For the Garlic Butter
Ingredients  
10ml extra virgin olive oil
4 tsp of butter
½ tsp garlic, chopped
Method
Blend the olive oil and chopped garlic into a paste. Pour over butter and mix it all together with a spoon.
Dunk your dough balls into the butter and enjoy!
McDonald's Sausage & Egg McMuffin Recipe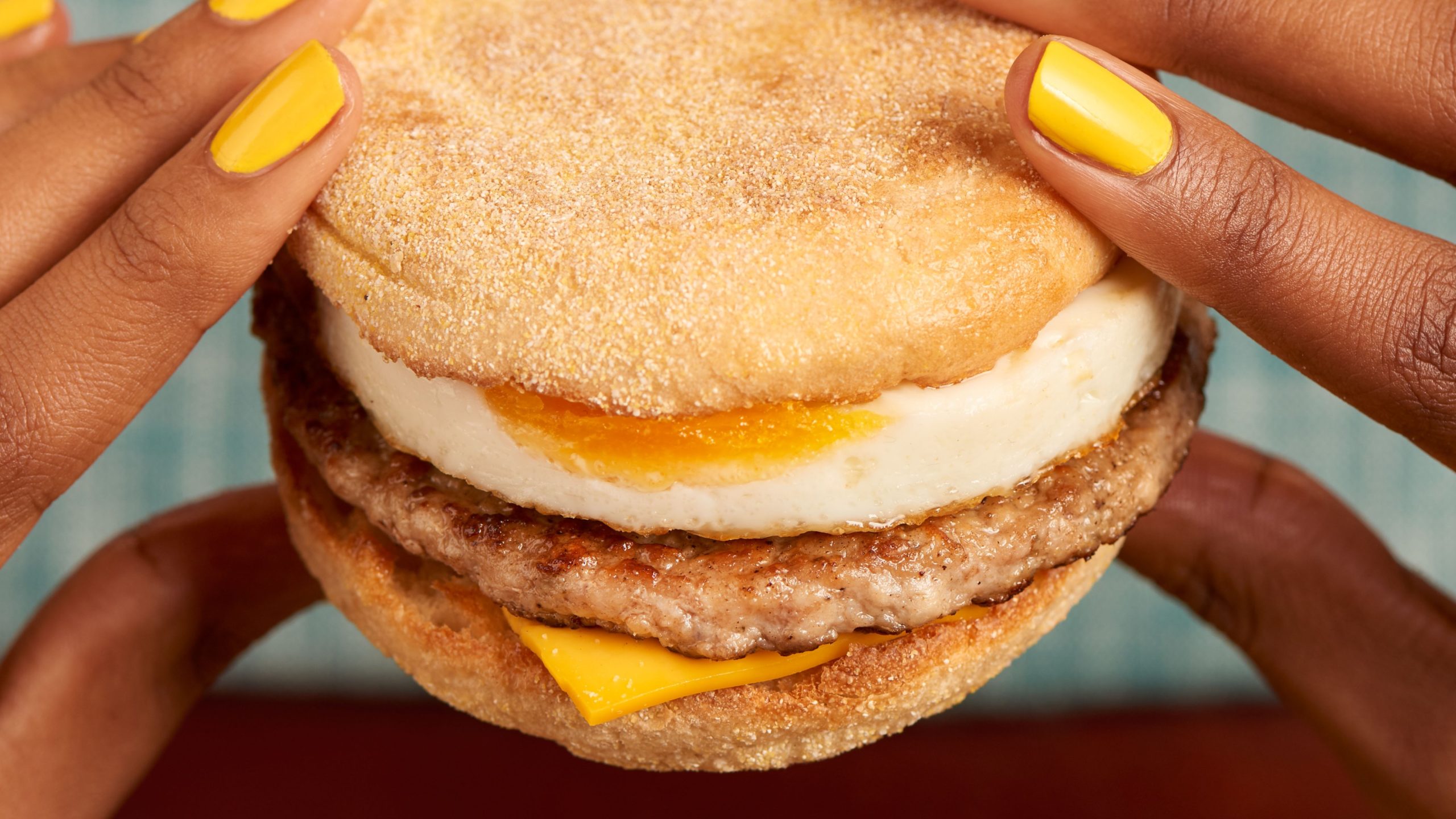 Ingredients:
English muffins
75g sausage meat
Eggs
A slice of American cheese
1 Potato
Salt and pepper, to season
Method:
Start by seasoning the sausage meat with a pinch of salt and pepper, and then flatten them into patty shapes. Cook them under a pre-heated grill for six or seven minutes.
Brush the inside of a metal ring with a little oil and place in a small frying pan. Pout in just enough water to cover the base then bring to the boil. Crack the eggs into the rings, cover the pan and cook for two to three minutes. You could also just plop it straight in a small frying pan if you're not precious about it being a nice circular shape. You could also just fry them if you prefer.
To make the hash brown, grate a potato into a bowl, mix it with egg, salt and pepper. Heat some pol in a pan and add a spoonful of the mix. Flatten and cook until golden brown on both sides.
To assemble your McMuffin, place all the patty, the egg and finishing with the cheese on top of a bun. Add the final bun and you are good to go.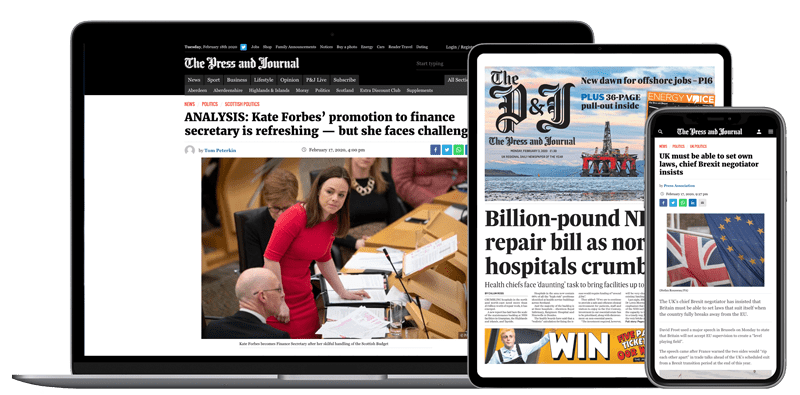 Help support quality local journalism … become a digital subscriber to The Press and Journal
For as little as £5.99 a month you can access all of our content, including Premium articles.
Subscribe