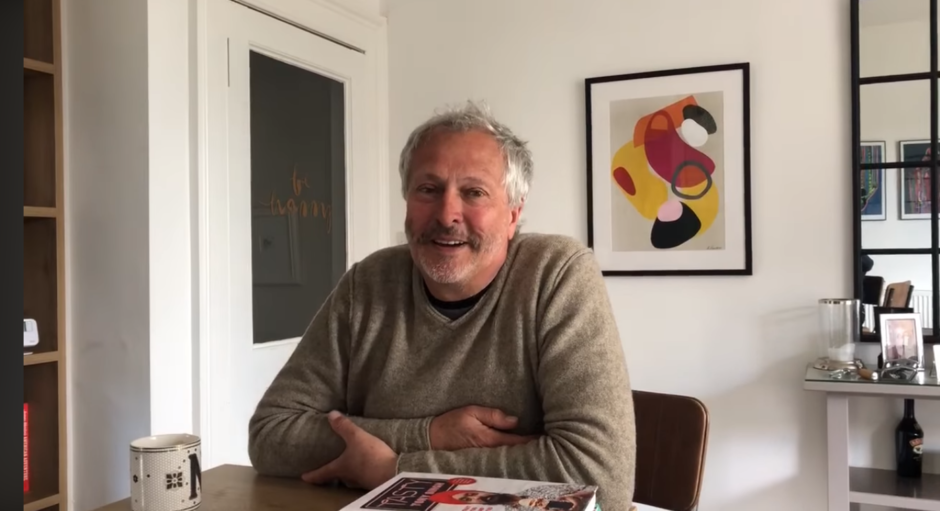 Chefs across Scotland turn to social media to give customers a taste of community spirit.
Social media has played a vital part in connecting us with loved ones throughout lockdown.
But it has also played an important role in connecting businesses and individuals with their customers, giving them the chance to check in and create unique online communities, too.
Chefs in particular have been turning to platforms, including Facebook Live and Instagram Live, to broadcast masterclasses, cook-alongs, tastings and general chit chats with their fans, giving them the chance to learn a new dish and ask the popular chefs questions they may never have been able to get the answers to.
Nick Nairn, Jamie Scott of The Newport Restaurant and Craig Wilson – also known as The Kilted Chef – of Eat on the Green are just a few doing just that.
Launching his At Home with the Narins series at the start of lockdown, Nick and his wife Julia have been entertaining viewers through the online community, broadcasting their dinner time cooking sessions to thousands.
Nick said: "My day job is teaching people how to cook and making TV programmes and we just sort of decided to start At Home with the Nairns – it's just us cooking and there are things in it which people can use.
"I didn't want to do masterclasses, so this is mainly a way for us to reach out to our staff, our friends and family to let them know we're still thinking about them, and the future. It's easy for people to start hibernating and disappear.
"It's important to stay positive and we think this is a way of doing that. There's lots of people doing masterclasses but that's what I do for a living. There's nothing that beats learning hands-on at somewhere like our cookery school.
Going live every Tuesday and Friday at 6.30pm, the videos have picked up thousands of views, with one hitting more than 12,000.
He added: "We are going to do a Dr Nick's Culinary Clinic, too, which will have no cooking and lots of chat. A lot of people have been asking us to do this. We really want to reach out to people, entertain them and really just say hi to everyone. We have around 250 people online during the videos.
"It's all really about preserving our community for when things are better and we can go back to doing what we love and what we are best at – looking after and making customers happy."
But going "live" comes with a whole new set of problems too, with Nick saying the mishaps and the random things that happen are the best part of the experience.
The celebrity chef has also purchased some new equipment to enhance the videos, with a new microphone being his latest addition.
"We bought a Bluetooth microphone which actually isn't compatible with Facebook Live so with this thing I feel like one of those tour guides. There were jokes flying around on the video that it looked like a sporran," said Nick.
"The best thing about At Home with the Nairns is that things go wrong. It's just us cooking at home. Our pasta machine broke the other night, which everyone thought was hilarious.
"The other message I want to get across is about not wasting food and using what you have in your fridge or freezer. We have been living well because we've been recycling so much stuff.
"When we come out of this I've got a few classes I want to do at the cook school about real cooking at home and how you go about cooking for a family but using your freezer."
Also jumping on the bandwagon is MasterChef Professionals 2014 winner Jamie Scott of The Newport Restaurant.
Hosting weekly masterclasses, Jamie is teaching customers of the restaurant how to recreate some of the eatery's most popular dishes, all while giving them top tips.
He said: "At the start of the pandemic I noticed a lot of high-profile chefs like Tom Kitchin and Tom Aitkens doing videos on Instagram. I wasn't sure if it was something they were doing to entertain people or not.
"A few weeks ago I was sitting with my wife Kelly after finishing a busy shift at the bakery and I was thinking about the restaurant.
"We didn't have any way of promoting it and letting people know it was going to continue. So I thought, 'Let's do some cooking demos'.
"I saw Nick Nairn had started up his At Home with the Nairns. Nick is obviously a natural on camera and I thought, 'I quite like doing it, so let's put the feelers out there and see if anyone is interested'.
"We got such a good reception on the Facebook post which got about 1,000 likes and 500 comments encouraging me to do it, so that was the reason behind it.
"So far it's weekly. Because the bakery is so busy Monday is my only real day off so I like to spend that time with my girls. Tuesday and Wednesday are really busy prep days and Wednesday night is really my only time to do it.
"I'm up at 4am every morning to get the bakery going so Wednesday is working fine just now. I had thought about Saturday one but I'll see how it goes for now."
Encouraging people to use the videos as they please, viewers can cook along, or watch the videos as desired.
"I want people to use the videos how they want to. If they want to cook along, great, I try to get the recipes up beforehand but sometimes it's so busy I don't manage to do that," said Jamie.
"I do want people to do what feels best for them. The video is being posted after so they can watch the live video, ask any questions they like, and I'll answer as many as I can. They could then easily cook along with the video afterwards.
"We've got an amazing, loyal customer base and they are so supportive of us. The videos are contact free and are a great way for them to ask questions. They're really interested in the food and I'm focusing on doing restaurant-style dishes that they will have had already and just showing them little secrets of what we do and inspiring them to do something at home, Newport style."
Meanwhile, in Aberdeenshire, Craig Wilson, The Kilted Chef and owner of Udny Green eatery Eat on the Green is also getting in front of the camera, bringing The Kilted Chef Live at 5 to many.
He and his wife Lindsay started the Facebook videos which now run three times a week and include a Friday night Fakeaway segment, when lockdown kicked in.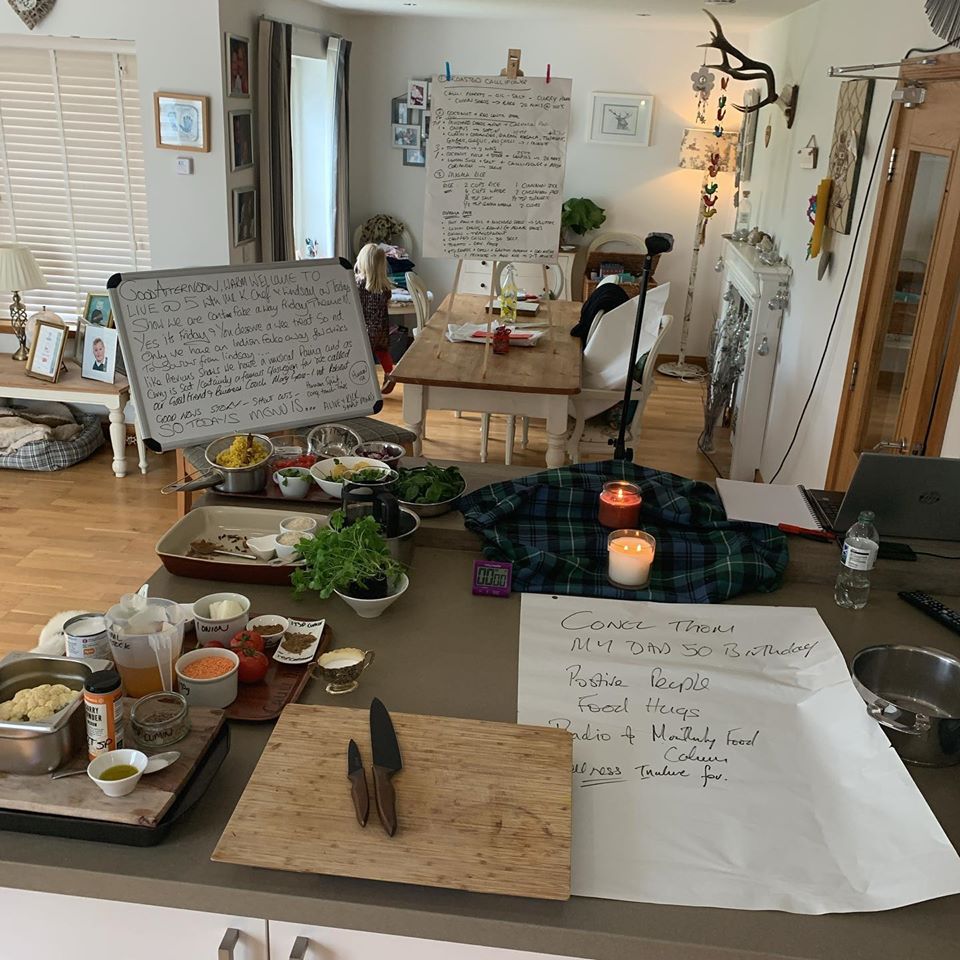 Lindsay Wilson, said: "Craig was getting a lot of questions as people are spending a lot more time in their kitchens and looking in their store cupboards and trying to decide what to make for dinner.
"It was great timing to launch it off the back of his The Corner Shop Cook Off episode which aired on the BBC just before lockdown. People were using what they had in their cupboards and during the programme Craig had to come up with a starter, main and dessert based on store cupboard items with just a £15 budget. That can actually go a long way when a lot of your ingredients are dry store or frozen.
"Live at 5 has quite a nice ring to it and 5pm is a time where people will normally be thinking about starting dinner. It was to get ahead of the curve of people starting to prep just in case they wanted to cook along.
"For us it worked out with our family too, and it meant we could all be sitting down together at 6pm eating whatever he had cooked up for us.
"We share the videos three times a week – Monday, Wednesday and Friday at the moment. On a Friday we do Friday Fakeaway. We ask our followers what they would like Craig to cook and we put a poll on social media and they decide. We've done Chinese/Asian, Italian and Indian already."
Reaching 10-15,000 people, Lindsay says the videos have been a great way for Craig to connect to the restaurant customers and the wider community.
And they have also done his mental health the world of good.
She added: "It's been amazing how many people have tuned in. The posts are reaching around 10-15,000 people and the views are usually around 5,000. Present at any one time there's around 100 people when we're live.
"Alongside specific dishes we feature he's also been giving tips like good knife skills, how to evenly disperse oil through your vegetables before you roast them on your tray – little handy tips.
"The kind of dishes he's doing aren't overly chefy that you would see in the restaurant. We want them to be easily created at home. We don't want to alienate people. These are lockdown dishes for the store cupboard dilemmas. He does two dishes in a half hour episode or three in 45 minutes.
"We try to be organised and get the ingredients list out the day before an episode so everyone can cook along, but it's quite challenging now we're doing three per week. I'm still trying to do my day job and looking after our kids, too.
"We have had people cooking with us and we try to get them to send us pictures of their creations. We can answer any questions and I make sure Craig hears them by reading them to him. Our audience also tell us the ingredients they want us to use, so we do that quite a lot.
"Craig is a really hard worker and can't sit still. It's been really good for him mentally and it's kept us both really busy. I think also, if he thinks he can make one person smile with his banter, or some of his cooking mishaps, it's an easy way of giving someone a 'food hug'. He's a people person and it's really important for him to connect with people in whatever way he can.
"We've also been sharing a good news story every episode and we arrange for Craig to drop off a Fakeaway for them to enjoy."