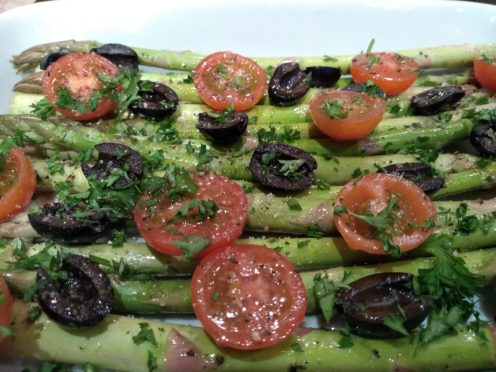 Deborah Ratcliffe, regular columnist for the Press and Journal's food magazine, The Menu, puts a fresh twist on an old, seasonal favourite
The season for British Asparagus is short, roughly from Saint George's Day on April 23 to the summer solstice on June 21, although thanks to modern growing techniques the season has been extended.
Asparagus is also imported, so more or less available all year round. White, green and occasionally purple in colour, asparagus is a great source of minerals and vitamins, and, incidentally had top press in early Greek society for helping toothache. There are also rumours about its alleged aphrodisiac qualities!
When buying, always look for asparagus spears with a firm tip – closed up tight is best.
The stalks need to be firm and a bright colour.
Asparagus is best eaten as fresh as possible and the easiest way to cook it is to rinse in cold water then steam for around 5-10 minutes (depending upon the thickness of the stalk).
If you don't have a steamer, stand stalk-end down in a small saucepan and gently simmer.
Many recipes suggest snapping off any woody ends – usually it's the larger, thicker spears that need this.
I tend to use the more delicate spears for steaming and the chunky ones for oven or pan cooking.
Asparagus with olives makes a great brunch dish.
The recipe is adaptable – add more/less asparagus, tomatoes or olives – and quantities don't need to be exact, so long as there's a balance for flavour.
I usually serve it with crispy bacon, but thick-cut sliced ham would be delicious too.
---
Asparagus with black olives, cherry tomatoes and eggs
(Serves 2)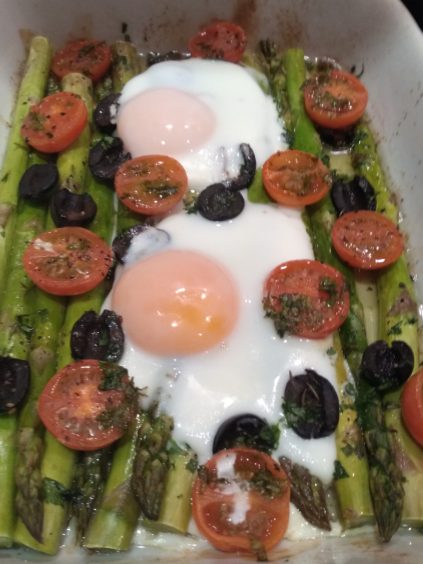 Ingredients
6-10 asparagus spears per person
Oil for baking dish
4 halved cherry tomatoes per person
4 halved black olives per person
2 tbsp olive oil
2 tsp fresh parsley, finely chopped
1 tsp fresh thyme, finely chopped
Salt and pepper to taste
2 eggs
Method
Preheat the oven to 200C/Gas Mark 6.
Arrange the asparagus in one layer in a lightly oiled baking dish.
Place the cherry tomatoes and olives on top. Drizzle over the olive oil. Sprinkle with the parsley and thyme. Then grind over the salt and pepper to taste.
Roast in the oven until the asparagus spears are just al dente (around 8-10 minutes). Remove from the oven.
Break the eggs on top of the asparagus/tomatoes/olives.
Return to the oven until whites set and yolks just setting (or firmer if that's the way you like your eggs). Serve immediately. I serve mine with large croutons, oven baked at the same time as the asparagus. I toss them in garlic-flavoured olive oil and sprinkle them with pink salt.