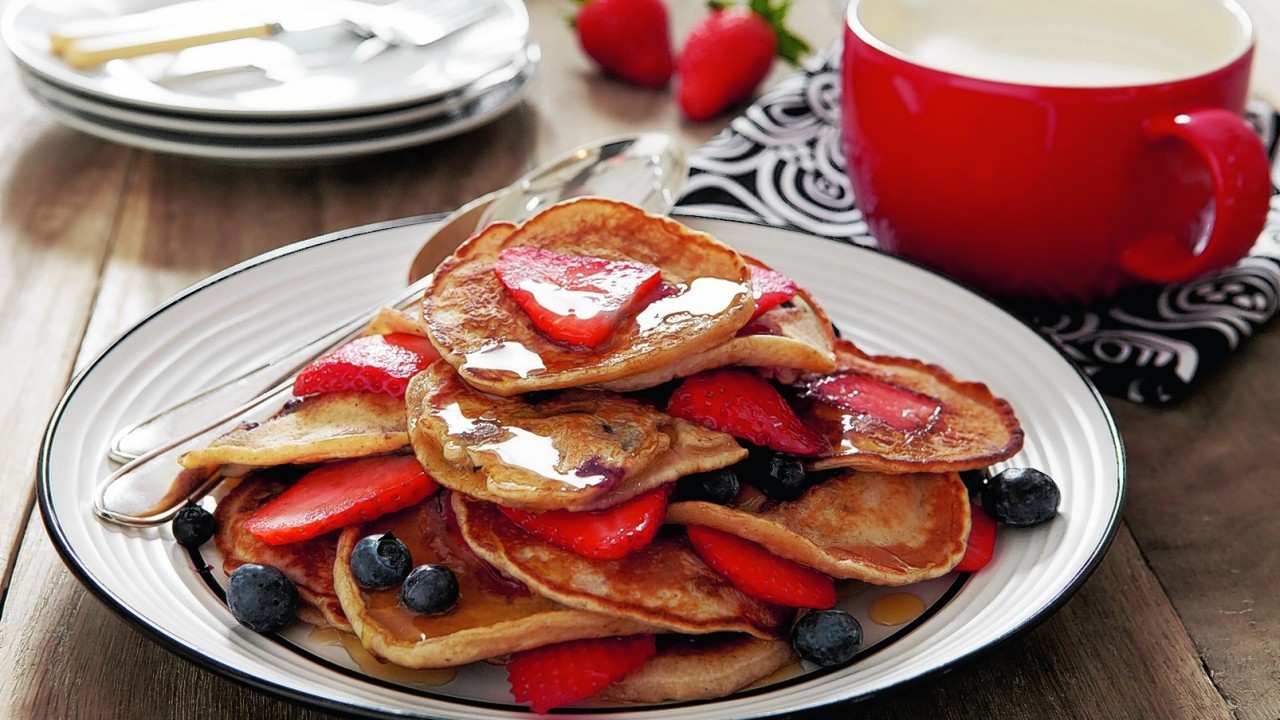 Get your aprons on, frying pans out and lemons at the ready because it's that "flipping" great time of year… yes you guessed it, it's pancake day!
Pancakes are traditionally eaten on Shrove Tuesday and this year it falls on February 17. To celebrate, we have put together a selection of recipes that will leave you wanting pancakes all year round.
VIVA STRAWBERRY, BLUEBERRY AND CINNAMON MINI PANCAKES
These fluffy pancakes with sweet strawberries and tangy blueberries are perfect for a leisurely breakfast or tasty afternoon treat.
Makes: 12-14 pancakes
150g self-raising flour
½ tsp baking powder
2 tbsp icing sugar
½ tsp ground cinnamon
2 large eggs
100ml milk
50g Viva Strawberries, chopped
50g blueberries
20g butter
sunflower oil
maple syrup to serve
In a bowl, mix the flour, baking powder, icing sugar and ground cinnamon. Crack the eggs into the flour and whisk together until a smooth paste is formed. Gradually add the milk until you have a thick batter, add the strawberries and blueberries.
Heat a non-stick frying pan over a medium heat. Add 10g butter and a small splash of sunflower oil. Once sizzling, use a tablespoon to drop the batter into the pan, in one fluid motion.
Wait 30 seconds, and then once small bubbles appear, flip the pancakes for a further 30 seconds. Remove from the pan and keep warm while cooking the rest. Half way through, add the remaining butter and more oil if necessary.
Pile on to a large plate, and drizzle with some maple syrup.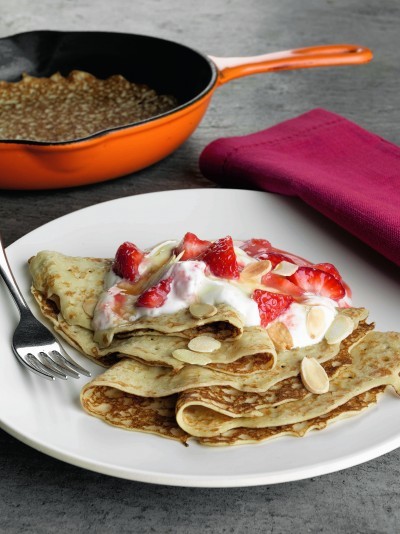 VIVA STRAWBERRY, TOASTED ALMOND AND CARAMEL PANCAKES
A truly indulgent pancake recipe which is ideal for breakfast or dessert. The strawberry, caramel and yoghurt topping is also delicious on toasted waffles or slices of Madeira cake.
Serves: 4 (2 pancakes each)
FOR THE PANCAKES
100g flour
2 eggs, beaten
300ml milk
oil for frying
FOR THE FILLING
20 Viva strawberries, chopped
2 tsp sugar
1 tbsp caramel sauce
300ml Greek yoghurt
2 tbsp, heaped, toasted almonds
In a bowl, sprinkle the sugar over the strawberries and leave to macerate while you make the pancakes. Switch your oven on to a low heat.
Place the flour in a bowl and gently whisk in the milk and eggs so you have a lump free batter. It should be the consistency of singe cream.
Heat a medium sized frying pan on a medium heat then wipe it with oil. Ladle enough batter into the pan to coat the base with an even, thin layer when you tilt it around the pan.
Leave the batter to stand until the top side looks dry and the bottom is golden, usually about 30 seconds. Using a fish slice or a flick of the wrist, turn or flip the pancake to cook the other side. Once cooked pop it on a plate, cover with foil and keep it warm in the oven. Repeat this until the batter is used up and you have a pile of pancakes.
Gently fold the juicy strawberries and caramel through the yoghurt until it just ripples. Serve 2 pancakes per person topped with a dollop of the yoghurt mixture and scatter with almonds.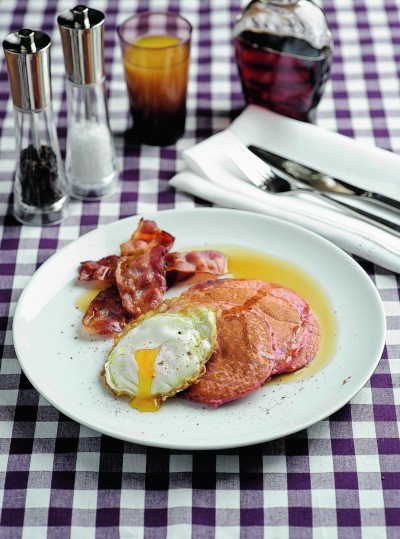 BEETROOT PANCAKES WITH EGGS, SMOKED BACON & MAPLE SYRUP
Serves 4, makes 12 small pancakes
250g plain cooked (vacuum packed) beetroot, drained
225g plain flour
2 large eggs, lightly beaten
30g butter, melted & cooled
1tbsp baking powder
Pinch salt
1 tsp sugar
300ml milk
Sunflower oil for shallow frying
TO SERVE:
12 rashers smoked streaky bacon, cooked crisply
Maple syrup, to taste
4 eggs, fried
Place all the ingredients in a food processor and blitz until smooth.
Heat a little oil in a large frying pan. Pour ladles of the batter into the pan and cook until you start to see little bubbles on the surface. This will take a minute or two.
Using a fish slice flip over the pancakes and cook for a further minute or so. Transfer to a warm plate and cover tightly with foil. Continue until you have used all the batter.
Serve hot with the eggs, bacon and plenty of maple syrup.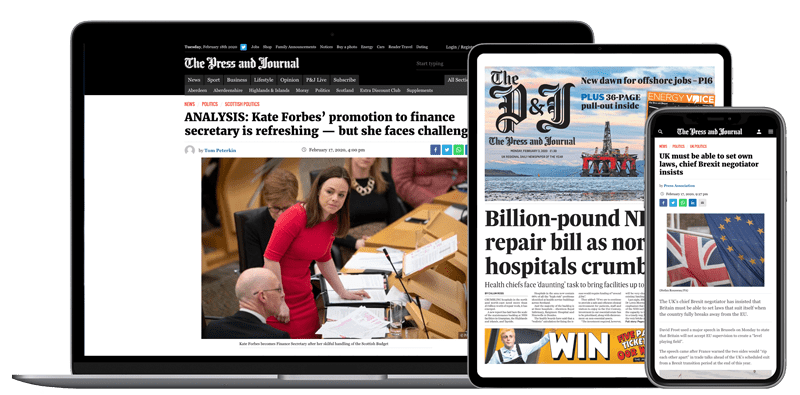 Help support quality local journalism … become a digital subscriber to The Press and Journal
For as little as £5.99 a month you can access all of our content, including Premium articles.
Subscribe