Dowans Hotel, Aberlour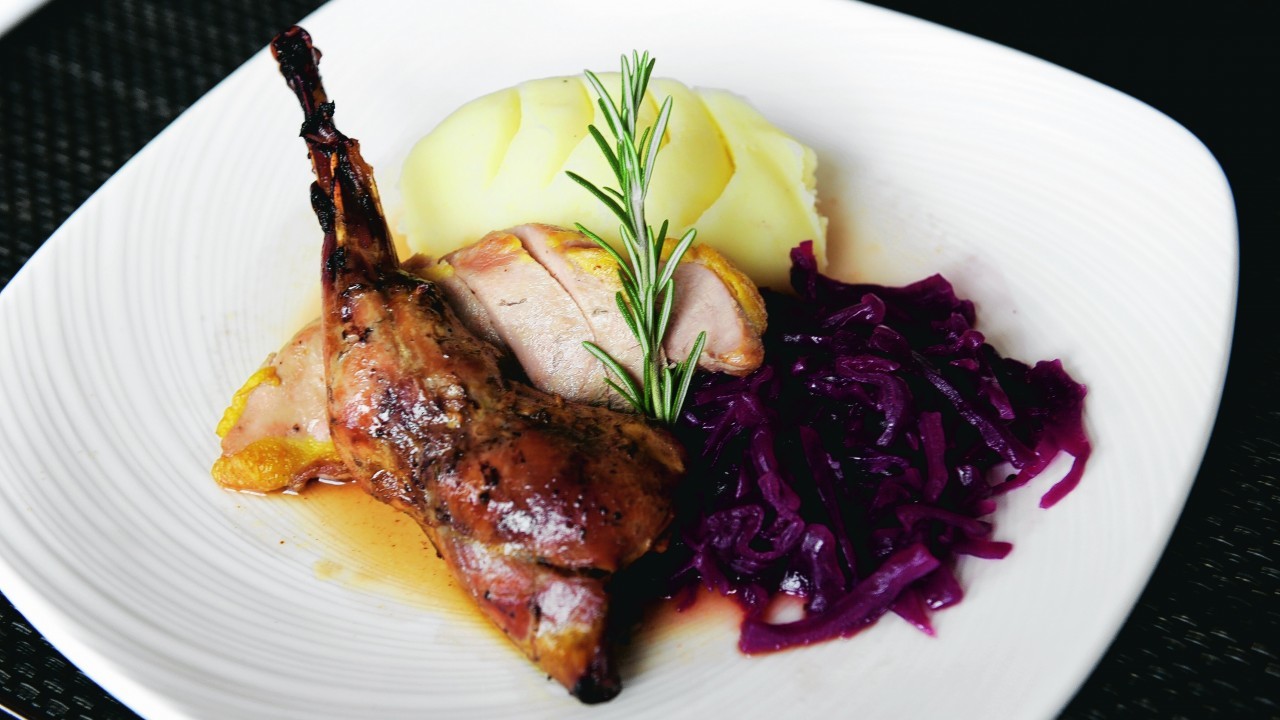 I love game, so finding pigeon, partridge, venison and pheasant on a menu was a delight for me. But even if you are not a game fan, the Dowans Hotel in Aberlour will have something for you.
This small hotel in a beautiful part of Speyside has one of the most eclectic and mouth-watering menus I have seen for a long while. How often do you see homemade rustic pizza sitting alongside tatties and herring, and roast quail with pearl barley risotto?
The problem was not so much finding something I liked but deciding what I was going to have to pass on this time round. Every section of the menu offered a dish I felt I really should sample, but without moving in for the weekend I was going to have to narrow things down. So there I was sitting in a luxurious lounge with a refreshing ginger beer with fresh lime, poring over a fantastic menu. Heaven. But the day had not started this way.
When my husband suggested a drive into Moray for lunch, I must admit I thought he'd lost his marbles. There was snow on the ground, the sky was brooding and more snow seemed likely. It was also January. Many smaller hotels in the north of Scotland struggle to keep going throughout the year and those that don't close often have meagre fare on offer at this time. I have often shivered in draughty dining rooms with a limited choice of microwaved meals to choose from, so this is not my idea of fun. If you do as much travelling on business as I do, it can be unavoidable. But why on earth would you volunteer for such an experience? Surely a relaxing day in front of the fire was in order.
But no, he was adamant. He had heard about the Dowans from a colleague and assured me this would be a great place to visit. So it was on with the big coat, scrape ice from the windscreen and off towards the A95. I tried to stay positive as we slithered along a side road near Carrbridge, still rutted from a recent snow-fall, but I remained unconvinced this was one of his better ideas.
But, for once, he was right. As we drove through Ballindalloch, the sky brightened and the grim grey weather turned into one of those crisp winter days that are really special. If you have never seen the Spey Valley on such a day, you haven't lived.
Arriving at Dowans, I immediately felt warmer towards the place. Although I had no intention of sitting outside, the elevated decking with views across the Spey looked wonderful and must be fantastic in the summer. Note to self: Return for Pimms or a Champagne cocktail in July.
A warm welcome greeted us when we entered the building, which has undergone a transformation. Behind the refurbishment there was clearly someone with a great eye for design. Lights assembled from silver-painted stags' antlers, bold textiles on the furniture and striking silver and black wallpaper marked this apart from most small Highland hotels. While original features like cornicing and wood panelling have been preserved, Dowans had more the feel of a modern city centre boutique hotel than a country inn.
And the food? Well, it was as good as the menu promised. I eventually settled for smoked pigeon, with caper and sherry vinaigrette to start while my husband went for scallops with chorizo and morcilla. Both dishes showed the chef could balance big flavours and present attractive plates of food.
For mains, my husband could not resist venison stew with veg and mash. I must admit I was tempted to have the same, but eventually decided on pheasant breast with confit leg, red cabbage and mash.
Venison stew often comes in a very dark and heavy sauce, but this was much lighter and, I was assured, no less full-flavoured. Pheasant can be a disappointment. If it is an older bird, or over-cooked, it becomes dry and unpalatable, but this was the opposite – it was simply beautiful. The accompanying veg was crisp and fresh, with the red cabbage well spiced and punchy without being overpowering.
For dessert, I had sticky toffee pudding with a generous portion of toffee sauce and a scoop of delicious ice cream. My husband picked crumble of the day, which was apple, pear and ginger. The ginger gave it an interesting little kick. Great desserts for a winter's day and just the thing to fortify us for the drive home.
So, I admit I was wrong. It was well worth venturing out to visit this gem of a hotel and I will definitely return, whatever the weather.
The Dowans Hotel, Aberlour, Speyside.