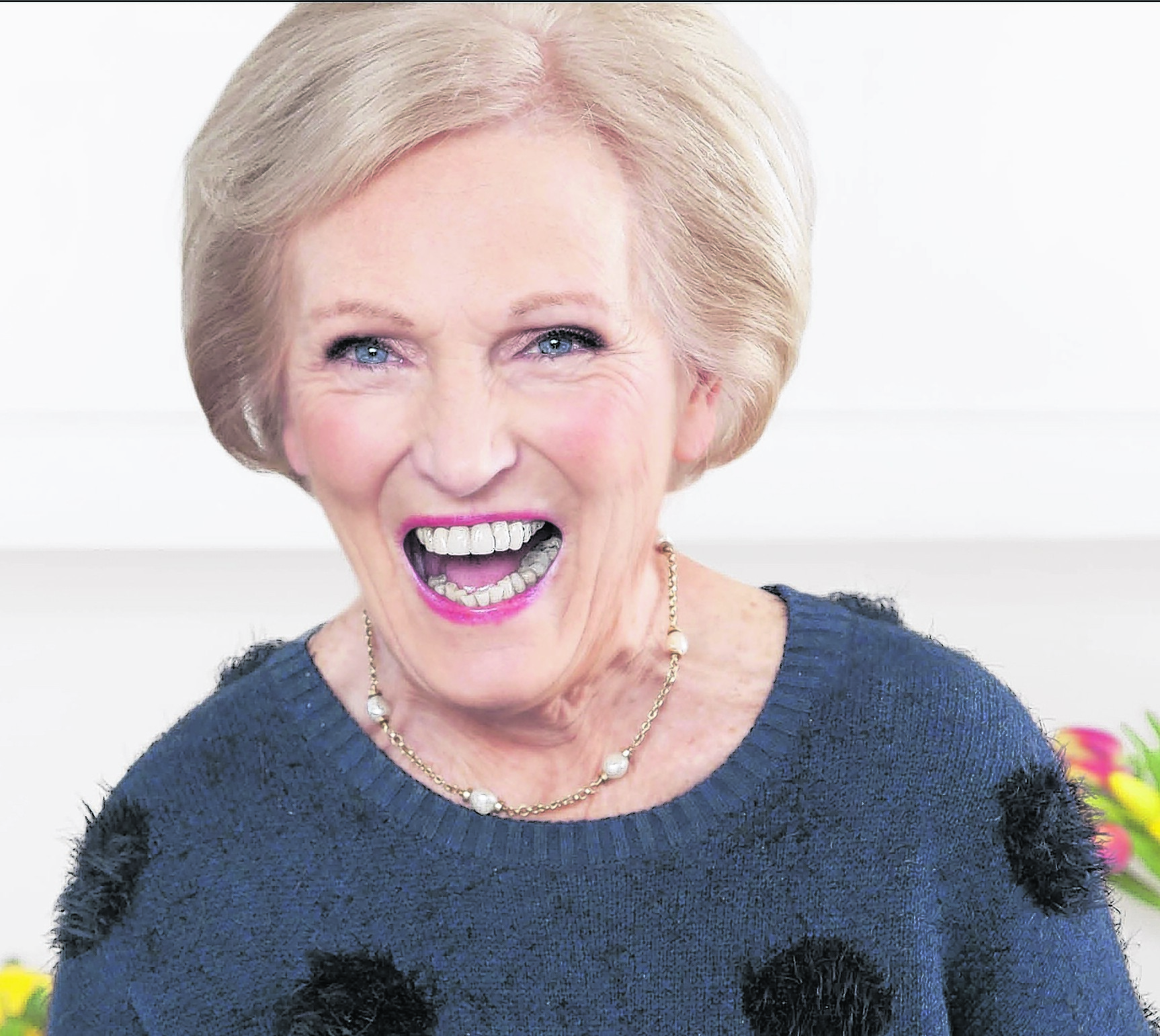 Mary Berry is one of the best-loved and most respected cookery writers and bakers of our time. She has a way of passing on her knowledge that has made home cooking exciting – and simple.
An updated version of her hugely popular book, Mary Berry Cookery Course: A step-by-step masterclass in home cooking is now available. It's the ultimate kitchen companion for home cooks keen to perfect their skills and learn how to cook some of Mary's favourites recipes, such as these we're featuring here…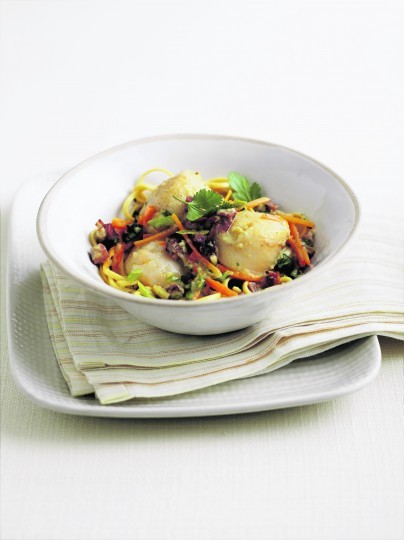 SPICED SCALLOPS AND PANCETTA
SERVES 4
Serving scallops always makes a meal special. Here they are combined with a touch of mild Asian spice mix and pancetta. I've used the large, plump "king" scallops as they're so succulent and delicious. Serve over Chinese egg noodles.
2 large carrots, peeled
6 spring onions, trimmed
50g pancetta
1 tbsp sunflower oil
200g shelled scallops, trimmed and sliced if necessary
250ml coconut milk
1 tsp caster sugar
Salt
75g dried medium Chinese egg noodles, soaked, to serve
Fresh coriander leaves, to garnish
For the spice mix:
3 garlic cloves, peeled and crushed
2.5cm piece of fresh root ginger, peeled and chopped
2 tsp mild curry powder
2 tbsp sunflower oil
First make the spice mix: place all the ingredients for the mix in a food processor fitted with the metal blade and process until smooth. Alternatively, pound in a pestle and mortar.
Using sharp kitchen scissors, cut off and discard the crescent-shaped muscle on the side of the white body of the scallop. Large scallops cook best if sliced. Using a chef's knife, slice through into rounds. Small "queen" scallops can be left whole.
Slice the carrots into thin sticks and slice the spring onions diagonally. cut the pancetta into small cubes the size of a pea. Heat a non-stick sauté pan or wok over a high heat for 1-2 minutes
until very hot. Add the oil and heat until it just begins to smoke. Fry the pancetta for 1 minute. Reduce the heat to medium, add the carrots and stir-fry for 1 minute. Add the spice mix and stir-fry for 2 minutes. Add the scallops and spring onions and stir-fry over a high heat for about 3 minutes. Add the coconut milk, sugar, and salt. Stir and heat until bubbling.
To serve, pour the scallop and pancetta mixture over Chinese egg noodles and garnish with coriander leaves.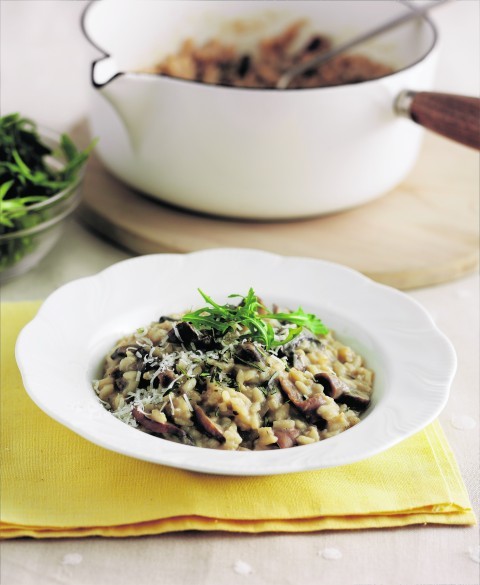 MUSHROOM RISOTTO
SERVES 4
Risotto is the sort of weekday meal that you can buy the ingredients for on your way home and have on the table within 40 minutes. If you like a bit of colour with the rice, add a few frozen peas towards the end, as you stir in the last of the stock.
10g dried porcini mushrooms
50g butter
1 small onion, peeled and finely chopped
2 garlic cloves, peeled and finely chopped
1 tsp finely chopped fresh rosemary, plus extra to garnish
250g chestnut mushrooms, sliced
300g Italian risotto rice, such as Arborio
150ml white wine
About 1.2 litres (2 pints) hot vegetable stock
90g Parmesan cheese, grated, plus extra to serve
Salt and freshly ground black pepper
Handful of rocket leaves, to garnish
Soak the porcini in 150ml boiling water. Leave to soak for 15-20 minutes then strain, reserving the soaking liquid. Meanwhile, melt the butter in a large, wide pan or deep sauté pan, add the onion, garlic, rosemary, and chestnut mushrooms and cook gently over a medium heat for 4-5 minutes, stirring occasionally, until the onion and mushrooms are soft but not brown.
Stir in the rice so all the grains are coated and cook, stirring, for one to one and a half minutes. Raise the heat slightly, then pour in the wine and keep stirring until it has all evaporated. Coarsely chop the porcini and add them, with their soaking liquid, to the rice. Stir again until most of the liquid has gone. Pour in a ladleful of the hot stock and cook gently, stirring constantly, until the stock has been absorbed. Continue to pour in the stock, a ladleful at a time, letting it be absorbed each time before you add any more. Repeat until most (if not all) of the stock has been used and the rice is just tender. This will take 18-20 minutes.
Remove the pan from the heat. Stir in the cheese, season to taste, and set aside, covered, for 2-3 minutes. If you have some stock left, pour a spoonful over the surface to keep the risotto moist. Gently stir, then serve sprinkled with some cheese, a grinding of pepper, a little finely chopped rosemary, and some rocket leaves.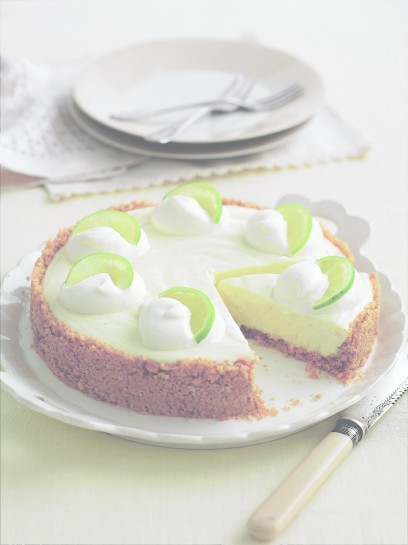 LEMON AND LIME CHEESECAKE
SERVES 4-6
Of all the desserts in the book, this lemon and lime cheesecake is one of the simplest to make. You must use full-fat condensed milk and cream cheese for the recipe to work, as the filling won't set if you use low-fat substitutes.
10 digestive biscuits, crushed
50g butter, melted
25g demerara sugar
150ml double cream
397g can full-fat condensed milk
175g full-fat cream cheese (room temperature)
Grated zest and juice of 2 large lemons
Grated zest and juice of 1 1/2 limes
150ml (5fl oz) double or whipping cream, to decorate
Half a lime, thinly sliced, to decorate
Place the biscuits in a clear plastic bag. Lay the bag on a flat surface and run a rolling pin back and forth over the biscuits until they form crumbs. Place the crushed biscuits together with the butter and sugar, in a medium bowl and stir until the ingredients are thoroughly mixed. Turn the crust mixture out into a 20cm (8in) loose-bottomed tart tin and press firmly and evenly over the bottom and up the sides using the back of a metal spoon. Chill for 30 minutes until set.
Place the double cream, condensed milk, and cream cheese in a bowl with the lemon and lime zests. Mix thoroughly. Using a balloon whisk, gradually whisk in the lemon and lime juices and continue whisking until the mixture thickens. Pour the lemon and lime filling into the crumb crust and spread it evenly. Cover and chill overnight. Decorate the top of the cheesecake with swirls of whipped cream and slices of lime, then return to the fridge.
Mary Berry Cookery Course: A step-by-step masterclass in home cooking, published by DK, £17.99.