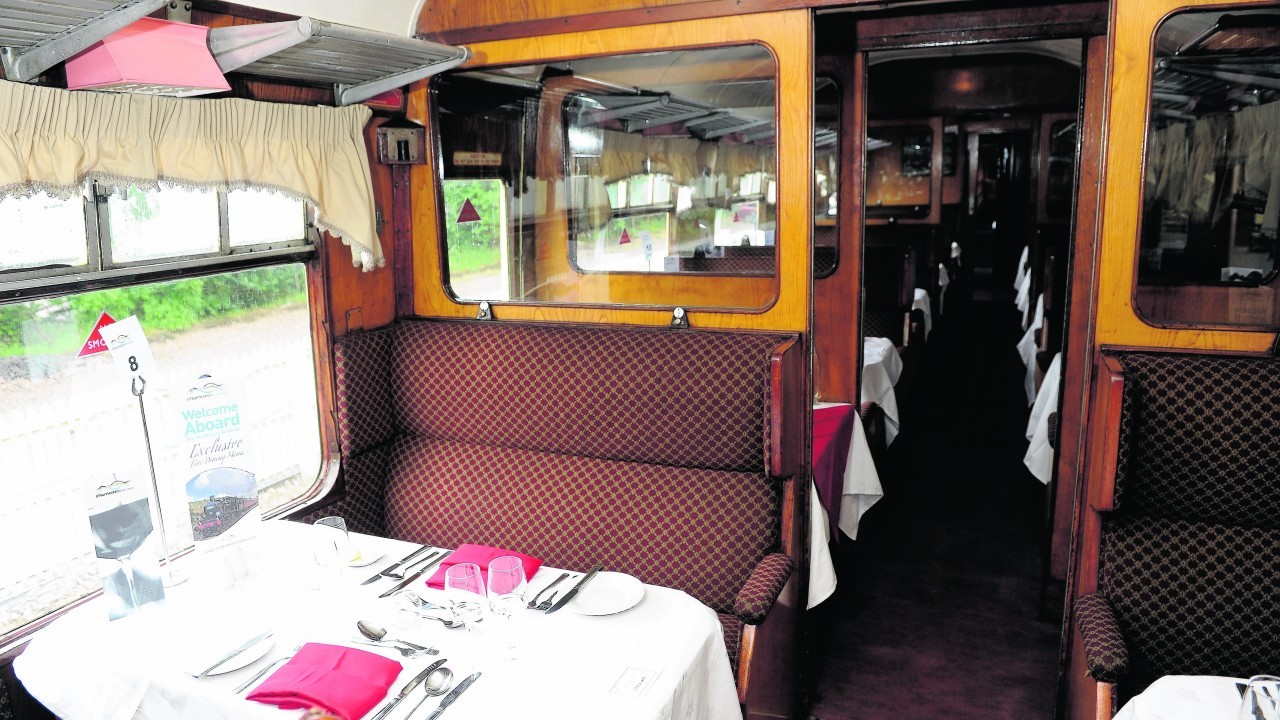 Dining experiences can be a feast for the eyes, and an evening on board The Strathspey Railway ticks that box, but it's also a feast for the ears and memory, too.
Making our way across the footbridge which crosses the line at postcard-pretty Aviemore Railway Station, we caught our first glimpse of the majestic steam train and vintage carriages where we were to dine as the train puffed through the glorious majesty of the Cairngorms National Park.
I couldn't wait to board the train and recall memories of the golden days of rail. We joined fellow passengers for a stroll along the platform, enjoying the warm evening sunshine and admiring the marvellous train in equal measures. Friendly liveried staff were on hand to answer questions and before long invited us to board while a piper in full Highland dress played on.
Stepping into the carriage was like going back in time. Even the door with a window you could open or close yourself, seemed cool. The carriage has tables which can seat four and each table was nicely dressed with white linen tablecloths, linen napkins, sparkling glasses, and pretty tea-lights. We couldn't help but marvel at the glamorous style of the carriage with its gently rounded ceiling, wing-back chairs and soft lighting.
Noises play a big part in this experience. The sound of the heavy carriage doors being slammed shut and the melodic ring of the whistle blowing before departure brought me right back to memories of family trips in the 1960s with loved ones who are long gone, and put a lump in my throat.
We puffed along at a genteel speed, whiffs of steam and smoke lazily drifting by the big windows. Drinks and food orders were efficiently taken and delivered, then 10 minutes into the journey we stopped at a lovely spot offering fine views of the open countryside and glorious mountains beyond. We had our starters here – a goat's cheese and red onion marmalade tart with dressed salad leaves for me and a salad with Ullapool hot smoked salmon, beetroot croutons and vodka creme fraiche for my daughter.
My tart was rather good. Lovely sweet pastry with plenty of nice tangy onions and creamy cheese which had melted, but made the pastry very yummy. The salmon was equally delicious with a good non-oily texture and full-on flavour. The plates were cleared and we moved on, passing big houses, open fields and a deserted golf course before stopping at Boat of Garten station where our next course, sweet potato, coconut and butternut squash soup was served. As this was an intermediate course I'd expected a small serving but instead we were presented with large steaming bowls of this unusual, sweet soup which was ideal for a summer night.
Bells and whistles let us know that we were on the move again. An app on a mobile phone suggested we were travelling at 22.9mph, the perfect speed to soak up views of the River Spey, numerous deer and the two rainbows which made an appearance.
The last stop, before turning around, was Broomhill Station which looked very familiar before we twigged it had appeared as Glenbogle Station in the TV show, Monarch of the Glen. Here we tucked into mains of roast Black Isle topside of beef stuffed with haggis, served with new potatoes and a whisky jus and loin of venison with a redcurrant and port sauce and horseradish crushed new potatoes, both served with fresh broccoli and carrots.
My daughter's venison was perfectly cooked and very tasty, while the addition of horseradish to the spuds gave them a nice warming kick. While I had plenty of well-flavoured beef it was a wee bit dry, however the haggis was moist and spicy and the veg moreish. Passengers are encouraged to disembark, which we did, taking time to admire the pretty station and take up the offer of climbing on board the engine. Standing on the foot plate in front of the roaring coal fire was a huge thrill.
At 9pm, we set off again, homeward bound for Aviemore. En-route I enjoyed sticky toffee pudding with a wonderful toffee sauce while my daughter savoured each mouthful of her coconut cheesecake with vanilla cream and chocolate sauce, then watched the sun creep over the hills while having coffee and home-made tablet. As darkness began to fall, the train's soft lighting kicked in, and with the tealight candles flickering merrily, the whole carriage took on a magical atmosphere.
Although advertised as fine-dining, the food is more bistro-style but overall the evening exceeded our expectations, leaving us with wonderful memories that we'd go full steam ahead to repeat.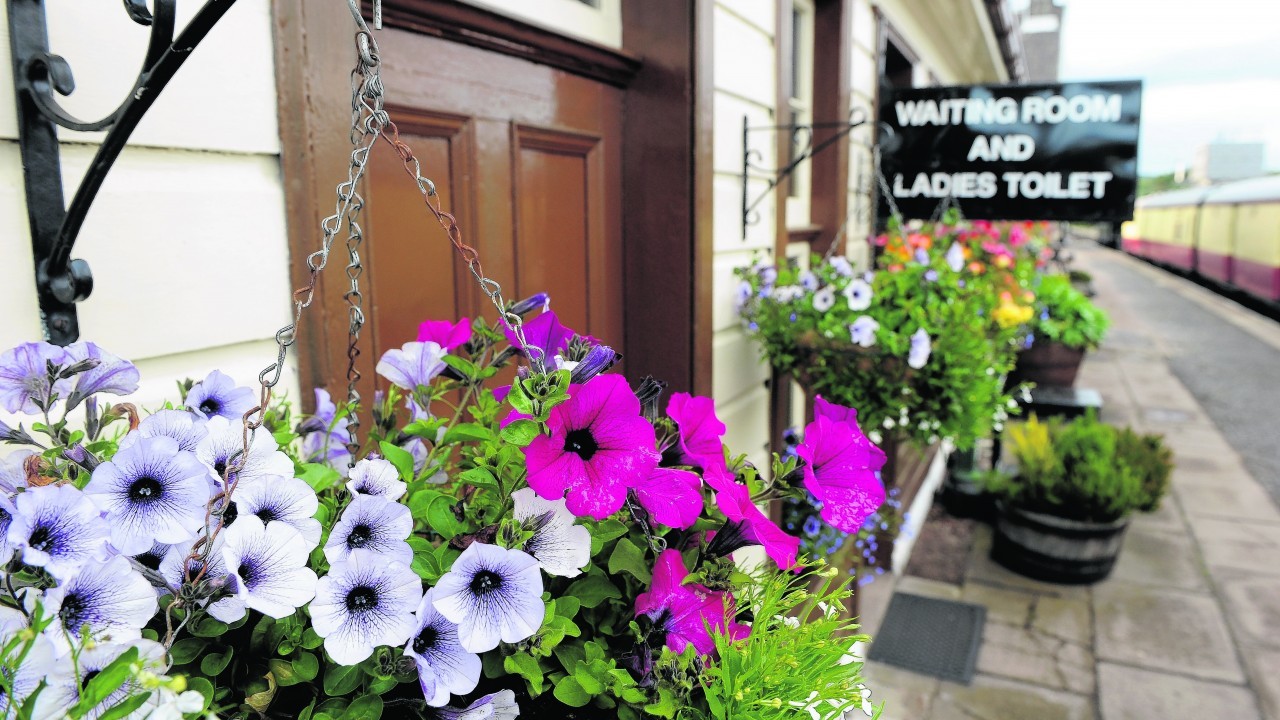 The Strathspey Railway, Dalfaber Road, Aviemore. Phone 01479 810725.