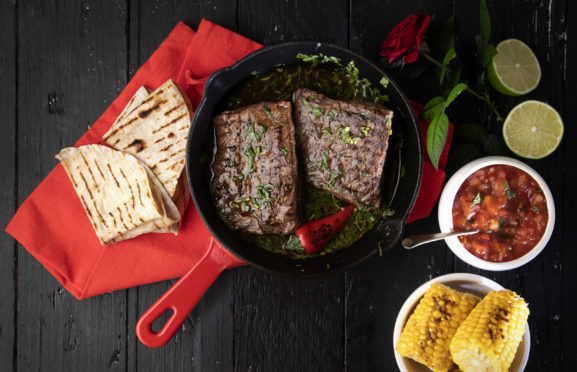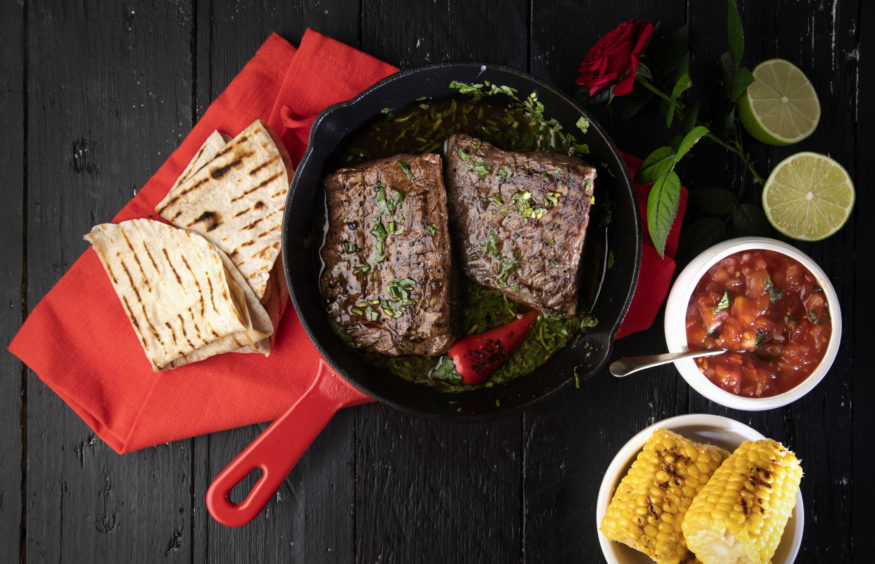 As Great British Beef Week gets under way, the public is being asked to support the beef industry by cooking steak at home.
Today marks the start of Great British Beef Week, and what would have been an ideal time for Scottish restaurants to entice people to go out for a steak dinner.
Around 20% of beef is usually consumed in the eating-out market, mainly in the form of steaks – however, the current closure of restaurants means a loss of an estimated 2.5 billion eating-out experiences between April and June across Scotland and the rest of the  UK.
In response, the Agriculture and Horticulture Development Board (AHDB) has launched a campaign to get people to support the beef industry by cooking steak at home during the lockdown.
The farming and growers' levy board is asking industry and chefs to showcase steak meals on social media using the hashtags #steaknight and #makeitsteak.
So here it is! My chef impression, what you reckon? 👨‍🍳😂😂 #steaknight #makeitsteak pic.twitter.com/6lPw4njPvG

— Will Jackson (@WillJAgri) April 12, 2020
AHDB strategy director for beef and lamb, Will Jackson said: "We want to join up the supply chain and showcase the fantastic ways we can all enjoy an eating-out experience in the comfort of our living rooms by linking up communities across social media with farmers and chefs to share their expert knowledge and tips.
"We encourage everyone to prepare and share simple steak recipes to help people cook with confidence in their own home during these difficult times."
Great British Beef Week takes place between April 23 and 30, with the aim of championing the quality of locally-produced beef and the farmers behind it.
The initiative is spearheaded by a group of more than 150 female beef farmers across the UK.
Claire Higgs, communications manager at Quality Meat Scotland, said: "From sirloin to ribeye and feather blade to fillet, there is always a cut of steak which can be complemented with sensational sides – perfect for a delicious dinner at home that won't disappoint.
"When visiting your supermarket or arranging a delivery from your local butcher, simply look for the blue Scotch Beef PGI logo which guarantees the meat you are buying comes from specially selected Scottish farms where animal welfare is a priority."
Your guide to steak cuts:
Sirloin – Classic, tasty and tender. Perfect with a creamy peppercorn sauce.
Ribeye – The chef's favourite, well-marbled, tender and flavoursome. Delicious with a rich, tangy sauce.
Minute – Comes from a variety of cuts (flank, loin or rump). Perfect in a sandwich or stir-fry.
Rump – Also known as Popeseye in Scotland, rump has both texture and flavour.
Featherblade – Named because it resembles the quill of a feather. It is lean, with a bit of texture and lots of flavour.
Fillet – Lean, succulent and tender – suits quick cooking in a very hot pan.
Hanger – A cut from the flank with lots of texture and big flavour. It must be cooked very hot and quick and served rare to medium rare.
Bavette – Similar to hanger (from the flank) it has a full, rich flavour and needs very quick cooking.
T-bone – Sirloin on the bone with fillet attached to the underside. Take care when cooking as the fillet will cook faster than the sirloin.
RECIPE: Scotch Beef Jerk Fillet Steak (serves 4)
(Source: The Scotch Kitchen)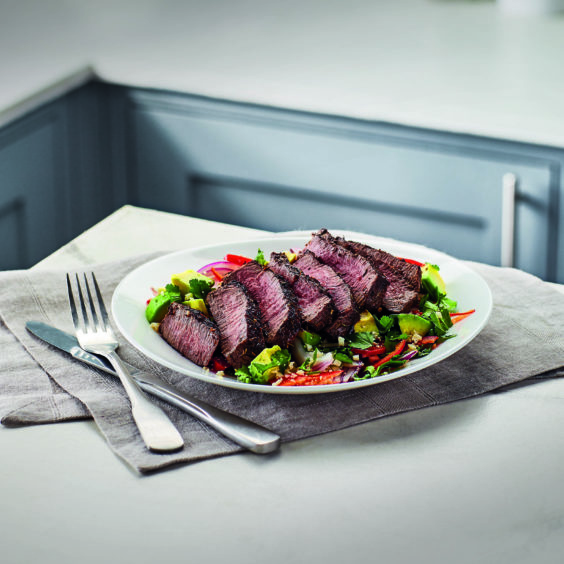 Ingredients 
4 x 170g Scotch Beef PGI fillet steaks
2 x heaped tsp dried thyme
1 x flat tsp chilli flakes
½ tsp ground ginger
½ tsp ground cinnamon
½ tsp allspice
1 x lime, juiced
2 x medium red onions, peeled and sliced
1 x 250g pack cauliflower rice
1 x red pepper, thinly sliced
1 x large avocado, remove and chop the flesh and cover with half of the lime juice
15g fresh coriander, finely chopped
80ml rapeseed oil
Sea salt and black pepper
Cooking Method
1. In a large bowl, mix the thyme, chilli flakes, ground ginger, cinnamon and allspice together with the juice from half the lime.
2. Season with salt and black pepper.
3. Slice the Scotch Beef fillet steaks into thick strips, approximately 2cm in thickness.
4.Put the steak slices into a bowl along with the jerk seasoning and massage the seasoning onto the steak.
5. Mix the cauliflower rice, avocado, red pepper and coriander together in a separate bowl.
6. Heat the oil in a large wok or frying pan.
7. Sauté the beef slices and red onion in the oil for 8 minutes.
8. Serve the jerk beef on top of the cauliflower rice salad and serve.