Scotland isn't known as a mass producer of chillies, but as a lover of the spicy peppers, "hot head" Brian Stormont made it his mission to grow his own during lockdown.
I planted the seeds, I nurtured them, I repotted them twice, I dealt with a determined invasion of greenfly and, six months later, I have a pretty decent crop of jalapeno chillies.
Having been gifted a wee box of chilli seeds as part of my Christmas present from my daughter, Cari, I was really looking forward to growing my own.
Particularly exciting for me was they were the jalapeno variety which I actually love to eat raw or pickled and pop in my salads and, of course, on my nachos or in my chillies.
But could I actually grow them?
I had enjoyed limited success with growing vegetables in the past – carrots, lettuces and potatoes proving winners, spring onions and a previous effort at chillies less so.
There are a number of successful commercial chilli growers in Scotland and in the north-east, but they are using polytunnels as the climate here tends not to be particularly conducive to cultivating the hot peppers.
My mini enterprise I decided would be two-fold – kitchen based and outdoor based.
I started with eight seeds and ultimately successfully grew eight plants. Two went outside, two went to my brother and four remained indoors.
Watching them grow
Working from home during lockdown, it was amazing to see how quickly they grew indoors, partly due to my kitchen receiving the sun from about 7am to 5pm – all I had to do was move them around a bit.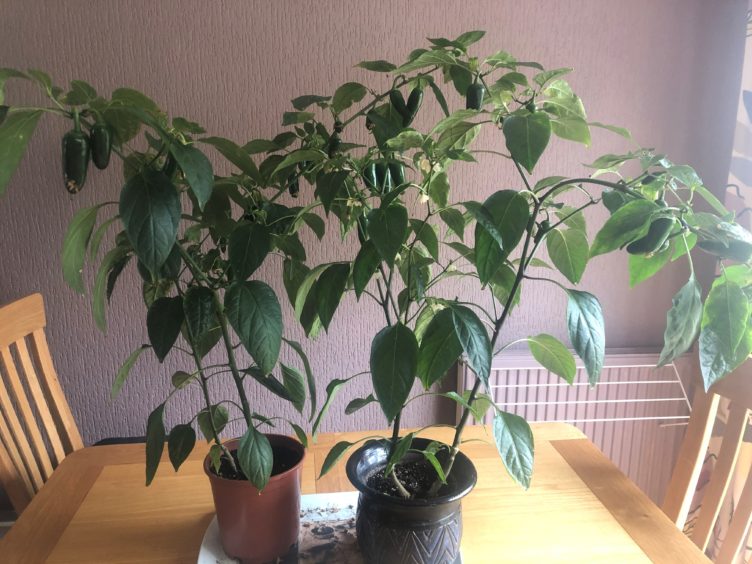 Outside, however, was a different story and, by June, my outdoor efforts looked to be suspended in time – neither dead or alive!
Indoors, though, they continued to flourish and soon I had buds, followed by flowers.
I could see the wee chillies beginning to form. Then disaster struck as my early buds and flowers just dropped off.
As I examined them, I was concerned that maybe I wasn't going to grow any after all, but it seems it is common for this to happen and I needn't have worried as the next few buds did indeed develop into chillies.
I was also given a top tip by one of my friends. As chilli flowers self pollinate, a wee tickle on the flowers encourages them.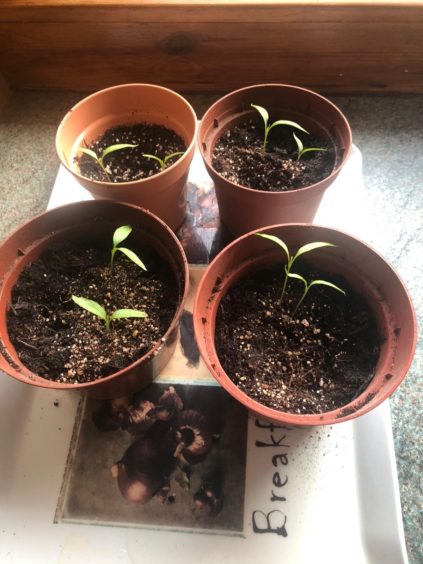 Attack of the aphids
One, in particular, completely took off, but then it started again with the buds falling off, only this time I saw the problem in front of my eyes – greenfly.
There were loads of the little blighters. A sudden influx overnight was attacking my pride and joy.
Quickly, I googled the issue and, again, this was a common problem, but one that had to be dealt with quickly as the hungry aphids were feasting on any areas of new growth.
Soapy water sprayed on the plants and your fingers picking the greenfly off manually were the solution and I worked hard to remove them before they completely destroyed the plants.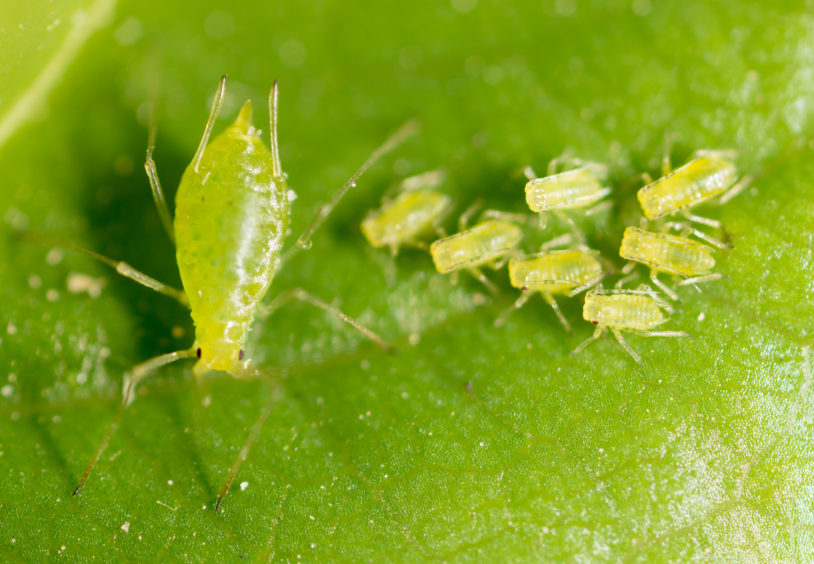 After the initial battle, I still had to win the war on that one and continued to keep a close on the leaves and buds and there were occasions when they returned, although not in as large numbers.
By last month I decided to count my chillies and I have successfully grown more than 30 jalapenos of varying sizes, although many are much bigger than I would buy in the shops.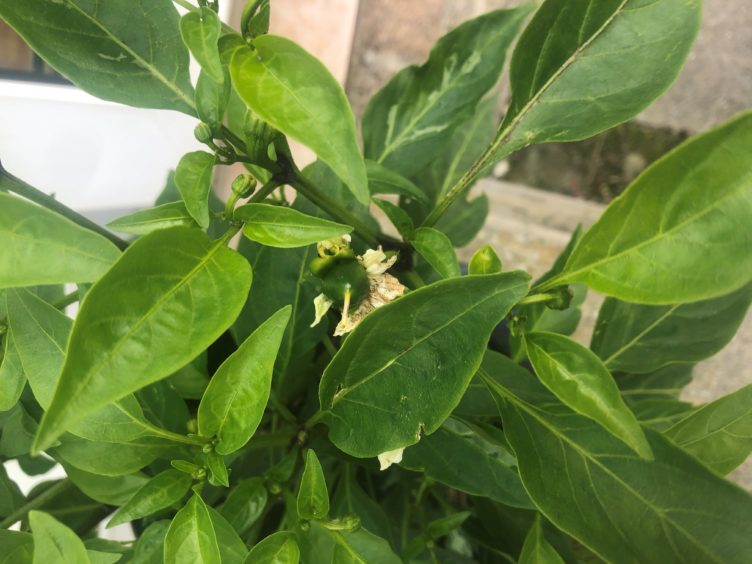 Back to life
And, remarkably, having completely forgotten about my outdoor plants, they seemed to find a new lease of life during the sunny days of July and I now have a few chillies growing on those, too.
With the weather now cooling significantly, I am unsure whether they will actually reach a decent size, but it was an interesting experiment nonetheless.
My conclusion from this was that cultivating chillies was a labour of love and patience is absolutely key.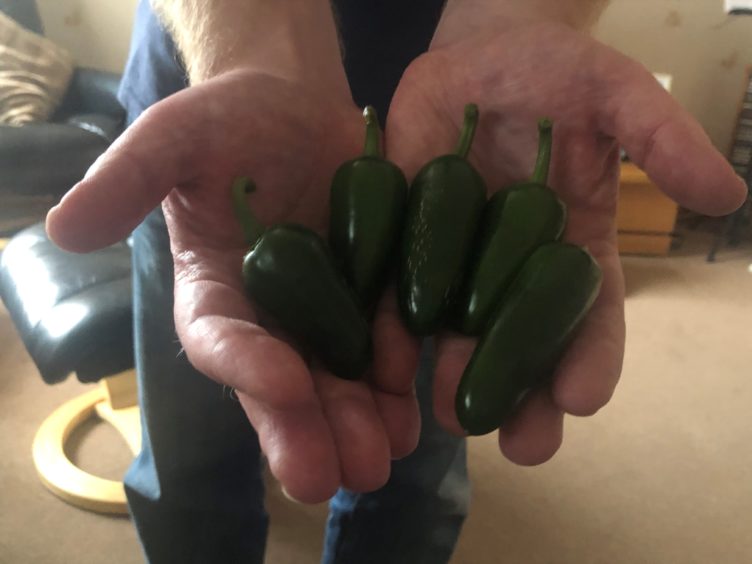 I desperately wanted to grow my own just to compare the taste with shop-bought jalapenos – and I succeeded.
They were relatively easy to grow, but it has taken me six months to achieve any decent-sized peppers.
If you fancy trying it for yourself, and if you're anything like me, it became a slight obsession and the plants did take up a lot of the kitchen which didn't go down that well.
However, an outhouse, garage or conservatory that gets a lot of sun would be the ideal place and I am going to build a cold frame in the garden for next year's effort which will also include tomatoes.
The results, though, in my opinion are worth the effort.
And, remember, watch out for the greenfly!
---
What I have made with my chillies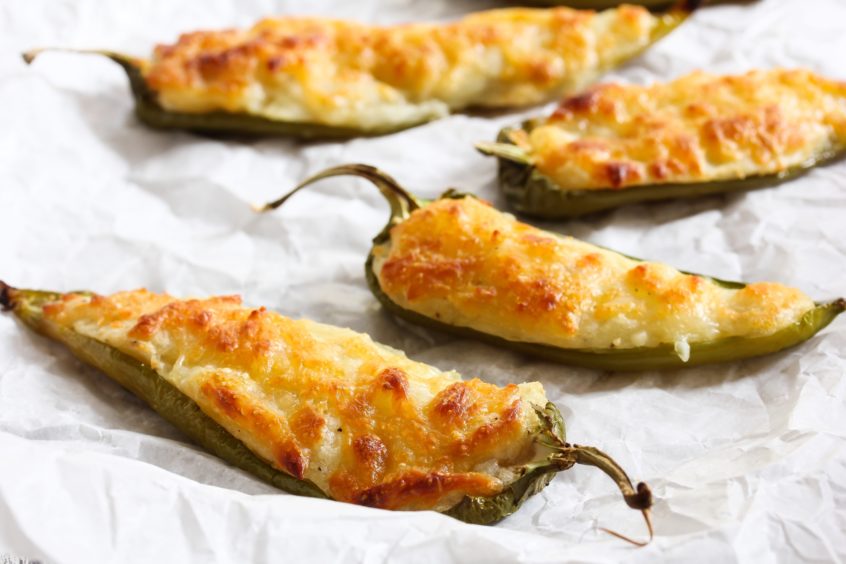 Stuffed jalapenos
(Serves 4)
Ingredients
16 jalapeno peppers
1 pack of cream cheese softened (any cream cheese will do and feel free to experiment)
200g cheddar cheese
Salad and sour cream to serve
Method
Pre-heat your oven to 200 degrees.
Cut the jalapenos lengthwise and carefully remove the seeds and the pith being careful not to damage the body of the pepper.
In a bowl beat together the cream cheese and the cheddar cheese
Spoon into the peppers and bake in the oven for 5-10 minutes.
Garnish with sour cream and serve with salad leaves, tomatoes and red onion.
---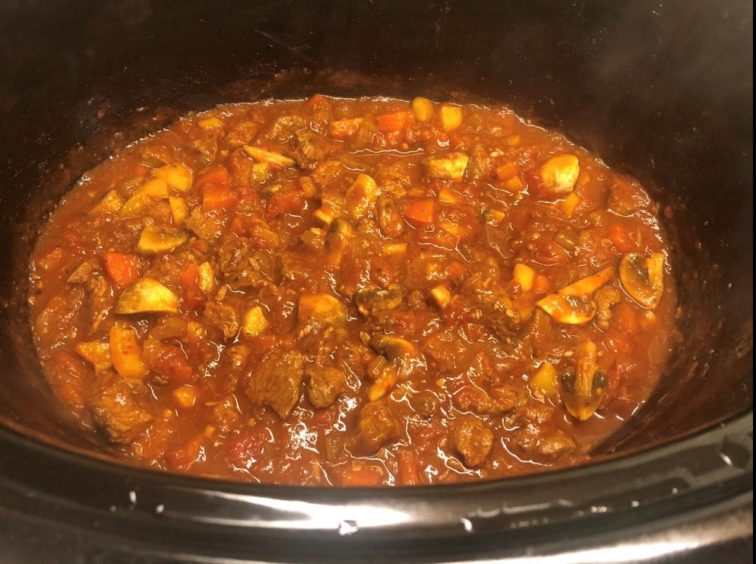 Tex Mex style chilli beef with homemade potato wedges
(Serves 4)
Ingredients
500g stewing steak or braising beef
1 medium onion
2 carrots
1 celery stick
1 clove of garlic
1 large jalapeno chilli or 2 small ones
1 tsp mixed herbs
Salt and pepper to taste
1 400g tin of chopped or plum tomatoes
Mushrooms (optional)
Method
Chop all the vegetables into similar sized small cubes.
Chop the garlic or use a garlic press.
If beef is whole, chop into small cubes too, I prefer to buy the cubes and cut small.
Brown beef off in two or three batches in a frying pan and set aside.
Chuck all the veggies and garlic in same pan and sweat for a few minutes.
Chuck everything in your slow cooker or stock pot and add the chilli flakes and mixed herbs and chopped tomatoes, some water and stock cubes.
If in stock pot, bring to boil and simmer for about 2.5 hours. If slow cooker, just leave on low all day stirring occasionally and add water if it gets too thick.
Serve with whatever you like – wedges or rice or even pasta!
For the wedges:
Mix together cumin, coriander, paprika, chilli flakes and some oil. Coat the wedges in it and chuck in oven about 180 degrees until you can easily skewer them with a small knife.