When physiotherapist Lynne Moore fell pregnant she had no reason not to believe that together with her husband Ally, the couple could look forward to welcoming their first child into the world.
However the pair – who were living in Dubai at the time – were to have their lives changed forever at Lynne's 20-week scan, when they were told their unborn baby had complicated and life threatening health problems.
But at 18-months-old, Calla, whose name translates as beautiful warrior, has defied all expectations.
Her resilience and cheeky character has been documented in the second series of Scotland's Superhospital, a BBC Scotland documentary which focuses on Queen Elizabeth University Hospital in Glasgow where Calla spent the first 13 months of her life. The first instalment is aired on Monday evening.
Calla is finally home after several operations and Lynne has moved back in with her parents in Aberdeen.
She relies on their support alongside a dedicated team of night nurses as Ally has returned to work abroad, but the medical complications of caring for Calla have become second nature for Lynne.
A long list of medication alongside equipment trips off her tongue, but she is still every inch the proud mother.
She knows that rattling plates makes Calla laugh, a sound she feared she'd never actually hear.
She also knows that Calla's life will not be easy, but Lynne has welcomed every single moment of joy which her daughter has brought.
Calla was born with Ohtahara syndrome, which causes a rare form of epilepsy in infants.
She also suffers from Heterotaxy which affects her organs, Polysplenia meaning she has multiple spleens, a chromosome disorder, narrowing of the upper airways, and a floppy trachea.
"It sounds like a lot but listing Calla's health problems has become second nature, this is normality for us," said Lynne.
"I don't focus on all of that though because the very fact that Calla is still with us means I celebrate her every single day.
"It's the little things which mean everything, like the fact that Calla is now sleeping in her own bed at home – even if it's a special hospital bed instead of a cot.
"We first found out about her condition at her 20-week scan. We were told to find a specialist and warned that Calla might not make it once she was born.
"That was when things stopped being normal for us and my waters broke at 32 weeks. Doctors managed to stop the labour and I had a natural birth when I was 35 weeks pregnant. I got a very brief hold before Calla was whisked away to intensive care.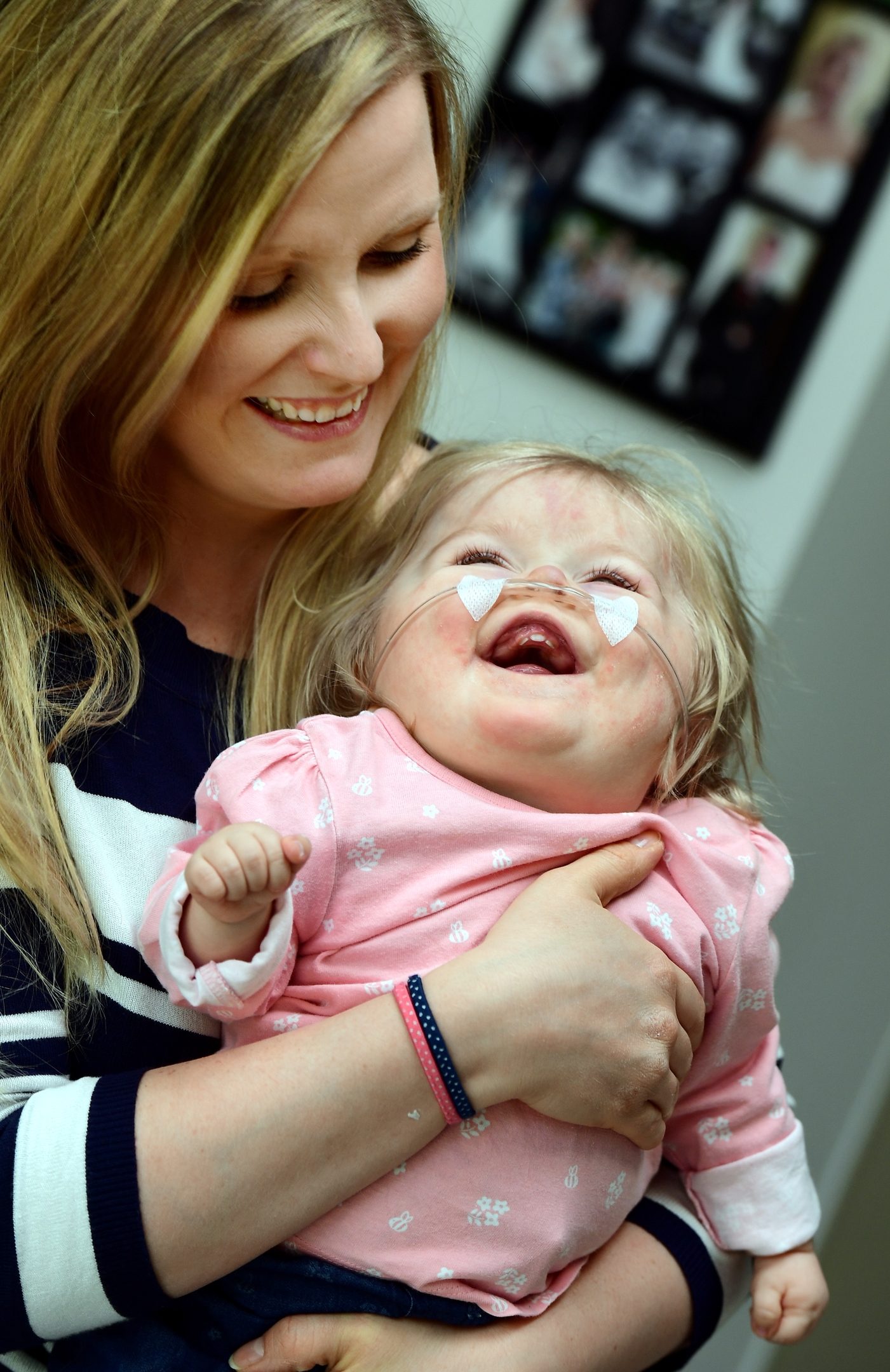 "The only thing I could do for her was to express milk, that was it. As a mother it is incredibly difficult not to be able to hold your own baby.
"We just went through the motions. Calla was so unstable so we weren't allowed to touch her much."
Calla's condition means the left side of the heart is mirrored on the right, and at last count she has seven spleens. She relies on a feeding tube and may need growth hormones in the future due to short bones.
Major surgery to completely rewire her heart was a big success, however she still needs to be monitored as her heart can slow down while she sleeps. She also requires to be on a ventillator overnight to regulate her breathing.
"It sounds incredibly daunting to be faced with all this, but I think you become an expert in your own child," said Lynne.
"Calla is a wee character and she always gave us a sign that she was going to, or at least wanted to pull through.
"There were so many moments when we feared it might be the last fight because she was battling against the odds, but she always let us know that she was hanging on in there."
Calla's condition also causes her to have seizures, although she hasn't experienced an episode for several months.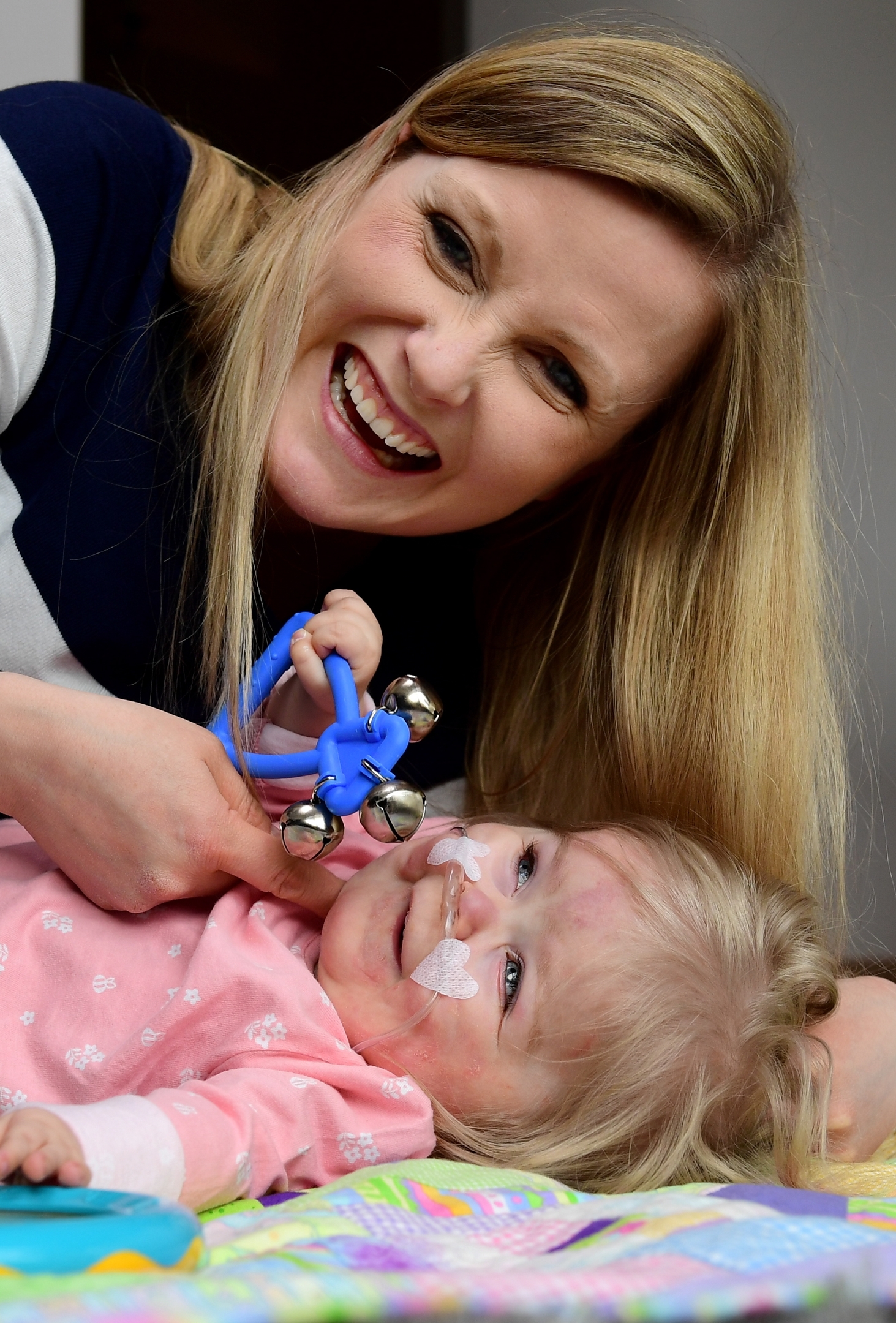 Lynne is still adjusting to life back home, but just the fact she is no longer pacing up and down a hospital ward means everything.
"Calla has taught us to make the most out of life because that's exactly what she does, we don't want to take anything for granted," said Lynne.
"It's just so lovely to know she is only in the next room to me because there was a time when we didn't know if we'd ever get home.
"You meet other mums who have poorly children and you can take a great deal of strength from that, but it can also get tricky. We saw so many families go home but for a long time, the word home was never mentioned to us."
Ally and Lynne were filmed during a particular poignant moment, when Calla was able to leave hospital to celebrate her first birthday.
The family escaped to a respite centre at Loch Lomond, which was Calla's first experience of the outside world.
"It took some serious organising but it meant the world to us. Calla had been in a room for her entire life up until this point," said Lynne.
"She was trying to feel the air and taste it.. we're always reminded of how far she's come.
"Her laugh was our Christmas present. Her development is obviously delayed but that doesn't matter to us. Calla is first and foremost our daughter, and she is truly remarkable."
The first episode of Scotland's Superhospital airs on April 24 on BBC One Scotland at 9pm.