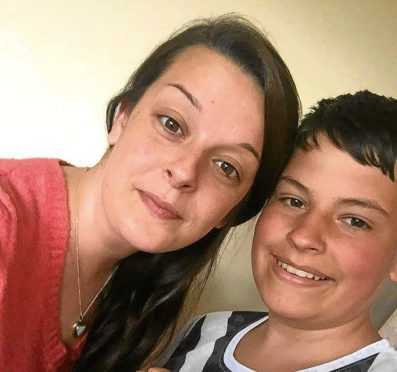 Life is busy for Stephanie Bain who is juggling her nursing course in Aberdeen with looking after her daughter, Aria, who has been a blessing in the most poignant of ways.
Stephanie's brother, Dylan, always encouraged her to study and adored his niece to whom he is godfather, but he'll never watch her grow up.
Behind every busy moment, of which there are plenty in motherhood, Stephanie is reminded of his absence but is determined that hope can come from the family's devastating loss.
Dylan fought Leukaemia throughout his childhood and despite time spent in remission, the cancer returned.
Determined to fight, Dylan didn't lose his life to the disease, however, but to sepsis – an increasingly common and life-threatening infection which took hold in just two short weeks.
Stephanie takes comfort from her belief that Dylan had truly "had enough" and slipped away peacefully after his family made the decision to turn off his life support machine in April this year.
Alongside a sky dive to celebrate Dylan's 16th birthday, which he didn't live to see, Stephanie has also been raising awareness about sepsis on social media.
In the UK alone, sepsis is responsible for 44,000 deaths every year, more than bowel, breast and prostate cancer combined.
Despite this, a recent survey found that 44% of people in the UK have never heard of sepsis and have little idea that it is a life-threatening emergency.
Stephanie hopes that by speaking about her grief, families may notice the warning signs before it is too late.
WE ALWAYS THOUGHT HE'D PULL THROUGH
Every time someone passes away, people obviously say they were a wonderful person and it has almost become a cliché.
That really was the case with Dylan though, I was 10 when he was born and I can honestly say we never argued and I adored him immediately.
He was first diagnosed with leukaemia when he was only seven years old so he had to grow up pretty quickly.
He hated the treatment at first and didn't really understand what was going on.
It was a constant battle to get him to have different tests.
I think gradually Dylan just accepted things though.
He was mature but he had a great sense of humour as well.
I would often go to him for advice and he was always very supportive. He was a bundle of fun.
Treatment limited what Dylan could really do so he spent a lot of time inside – he never got a chance to have many hobbies.
When the cancer returned, he was so matter of fact about it. He said that he had fought it once and he would fight it again.
I never grew bored with Dylan's company and as a family we are all grieving in our own way because he left such a massive gap in our lives.
There are moments when I ring mum and she can't even speak for the grief. It's heartbreaking to watch her suffer.
Dylan had already been through so much with treatment and at one point he even had to learn to walk again, and he was very prone to infections from colds to shingles.
We were always convinced that he could pull through anything though. Then he became really sick due to a bacterium in his bowel.
Doctors said it was clostridium difficile and although we questioned the severity of the vomiting, we thought the infection would pass.
I remember telling my mum to keep an eye on him, but then everything starting happening really quickly.
Dylan's skin turned blue and his eyes rolled to the back of his head.
I was at home with a newborn baby when all the family were called into hospital.
I'll never forget seeing my brother lying there in the children's ward. It knocked everything out of me.
He was making whining noises as he breathed out and I was trying to pull myself together for his sake.
There were so many IV lines snaking into his body but they couldn't get access to his veins, so they used intraosseous infusion.
This is where a needle is drilled directly into the bone to access bone marrow.
Dylan let out a scream and to this day I can remember the noise he made. No family should ever have to hear their loved one in such pain.
The sound will never leave me and it was the hardest Dylan had ever squeezed my hand.
The decision was made to place Dylan on life support and before he went to theatre, we all spoke to him.
We gave him kisses, cuddles, tried to make him giggle.
I told my brother, 'I love you, lots and lots' and Dylan said the same back. Then we had to step aside and watch Dylan be wheeled out the room. It transpired that Dylan had sepsis and he was sent to Glasgow via air ambulance.
His condition worsened though and day blurred into night, we didn't leave his bedside.
We tried to tell him what was going on in the world and I told him stories about Aria.
I'm so glad he got to meet her and he knew he would be her godfather, even though he didn't make it to the christening.
There were moments when we thought he might get better because he opened his eyes, but his organs were failing. As a cancer patient, he wasn't eligible for any transplants and his lungs were haemorrhaging.
Nothing more could be done, and Dylan slipped away on April 29.
Since telling Dylan's story on social media, I've been overwhelmed by the support and stories from other people who have lost loved ones to sepsis.
Dylan faced so many bumps in the road but he always managed to find his way round them.
We had hope that this time would be no different.
We do believe that he was telling us enough is enough though and I take comfort from the fact that he wasn't in pain when he died.
If I can reduce the amount of pain for just one family by telling his story, then I can continue to move forward and Aria has been my biggest reason to keep going.
Sepsis is hardly ever spoken about and more people need to be aware of it, because it can turn life threatening within hours.
We didn't lose Dylan to cancer, we lost him to something we didn't even know much about.
While we can't fault the speed of the diagnosis or his care, nothing can ever bring him back and we will never stop missing him.
SEPSIS FACTS
Sepsis is a rare but serious complication of an infection
Without quick treatment, sepsis can lead to multiple organ failure and death
Early symptoms of sepsis may include:
a high temperature (fever) or low body temperature
chills and shivering
a fast heartbeat
fast breathing
In some cases, symptoms of more severe sepsis or septic shock (when your blood pressure drops to a dangerously low level) develop soon after. These can include:
feeling dizzy or faint
a change in mental state – such as confusion or disorientation
diarrhoea, nausea and vomiting
slurred speech
severe muscle pain
severe breathlessness
less urine production than normal – for example, not urinating for a day
cold, clammy and pale or mottled skin
loss of consciousness
If sepsis is detected early and hasn't affected vital organs yet, it may be possible to treat the infection at home with antibiotics. Most people who have sepsis detected at this stage make a full recovery
Almost all people with severe sepsis and septic shock require admission to hospital. Some people may require admission to an intensive care unit (ICU)
Because of problems with vital organs, people with severe sepsis are likely to be very ill and the condition can be fatal
However, sepsis is treatable if it is identified and treated quickly, and in most cases leads to a full recovery with no lasting problems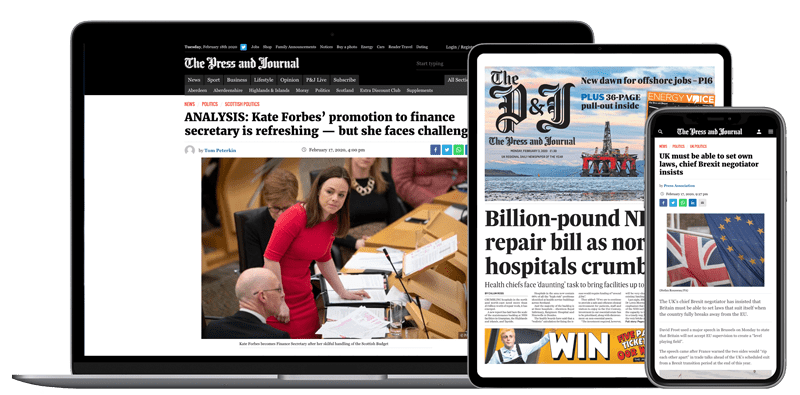 Help support quality local journalism … become a digital subscriber to The Press and Journal
For as little as £5.99 a month you can access all of our content, including Premium articles.
Subscribe