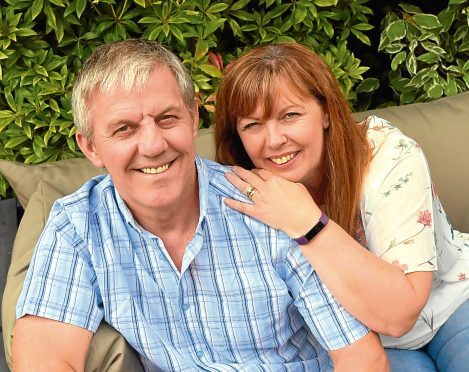 It has been more than two years since life for Susan Wallace changed forever, and her day revolves around caring for her husband, Gerald, and putting on fundraising events.
But Gerald is not an elderly person, indeed he is barely past retirement and is known affectionately as Ged to Susan and his two step-daughters, Emma and Lauren.
The trio are constantly pushing charity initiatives from walking the Great Wall of China to holding a charity ball, after Ged was diagnosed with early-onset Alzheimer's when he was just 57 years old.
The devastating diagnosis meant he had to give up his job of 34 years, having worked as a service engineer in the oil industry.
Susan went from wife to carer almost overnight and rarely leaves Ged alone – although he attends several support groups which have been the family's lifeline.
She is hoping to raise more than £5,000 for Alzheimer's Scotland, which has enabled the family to move forward by providing practical support.
GED'S STORY
AS TOLD BY SUSAN
Ged was only 57 years old when he was diagnosed and it came as a massive shock.
It was actually his work that realised that something wasn't quite right, though. He was a service engineer and he worked for 34 years for the same company, he was used to taking machinery apart, servicing it and putting it all back together.
But then he started to struggle, he couldn't plan things out in his head and he couldn't remember where parts went.
His work referred him to occupational health who then referred him to specialists. Obviously, they already had fears.
The diagnosis was devastating because it changed everything.
We lived quite rurally in Kemnay and at the very start we agreed that we should move closer to town as Ged could no longer work. Knowing we had to move was stressful enough, but then I lost my job as well.
Thankfully, I now run a coffee shop called Drop Dead Vintage Parlour in Insch, but it was an incredibly difficult time.
Ged became very dependent on other people and his mood can be incredibly low, I think that's partly because he's bored a lot of the time.
He's not an elderly person and he's still relatively fit and healthy in himself.
Social situations can overwhelm him, however, and he doesn't like big groups of people because he struggles to follow the conversation.
I don't like talking about Ged in front of him if that makes sense, and I find that some people talk about him as if he isn't there.
We have some close friends who still come to the house and have been a massive support, but we've also lost friends because of this as they don't know what to say.
When Ged was diagnosed we turned to Alzheimer's Scotland because we honestly had no idea what we were doing.
We had never applied for benefits before, but thankfully we were given help with everything.
Ged attends a football reminiscence group and he also goes to a cognitive stimulation therapy group which he really enjoys.
Without me he just wouldn't be able to cope and that has been beyond difficult.
The fundraising has been a focus, though, and we want to raise £5,500 in total for Alzheimer's Scotland.
I've never run in my life before but now I'm in training for trekking the Great Wall of China, which we plan to do in October.
We're also holding a ball at Pittodrie Stadium on August 19 and we've already received gifts from many local businesses for a raffle to be drawn on the night.
I've got a book scheme going at the coffee shop where people pay a pound to swap a book and that has already raised about £300.
Life has changed almost beyond recognition for my family, but Emma and Lauren have been an amazing support.
I still love Ged, that will never change and I will always take care of him.
lIf anyone wants to donate, they can visit
https://www.justgiving.com/fund
raising/Lauren-Carle1
Today it is estimated that 90,000 people are living with dementia in Scotland and the number is rising daily. Alzheimer Scotland requires £15,000 per day to fund their vital work and without generous donations they would be unable to do this.
Donations are necessary to help Alzheimer Scotland fund dementia nurses, support groups, dementia advisors, a 24-hour dementia helpline and a dementia research centre.
Around 4% of people living with Alzheimer's are under 65. Early-onset Alzheimers usually affects people in their 40s, 50s and early 60s. It is a progressive disease, which means that symptoms get worse over time, and include memory problems, visual problems, language problems, and changes in personality.